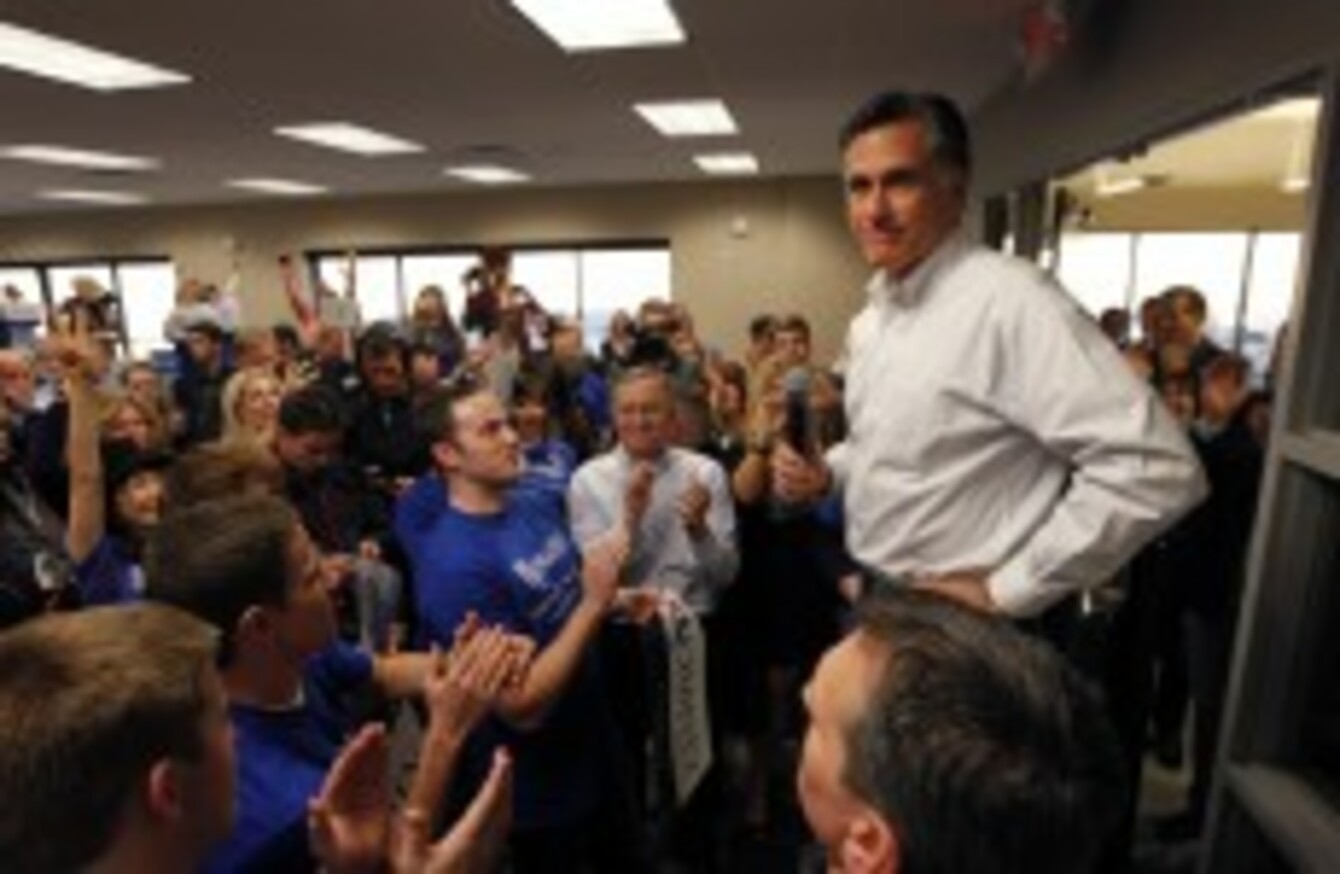 Mitt Romney greets campaign volunteers at a phone bank in Las Vegas yesterday. He is expected to easily win today's Nevada caucuses.
Image: Gerald Herbert/AP
Mitt Romney greets campaign volunteers at a phone bank in Las Vegas yesterday. He is expected to easily win today's Nevada caucuses.
Image: Gerald Herbert/AP
AS VOTERS in Nevada attend their caucuses to choose the Republican Party's nominee for President, a confident Mitt Romney is looking head to Colorado while his chief rival Newt Gingrich braces for defeat.
Romney, who won the Nevada caucuses during his run four years ago, is flying to Colorado today morning for a campaign rally before returning to Las Vegas for a party with supporters at a casino a few miles from the Las Vegas Strip.
In a sign that he expects to lose, Gingrich planned a simple statement instead of an event.
Romney cruised to victory in Florida last Tuesday, and having handily won this state four years ago is heavily favoured to win today's contest. Gingrich, Texas congressman Ron Paul and former Pennsylvania senator Rick Santorum also are on the ballot.
But Romney, a Mormon, has an existing network of support from his 2008 race and likely will again benefit from the support of members of his church, many of whom live in Nevada.
Gingrich is still struggling after losing to Romney in Florida. He's facing a month of contests that favour Romney and only one scheduled debate – the single place where he has done most to bridge the gap with the frontrunner.
Gingrich acknowledged Romney's likely victory and cast the vote in Nevada as a fight for second place.
"I think our hope is that we may be able to come in second, although Ron Paul is very organised," the former House speaker told Fox News in an interview yesterday. "We're going all out to see if we can't be a good solid second here, and then we're on to Colorado and Minnesota."
Romney ignored his chief rival, instead projecting himself as the likely Republican nominee. "I'm convinced that I can beat Barack Obama and I don't think anyone else can," he told volunteers making phone calls for him Friday.
Boom, but bust
He accused the president of failing to do enough to create jobs as he campaigned in a state with sky-high unemployment and foreclosure rates. Nevada's unemployment rate was 12.6 in December — well above the national average — after a record economic bust.
As he swept through Reno, Elko and Las Vegas, Romney sought to convince weary voters that he alone had the prescriptions for what ails the country — even as the government reported that 250,000 Americans had re-entered the workforce in January, bringing national unemployment down to 8.3 per cent.
Romney acknowledged the brightening economic picture but argued that it had little to do with Obama or his policies.
"The policies of this administration have not been helpful. They, in fact, have been harmful. They have slowed down the recovery, made it more difficult," Romney said at a home and yard supply company in Reno, where he talked about the economy with local business leaders.
"The president deserves the blame that he'll receive in this campaign."
Gingrich, in an interview on CNN, said the Democrat's policies have driven up the national debt and raised the price of gasoline.
"The economy even at 8.3 percent is dramatically weaker than it was under Ronald Reagan at this exact same point in his first term," he said.
But as Gingrich looks to recover from a shellacking in Florida, he chose to spend much of his time hammering home his latest argument against a Romney presidency — that there is virtually no difference between Romney and Obama.
For the second day in a row, Gingrich castigated Romney for saying that he's not focused on the poor because they already have a safety net. Romney has said he misspoke, but Gingrich sought to use the moment to gain the upper hand, saying it's another instance where Romney and Obama are similar.
"Obama is big food stamp. He's little food stamp. But they both think foods stamps are OK," Gingrich said. "I don't think food stamps are the future for America."
- Kasie Hunt