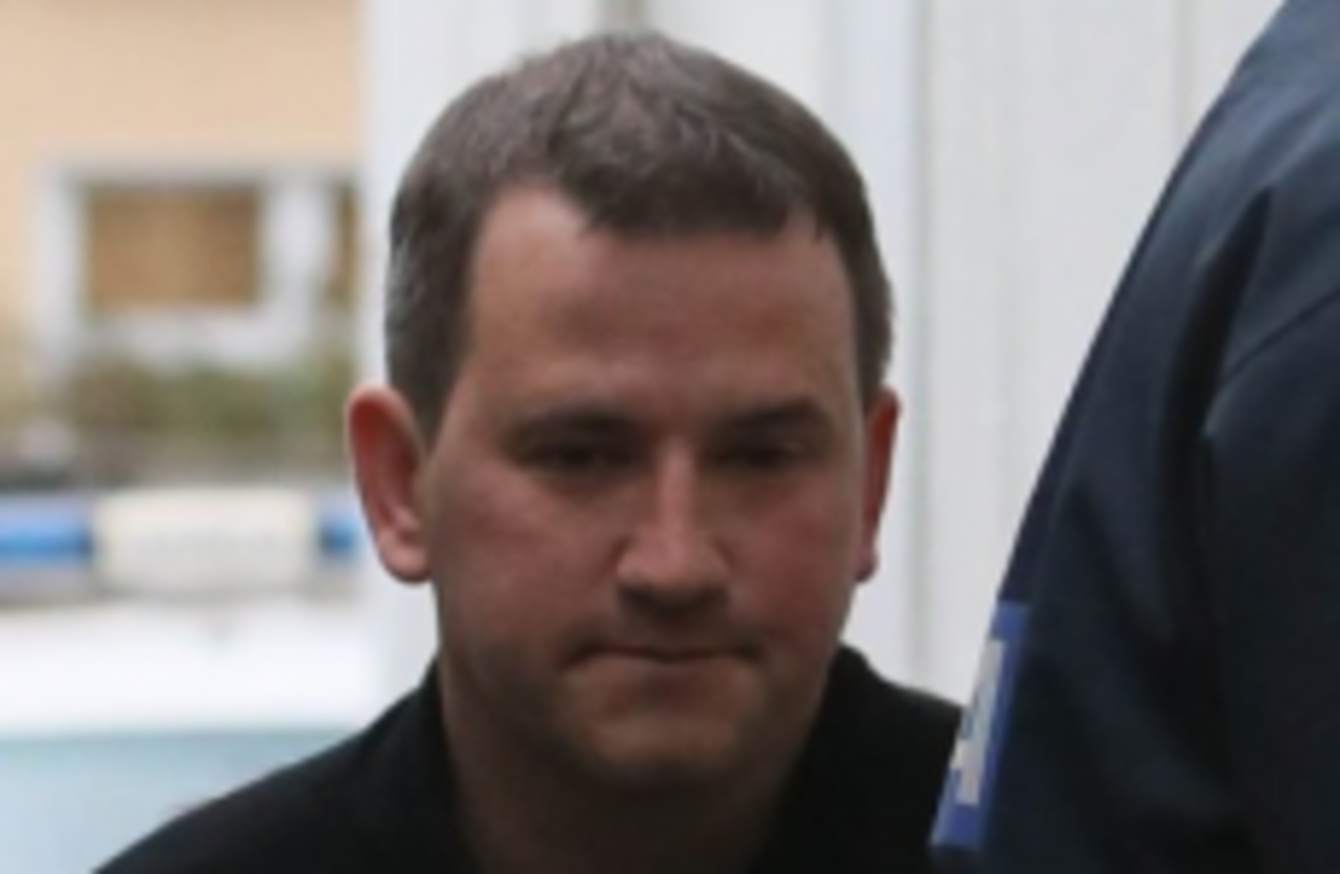 Image: Niall Carson/PA Wire
Image: Niall Carson/PA Wire
A YOUNG AMERICAN woman has testified that Graham Dwyer told her that he wanted to kill Elaine O'Hara if Ms O'Hara wanted him to.
Darci Day, who is from the US state of Maine, said Mr Dwyer had also told her that his fantasy was to stab a woman to death during sex.
Ms Day was giving evidence via live television link from the USA on the 29th day of the architect's murder trial at the Central Criminal Court.
Mr Dwyer (42) is charged with murdering Dubliner Elaine O'Hara at Killakee, Rathfarnham, Dublin on 22nd August 2012.
The Cork-born father of three of Kerrymount Close, Foxrock in Dublin has pleaded not guilty to murdering the 36-year-old childcare worker on that date.
Mr Justice Tony Hunt told the jurors to assess Ms Day in the same way as if she was giving evidence in the witness box. He said that, it many ways, she would be closer to them, referring to the screens in the jury box.
Ms Day's evidence was also shown on large screens throughout the courtroom. She was accompanied on her side by a witness keeper, Detective Ryan Brockway, who also took an oath.
Ms Day began her evidence by telling the trial that she had difficulties from an early age. She said her parents had divorced, that her father had relationship and alcohol problems and a couple of different wives and that her mother had a boyfriend with a lot of issues.
"I struggled a lot with depression," she explained, adding that her grandmother was the one woman she looked up to, but that she had lost her through bone cancer.
She said that she had become suicidal when in the seventh grade, around the age of 12 or 13.
"I basically felt like I was worthless to my family and I just didn't want to live anymore," she said.
I felt my presence in their lives was hindering them. I struggled a lot with suicide and self-harm.
Emails with accused
She said she started to go online and talk to people with similar thoughts and fantasies, recalling that one of the sites was called darkfetishnet.com. She used the name, Cassie.
Seán Guerin SC, prosecuting asked what she wrote on these sites.
"A lot of it was just fantasies I had about myself dying," she said.
She recalled that things were going particularly badly for her in 2010 or 2011, with her losing her job and the dog she'd had since childhood on the one day.
She was asked if the name, Graham Dwyer, meant anything to her.
"It does," she replied. "I can't remember what website I found him on, but we talked a lot through gmail."
She said she never met Graham Dwyer but that they emailed each other; her email address at the time was suicide.silence923@gmail.com.
"A lot of the discussion was about similar fantasies and I unloaded a lot of stuff on him," she said. "We discussed him basically ending my life."
She said that she needed someone to talk to. "He was there and listened to me and offered me a solution," she said.
She was asked about the fantasies they discussed. "A lot of it was rape and murder fantasies," she said.
She said they had also texted a few times on her own number and that the accused had talked about getting her a separate, 'track' phone for their communication. She later explained that this was a disposable, prepay phone.
She said that they used to exchange photographs and YouTube videos of 'either throat cutting or strangulation' by email.
"I do remember diagrams being sent, where all the arteries and stuff are, so we wouldn't miss," she added.
She said that she didn't know much about Mr Dwyer, but knew that he had a wife and liked planes.
Knowledge of the deceased
"He did mention Elaine O'Hara," she said. "I knew they had an intimate relationship and he told me she was similar to me and was suicidal."
She was asked if he had said what they did.
"He said he used to cut her… in the stomach area and stuff," she replied. "That it was mutual and sexual."
She was asked if Mr Dwyer and Ms O'Hara were doing anything else at the time.
"Bondage-type stuff," she replied, confirming that this involved tying her up.
She was asked if the accused had mentioned Ms O'Hara asking him to do anything.
"I believe she had asked him to kill her in the past," she replied.
When asked what Mr Dwyer had said about that idea, Ms Day said that she didn't remember much about it.
"His fantasy was basically wanting to stab a woman to death during sex," she said, when asked if Mr Dwyer had expressed a specific fantasy.
She was asked if he had discussed fantasies about Ms O'Hara. "Yes," she said, pausing a number of times before continuing.
"That he basically wanted to go after her and, if she wanted to, he wanted to kill her and come after me," she said.
Ms Day said that she and Mr Dwyer had discussed meeting.
"He was looking at places in Maine that were like disposal sites," she said.
She was asked if he had mentioned any method of how he would kill her.
"That he would have me meet him somewhere and then, from there, I'd leave my car and get in the car with him and, from there, he'd drive me to the location," she said.
"And then basically, from there, he wanted to have sex and then cut by throat until I lost consciousness and during intercourse," she added.
Under cross examination by Remy Farrell SC, defending, she agreed that she had been diagnosed with ADD, PTSD and learning difficulties, but said she was currently on no medication.
She said that things had changed amazingly for her since her contact with Mr Dwyer in 2011.
"I ended up giving my life to Christ," she said. "I've never felt peaceful like that in my life."
She said that she had also gone to counselling for a couple of months and had an amazing support system around her.
She said she was sure that she had discussed only some of her family issues with the counsellor, and not this case.
She agreed that she had told Detective Brockway last April that she 'actually went to a doctor about some of this and they sent me to a counsellor'.
She told Mr Farrell that the doctor had diagnosed her and insisted that she hadn't told the counsellor anything about this.
She agreed that she did not want her medical and counselling records disclosed.
Mr Farrell noted that she had been asked if she could provide the authorities with her emails to and from Mr Dwyer.
"I don't have any of the emails… I didn't want to be reminded… I tried to turn my life around and move on," she said. "It was so painful. I didn't want to be reminded of it… They're all gone. There's no record."
She said she had given the authorities her written consent to get the emails from gmail.
She was asked about her interest in murder fantasy in 2011 and whether it was something she wanted to follow through.
"I just really needed someone to talk to at the time. Part of me really wanted to follow through on it and part of me didn't," she said. "I thought I was burdening my family and I thought it was the best thing for them."
She was asked if she thought that it was something Mr Dwyer would not do.
"I didn't think he was actually serious," she said. "If I had any idea he was serious, I would have done something, I would have reported it."
She agreed that she had known another person online, who she thought was serious and of whom she was scared.
She said that Mr Dwyer was very respectful about leaving her alone when she ceased contact with him. He had never tried to contact her.
She agreed with Mr Farrell that Mr Dwyer had used his own name with her at all times, confirming that he had used an email address containing 'gdwyer'.
She agreed that Detective Brockway had suggested that she google this case and that she had.
Mr Farrell asked if it was a coincidence that what she was saying now regarding Mr Dwyer collecting her from a remote location bore a close resemblance to this case.
"Do you want to explain?" he asked.
"No," she replied.
She agreed that the detective had told her that Mr Dwyer was keeping her facebook material on his computer, but didn't remember him saying that 'knowing these people, they keep these things until the day they die'.
"I have been in shock since day one and I'm still reeling. I'm sorry. I don't know what to say," she said.
"I really tried to move on from it, very hard," she continued.
She agreed that she had sent Mr Dwyer pictures of her knife collection, a collection she still maintained and to which she had recently added.
She agreed that part of the fantasy they had discussed was that Mr Dwyer might turn up at any time.
She said it was possible that she had sent him a picture of herself for him to Photoshop, but became upset when asked if it was in order to Photoshop stab wounds onto it.
"I don't want to answer this question. I don't want to do this. I just…" she cried.
The court rose to give Ms Day a five-minute break.
Mr Farrell then asked about a music video posted on her facebook page recently in which a woman was having sex with a corpse.
"One where a friend tagged me in," she said.
"You described it as something hard to look away from," noted Mr Farrell. "Yeah, it was horrifying," she said.
She agreed that she had made a video about this court case called Christian Deathcore Powerful Testimony and posted it on the internet.
Mr Farrell suggested that it was a somewhat unusual thing to do.
"I made that video to give people out there hope and courage," she said.
She explained that she wanted people going through a hard time to know that they were loved.
"I want to say a huge prayer for the family of Elaine. I am so heartbroken," she said, becoming upset. "I feel so terrible and I am so sorry."
She said she was praying for the family.
"And I'm praying for Graham and his family," she sobbed. "I'm sorry about this whole thing."
MSTR AND SLV contacts in phone 
Earlier, the court heard that the numbers of two phones found in a reservoir during the investigation were saved in each other's contacts as MSTR and SLV, the consonants of the words: Master and Slave.
The trial also heard that the phones had no other phone number saved in them, were used almost exclusively for contact with each other and were last used on the day the architect is alleged to have murdered Ms O'Hara.
Crime and policing analyst Sarah Skedd was giving evidence about two Nokia phones found in Vartry Reservoir in 2013.
The court had already heard that they were purchased together at the O2 shop on Grafton Street on 30 November 2011. They were prepay and unregistered.
Ms Skedd said that the first phone found had one number saved in it and that was for the second phone found. This was saved as MSTR on its sim.
"They're obviously the consonants from the word, master," suggested Mr Guerin.
"Yes," she agreed.
There was also only one phone number saved in the sim of the other phone. This was the number of the first Nokia found and was saved as SLV.
She agreed with Mr Guerin that these were all of the consonants from the word, slave.
She explained that there were 1,369 texts and 11 calls between the two phones from 1 December 2011 and 22 August 2012, when contact stopped. The calls were all either unanswered or to voicemail.
She said that there were also five unanswered calls from Ms O'Hara's own iPhone on the SLV phone. She agreed that this was consistent with a person owning two phones and using one to find another.
The trial has heard that Ms O'Hara was last seen in Shanganagh, South Dublin on the evening of 22 August 2012, hours after she was discharged from a mental health hospital.
A cause of death could not be determined when her skeletal remains were discovered at Killakee on 13 September the following year.
It is the State's case that Mr Dwyer stabbed her for his own sexual gratification.
The trial will resume Thursday before the jury of five women and seven men.