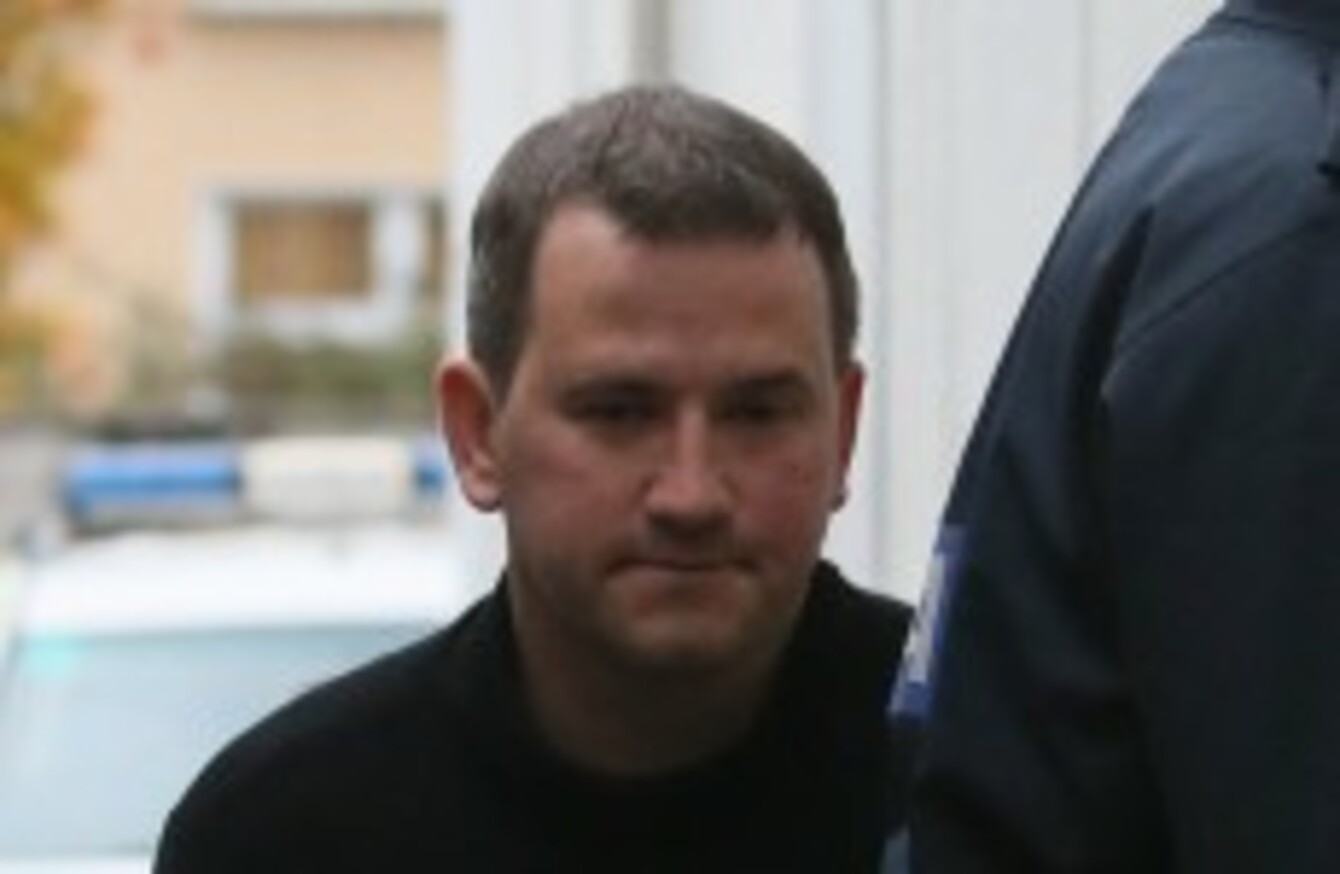 Image: Niall Carson/PA Wire
Image: Niall Carson/PA Wire
Updated at 11.03pm
THE PROSECUTION TOOK three hours making its closing arguments in the Graham Dwyer trial today.
Senior Counsel for the prosecution, Sean Guerin, said it was their case that the accused Mr Graham Dwyer killed Ms Elaine O'Hara for his own sexual gratification by luring her up to Killakee mountain.
Mr Guerin said he would present four strands of the prosecution's case to the jury: Connecting Mr Dwyer to Ms O'Hara's disappearance; that Graham Dwyer had the desire and sexual fantasy, but also the intention of murdering her by stabbing and present the detailed plan he had elaborated over a period of time.
Mr Guerin said he would seek to address any other theories and disprove any other possibilities put forward such as there may be someone else involved or that her death occurred by suicide.
He put it the jury that the evidence that has already been presented to the court over the 40 days of the trial proves that Mr Dwyer exploited Ms O'Hara's mental health issues and intended to carry out serious harm to her. Mr Guerin said that Mr Dwyer thought it would look like death by suicide, and "that very nearly worked out for him".
He put it to the jury that the evidence presented to the court shows the "wickedness hiding behind a mask of pity".
Sexual relationship 
Mr Guerin said that Mr Dwyer admitted to having a sexual relationship with Ms O'Hara, and that there is no doubt the relationship "existed right up to the days of death".
Ms O'Hara was last seen near Shanganagh cemetery on 22 August 2012. Her remains were found on Killakee Mountain, Rathfarnham, on 13 September 2013.
Commenting on the phone evidence, Mr Guerin maintains text messages that Mr Dwyer denies, were sent by the architect on the "disputed" phones that he also denies are his.
"The contexts of the messages themselves hold up a mirror to the life of Graham Dwyer," said Guerin.
He told the jury that the texts exactly correlate with what is going on in Mr Dwyer's life.
He lead the jury through the text message evidence – such as mentioning the birth of his child, getting car repairs, being at an oral hearing at An Bord Pleanala, going on camping trips, getting a pay cut and buying a bike.
Other messages mentioned business meetings, which the prosecution presented work documentation to prove the Mr Dwyer was attending meetings at the times mentioned.
A meeting with the Polish ambassador and attending a "family thing" were all mentioned.
Reference was made to a text message that mentions coming fifth in a model airplane flying competition. A news letter was shown to the jury which cited Mr Dwyer as coming fifth in a competition. Mr Guerin said that it was a most unusual hobby and it was inconceivable that any other person, other than Mr Dwyer, would have come fifth in a competition of this kind and also be in a relationship with Ms O'Hara.
Guerin said the evidence matches up with the text messages to show that these events all took place in his life at the correlating time the messages were sent to Ms O'Hara.
"The context of the messages match up with the events in Mr Dwyer's life, be it his work, family or social life."
Speaking about the cells in which the signals the phones bounced off, along with his work phone, he said:
… the pattern of movements exactly match movements of Mr Dwyer.
There is no inconsistency to suggest it is a different person. When Dwyer moves, the phones move with him.
He stated that the phones have all been logged in areas where Dwyer visited at the exact same time – in Ballyshannon, Galway, Tipperary or north of the Liffey.
These are the phones he told gardai he had nothing to do with… they tell a story of his life at this period…
"They stuck to him like a shadow," said Guerin.
He said that it is "impossible"to conclude that anyone else was using these phones other than Mr Dwyer.
Mr Guerin said that while the evidence was circumstantial, the weight of it points to no other conclusion but that the two phones were that of Graham Dwyer.
He said it was up to the jury to be satisfied beyond reasonable doubt that this case had been made by the prosecution.
Fantasy in the trial 
Guerin also said that there had been much talk about fantasy throughout the trial.
He said this could sometimes mean orcs and elves and unicorns and leprechauns.
"Fantasy is the expression of desire… that a person wishes was real," said Guerin.
He said this was about a person with the "most extraordinary and frankly disgusting fantasy" that he goes about making real.
To make his fantasy a reality he had to find victims willing to submit to what he had in mind.
Mr Guerin said Mr Dwyer sought to make his sexual fantasies reality by using "real people" such as Darci Day, Elaine O'Hara and Ms Quinn, the estate agent that just happened to be working opposite his workplace.
He said he discussed these women "in the most disgusting terms" and created documents that "imagine the most vivid, graphic, vile and sickening torture of women".
"These are actual living women who he knows in one form or another," said Mr Guerin, who asked the jury to consider this carefully, stating the Mr Dwyer took steps to bring about his fantasies.
No self worth
Mr Guerin said Ms O'Hara was a very sad person, who did not have any self worth. He said she did not feel she was valuable to herself, her family or community.
Hospital records were shown to the jury which described her as having a supportive dad but no friends.
Mr Guerin said that was a sad and unfortunate situation which Mr Dwyer was only too happy to take advantage of.
He said she was lonely and he cited an Irish proverb, which translated as fighting is better than loneliness.
The prosecution said it meant that loneliness can sometimes be the worst thing and people settled for situations in which they were unhappy with rather than being alone. That is what happened in relation to Graham Dwyer, he argued.
Guerin said she felt that she deserved to be punished, but that it was "very obvious what he was doing to her was deeply damaging to her".
Mr Guerin said it appeared the relationship between Mr Dwyer and Ms O'Hara which ended on the side of Kilakee Mountain in August 2012, appeared to have begun via the alt.com website in late 2007.
He said that Mr Dwyer took advantage of her weaknesses, "even at the time of breakdown", when she received a text message saying he would "gladly and willingly carry out what we discussed…".
Guerin mentioned the video from October 2008 involving the stabbing of Ms O'Hara by Mr Dwyer. The defence already stated previous that there was no argument that it was Mr Dwyer. He said it was a "vicious and brutal act of violence", adding that when it concluded, Mr Dwyer can be heard saying: "Now, that wasn't bad, was it?"
Mr Guerin said it was clear from this that Ms O'Hara did not want to do this, but that she had been "convinced and persuaded".
He said that it shows that even in the very early stages of their relationship, he was able to overcome her unwillingness.
He also told the jury that from the early stages, Ms O'Hara made it clear that she was not into blood or stabbing and doesn't want to be stabbed.
However, he said that Mr Dwyer offered a troubled woman who had a history with suicide help in the form of a way out.
Mr Guerin put it to the jury that Mr Dwyer continually offered Ms O'Hara a "painless end to it all".
Posing as her friend
"This is no joke, ladies and gentleman. This is an unwell woman and he is posing as her friend, pushing her towards the edge. That is the nature of reality," said Guerin.
He said that it was only in the fourth interview with gardaí that Mr Dwyer admitted to having a sexual relationship with Ms O'Hara.
He said in the interview that he had thought "long and hard about telling them about the sex".
Mr Guerin said that this was not something that had just "popped into his head" adding that he told the gardaí he was worried about his wife and family.
"He probably was," said Mr Guerin.
Mr Guerin said it is the fruit of that thinking and "calculated falsehoods" whereby Mr Dwyer proceeds to "lie through his teeth about the relationship he had with Elaine O'Hara".
Going through more text messages, Mr Guerin told the jury that Ms O'Hara makes it clear that she doesn't want to die or be stabbed.
"He had to improve his offering," said Mr Guerin, who claims Mr Dwyer offered to father a child with her.
He noted to the jury that while she initially agrees, she changed her mind, stating in a text message that she would prefer to be in a relationship.
"He turns on her in the most cruel way," said Mr Guerin, who said he then "shows his true colours" by insulting her and calling her fat.
"He uses her own illness against her," said Mr Guerin, referring to her poor self worth.
Mr Guerin said he used an "astonishingly cruel" phrase, stating: "The clock is ticking".
He claimed that Mr Dwyer said he would like a second chance after no communication for about a week, promising her a relationship that could turn affectionate.
Worried about his wife and family 
"This is a man that says he is worried about his wife and family in the station," said Mr Guerin.
Mr Guerin told the jury that it is important for them to understand the relationship between Mr Dwyer and Ms O'Hara.
He said that when Ms O'Hara was at her lowest point having been hospitalised again for the first time in years, the reaction by the accused is telling, he said.
"Unsurprisingly, he reacts the way he has always reacted. He sees her difficulties and ill health as an opportunity to achieve what he has always wanted." He said Mr Dwyer wanted to know if Ms O'Hara was suicidal.
Mr Guerin said it is difficult to begin to contemplate the cruelty of a man – who had all the success and achievement in life – making a noose for Ms O'Hara and leaving it in her apartment.
"Did you like the noose?" read one text message. Ms O'Hara replies that she did not and asks can she take it down.
Mr Guerin claims that Mr Dwyer took the opportunity to "fashion a noose" and hang it in the apartment of a woman who has a history of suicide.
It tells you a lot about what he had in mind for her… he had an eye for the weak.
Mr Guerin told the jury that Ms O'Hara's psychiatric records showed she said she had made a noose herself but he said she had lied to her doctors about other things and it was a matter for the jury to make up their own mind as to whether that was in fact the truth.
He said that her isolation and weakness allowed him to "separate her from the flock".
When Ms O'Hara was hospitalised in 2012, Mr Guerin said "all pieces fall into place" whereby he alleges Mr Dwyer thinks the "family would all the more believe that at precisely this point in her life she made the decision to end her life… the way he had envisaged and planned it".
Defence
Yesterday Remy Farrell, defending, wrapped up the defence's evidence in just under 30 minutes, calling three witnesses. The prosecution concluded its evidence last Friday after 37 days, 194 witnesses and more than 320 exhibits were presented to the jury.
Mr Dwyer (42) is charged with murdering Dubliner Elaine O'Hara at Killakee, Rathfarnham, Dublin on 22nd August 2012.
The Cork-born father of three of Kerrymount Close, Foxrock in Dublin has pleaded not guilty to murdering the 36-year-old childcare worker on that date.
The prosecution will continue with its closing argument tomorrow morning.