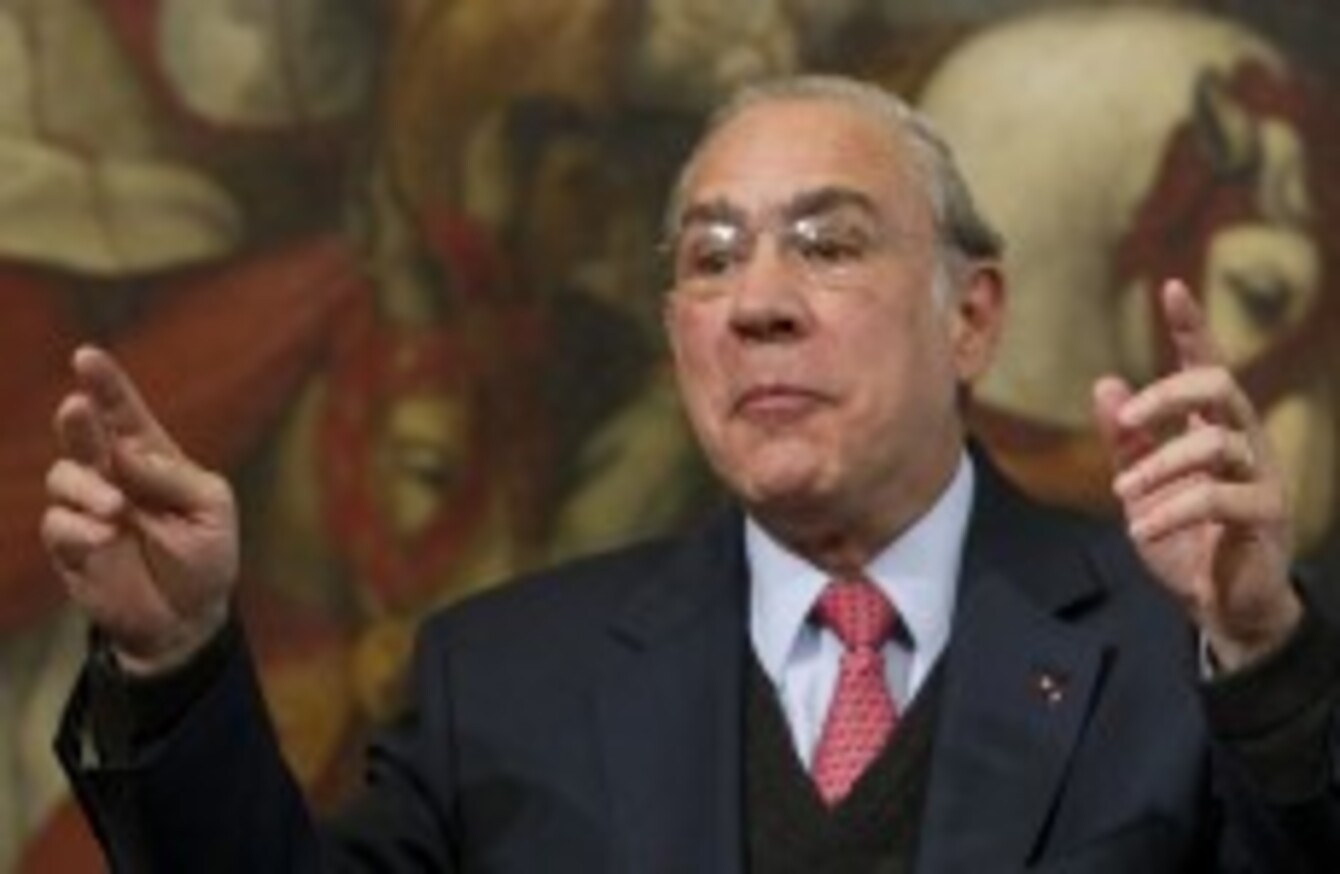 Angel Gurria, head of the OECD, warned of the need for a firewall to avoid contagion in the eurozone.
Image: Andrew Medichini/AP/Press Association Images
Angel Gurria, head of the OECD, warned of the need for a firewall to avoid contagion in the eurozone.
Image: Andrew Medichini/AP/Press Association Images
CONCERNS ABOUT EUROPE'S sovereign debt crisis topped the agenda at the meeting in Mexico City of G-20 finance ministers today.
Financial sector leaders praised Greece's offer to repay bondholders at a steep discount, while others cautioned Greece will get no more money if it doesn't make structural reforms.
The debate over whether the countries of the European Union have contributed enough to emergency financial stabilisation funds to calm the sovereign debt fears continued.
And the question of a further boost to the effort from the International Monetary Fund is likely to be discussed, but not solved, at the weekend's Mexico City meeting.
Angel Gurria, the head of the Organisation for Economic Cooperation and Development, set the bar for the debate high in a speech saying an adequate financial stabilisation fund would imply about $1.5 trillion, about three time the amount currently committed by European nations, with about half a trillion coming from the IMF.
"We still have to build the mother of all firewalls," Gurria said. "The thicker the firewall is, the less likely we'll have to use it."
German central bank president Jens Weidmann noted that Euro-area political leaders will meet in March to decide whether to further increase the current €500 billion financial stabilisation effort, and while he didn't rule out increased funding, he said money alone won't do it.
"Higher walls of money can buy time, but that time must be used to tackle the roots of the crisis," Weidmann told a seminar prior to the ministers meeting.
"Ultimately, Greece cannot be forced to comply with the program," he said of the indebted country's commitment to make fiscal, wage and other reforms in exchange for the European bailout. "But it should be clear that no further disbursements will be warranted if Greece fails to keep its side of the bargain."
Gurria said the current stabilisation fund effort came at least a year late, and noted wryly that "you can't accuse the Europeans of being too fast."
In an interview with cable channel CNBC on Friday, US Treasury Secretary Timothy Geithner said Europe must do more. Asked how big the stabilisation firewall should be, Geithner said, "Bigger than they have today."
No specifics on IMF funding
Mexican Treasury Secretary Jose Antonio Meade appeared ready to wait on discussing further IMF funding, noting "it's too soon yet in the process to start discussing specifics on methods and amounts."
Mexican central bank Governor Agustin Carstens said Friday that the "IMF's lending capacity is an issue that will be discussed" at Saturday's meeting among finance ministers and central bankers.
But one Canadian finance official, who was not authorised to speak on the record, said that "on the issues of IMF funding, I don't think we are near a consensus."
Greeks have weathered tough austerity measures, including slashing pensions and benefits, and reducing the minimum wage by around 23 per cent.
On Friday, investors in Greek government bonds were also asked to bear a bit of the pain. The government formally presented an offer under which private bondholders would exchange their bonds with new ones with a 53.5 percent lower face value, longer maturities of up to 30 years and lower interest rates — an annual 2 percent by 2015, 3 percent to 2021 and 4.3 percent after that.
The deal would help Greece knock about €107 billion($142 billion) off its debt.
Charles Dallara, a senior banker who led what he called "laborious, lengthy, difficult negotiations" on the bond-swap with Greece, praised the deal, saying investors would get 15 percent cash up front for taking the offer.
He said "there are extremely important term and conditions," some of which might allow investors to get slightly better payouts if Greece's economy improves.
"We are quite optimistic that once investors study carefully, on their own individual decisions, according to their own process, there will be a high takeup in a voluntary fashion," Dallara said.
But he noted with concern that the Greek government had drawn up plans for collective action clauses, which would allow the settlement to be imposed on all bondholders if a majority of them agree to the offer.
'Full of gloom'
"The Greek government has decided to pass legislation introducing collective action clauses," Dallara told the conference.
"But in my discussions it has been made clear that no decision has been made whether or not they will activate those collective action clauses. Should they decide to activate, of course it does raise concerns."
The conference was full of gloom, with central bankers and politicians warning that austerity and structure reform would continue, and private bankers complaining that an increased wave of regulations and capitalisation requirements following the 2008 financial crisis would make it hard for them to supply the credit needed for economic recovery.
Gurria, the OECD head, also complained that amid the economic downturn, " protectionism is rearing its ugly head. … We have to fight it like the plague."
There was one sort of bright spot, however; emerging economies, which were forced to take often tough advice from the developed nations during the crises of the 1980s and 1990s, have weathered the current sovereign shock fairly well.
With lower levels of debt, and often more responsible fiscal policies, they are now in a position to turn the tables and offer advice to Europe, as Mexico's Carstens did Friday.
He said Latin America's experience showed social safety networks should be preserved, but that structural reforms, like budget cuts — "strong, painful but necessary actions" — should be carried out without delay.
"The unavoidable remedial measures in the short term can deepen the impact of the crisis on economic activity, unemployment and poverty, but these costs tend to be much higher if the adjustments measures are postponed or adopted only partially," said Carstens.