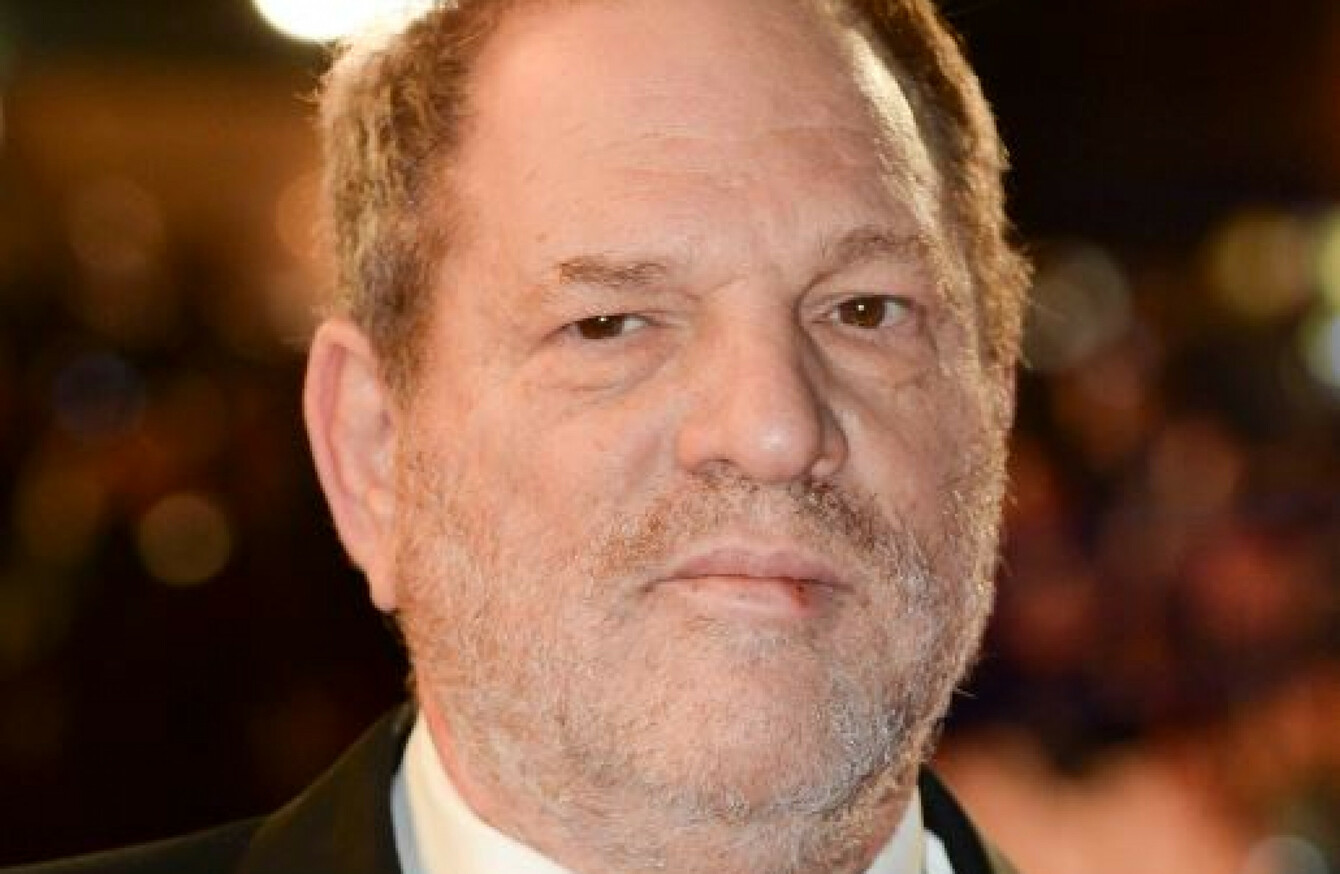 Harvey Weinstein
Image: Anthony Devlin/PA Wire/PA Images
Harvey Weinstein
Image: Anthony Devlin/PA Wire/PA Images
ONE OF HARVEY Weinstein's former assistants in London, Zelda Perkins, has spoken out about what she said was repeated sexual harassment toward her.
In an interview with the Financial Times, Perkins said the Hollywood producer walked around nude in front of her, asked her to be in the room when he bathed and the producer would often try to pull her into bed when she went into his room to wake him up.
She told the paper she split a £250,000 (about €280,000) settlement with another woman who she claimed was sexually assaulted by the producer.
Perkins told the newspaper she was required to sign a non-disclosure agreement — a copy of which she was not allowed to keep.
"I want to publicly break my non-disclosure agreement," she said. "Unless somebody does this there won't be a debate about how egregious these agreements are and the amount of duress that victims are put under. My entire world fell in because I thought the law was there to protect those who abided by it."
She sought legal advice after a colleague, who she did not name in the story, told her Weinstein sexually assaulted her at the Venice Film Festival in 1998.
Perkins said the settlement agreement called for Weinstein to undergo counselling and called for a harassment reporting procedure to be set up at Weinstein's then-company, Miramax.
The Walt Disney Co, which owns Miramax, and Weinstein's representative Sallie Hofmeister did not reply to requests for comment. Hofmeister has previously said Weinstein denies all allegations of nonconsensual sex.
Investigations
Police in Los Angeles, New York City and London are investigating Weinstein over allegations of sex abuse in those cities.
New York State Attorney General Eric Schneiderman yesterday announced a civil rights investigation into the Weinstein Co would be taking place following the sexual harassment and assault allegations against its co-founder.
As part of the investigation, the prosecutor's office issued a subpoena seeking company records on harassment complaints and legal settlements to determine whether any civil rights and anti-discrimination laws were broken.
"No New Yorker should be forced to walk into a workplace ruled by sexual intimidation, harassment or fear," Schneiderman, a Democrat, said.
If sexual harassment or discrimination is pervasive at a company, we want to know.
The New York City-based company fired Weinstein on 8 October after the New York Times and the New Yorker exposed allegations of sexual assault and harassment spanning decades.
More than three dozen women, including Gwyneth Paltrow and Angelina Jolie, have publicly accused the Oscar winner of abuse. Rose McGowan has accused him of raping her, something he denies.
Weinstein was expelled from the Academy of Motion Picture Arts and Sciences, and the Producers Guild of America has started the process of expelling him.
The Weinstein Co's media relations office said the company had no comment on the subpoena or news of the investigation.
Good Morning America
Meanwhile, ABC News has said Ashley Judd will talk to Diane Sawyer for Judd's first TV interview since the actor went public with allegations against Weinstein. The interview will air on Thursday on ABC News platforms including Good Morning America and Nightline.
Judd has described an incident two decades ago in which she said Weinstein invited her to his hotel room, greeted her wearing a bathrobe and asked if she would watch him shower.
#Open journalism No news is bad news Support The Journal

Your contributions will help us continue to deliver the stories that are important to you

Support us now
Good Morning America aired an interview with actors Matt Damon and George Clooney yesterday where both acknowledged they were aware of allegations Weinstein had slept with actresses, but not that he had assaulted them. Clooney described him in the interview as "a predator".
"I knew he was an asshole," Damon said. "He was proud of that … I knew he was a womaniser. I wouldn't want to be married to the guy, but it's not my business really. But this level of criminal sexual predation is not something that I ever thought was going on."
https://www.facebook.com/GoodMorningAmerica/videos/10155096384352061/
Damon said he had heard about Gwyneth Paltrow's story of working with him, when Weinstein "placed his hands on her and suggesting they head to the bedroom for massages":
"I knew the story about Gwyneth from Ben [Affleck], because he was with her after Brad [Pitt] – so I knew that story. But I was working with Gwyneth with Harvey on [The Talented Mr] Ripley. I never talked to Gwyneth about it, Ben told me.
"But I knew that they had come to whatever agreement or understanding, she had handled it and she was, you know, the First Lady of Miramax and he treated her incredibly respectfully, always," Damon said.
In more Weinstein fallout, a fired Nickelodeon producer facing allegations of sexual harassment expressed regret over his behavior. Chris Savino, creator of the animated series The Loud House, posted the apology on his Facebook page yesterday.
"I am deeply sorry and I am ashamed," he wrote. "Although it was never my intention, I now understand that the impact of my actions and communications created an unacceptable environment."
Savino has been accused of sexual harassment by up to 12 women, according to the website Cartoon Brew, which reports on animation industry news.
Last week, Nickelodeon said it took allegations of misconduct seriously and that Savino was no longer working with the children's TV channel.