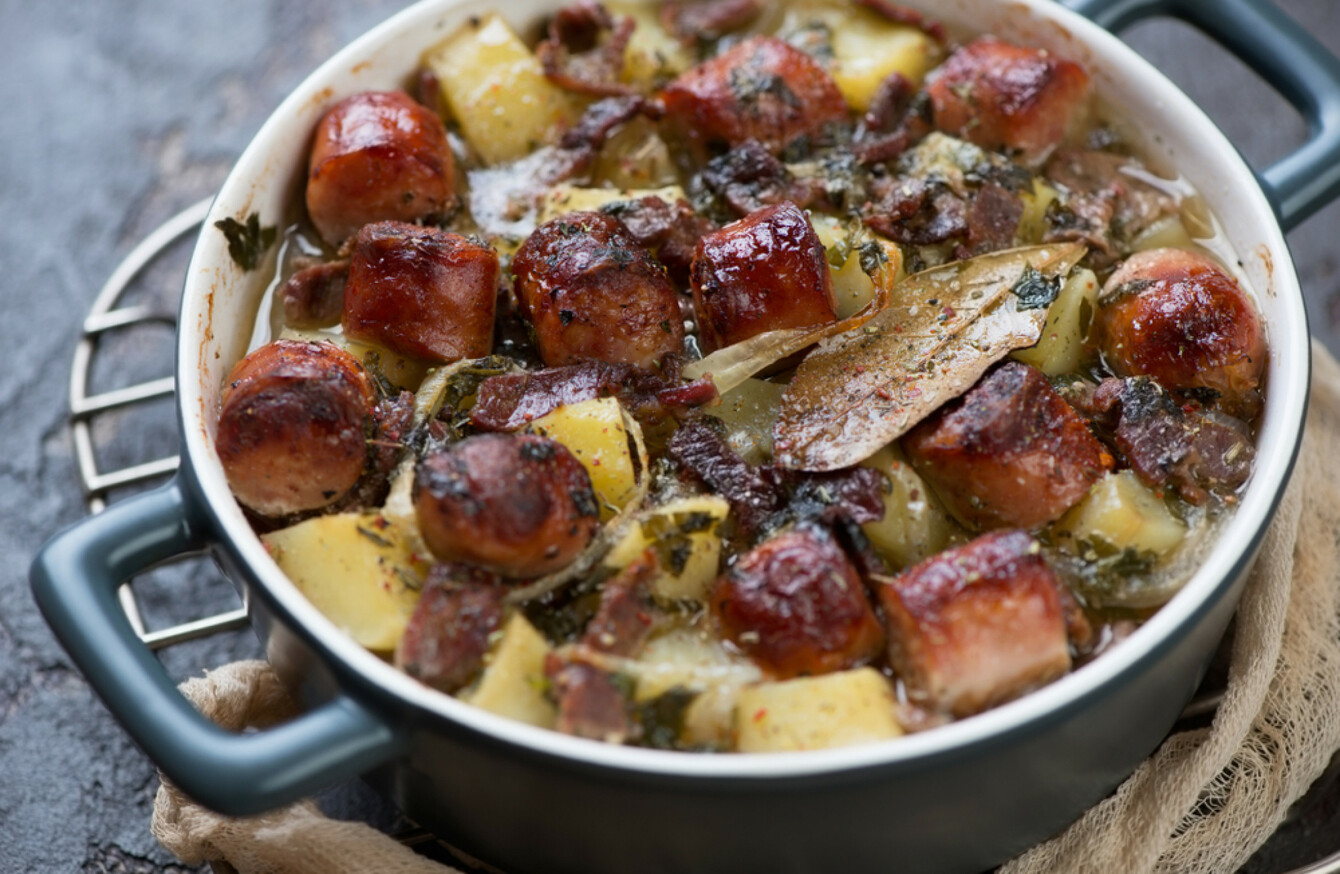 Image: Shutterstock/Nickola_Che
Image: Shutterstock/Nickola_Che
SPRING MAY BE here, but there's a still a few colder evenings to get through before we can really embrace the change in weather, and all of those delicious flavours that the new season brings.
These cooler nights call for hearty, one pot meals that combine lots of warming flavours and nutrients. Easy on the pocket, full of flavour and simple to prepare, sausages are often one of the more underlooked ingredients in our fridge.
While the weekend's breakfast might be the first thing that comes to mind when you're trying to think about what to do with that pack of sausages in the fridge, they can be used as part of tons of recipes that will go down a hit with the whole family. Whether it's a quick midweek meal or something a bit more fancy, read some of our favourites below.
1. Dublin Coddle, from Donal Skehan: This traditional Dublin dish transforms the humble sausage into a warming, veg packed stew. While there's no need for any accompaniments, we think a freshly baked bread roll would be perfect for mopping up that tasty broth.
2. Cider, Apple and Sausage Casserole, from Farmersgirl Kitchen: Hints of apple balance the flavours in this hearty one-pot. Why not double the quantities and freeze the leftovers, you'll thank yourself for it when you're short on time later in the month.
3. Slow Cooker Sausage Chilli, from Kenmare Foodies: We love how Karen of Kenmare Foodies serves her chilli – in a bowl with homemade chips and topped with sour cream, grated cheddar, salsa, jalapenos and tomato salsa. Friday night, sorted!
4. Speedy Spaghetti and Sausage Meatballs, from Gourmet Mum: As sausages are already seasoned, all you need to do is roll the sausage meat into meatballs in this tasty recipe by Gourmet Mum. Customise to your liking by adding extra chilli flakes or a spoonful of pesto.
5. Sumptuous Sausage Pasta, from the Five Minute Foodie: Is there anything more comforting than a steaming bowl of pasta? This recipe can be made ahead of time, so it's ideal for batch cooking or feeding a crowd.
6. Toad In The Hole with Onion and Apple Gravy, from Jamie Oliver: A comforting tear and share dinner with apple and onion gravy providing a real flavour punch. Serve with greens and mash for the perfect family friendly dinner.