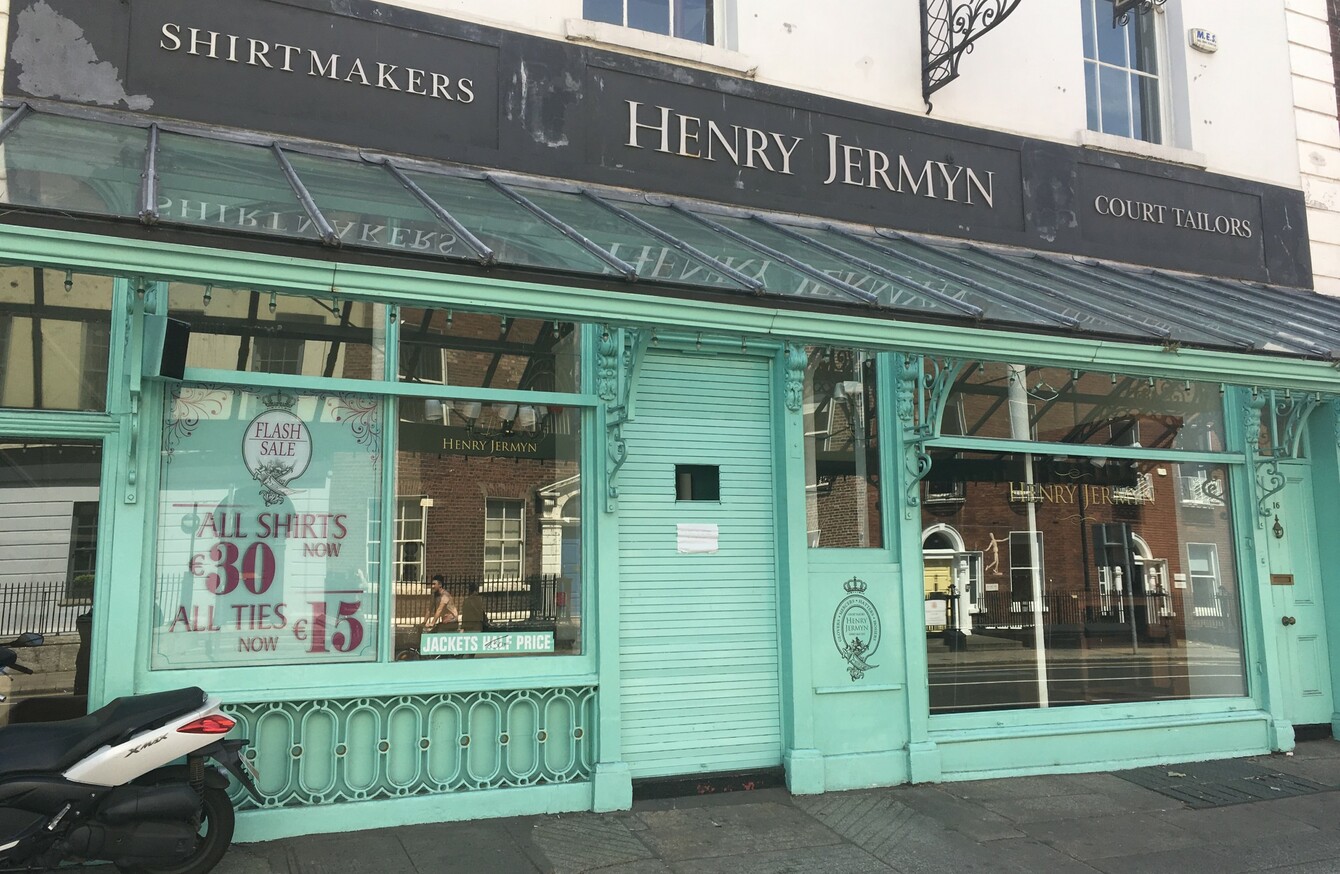 A HIGH-END MEN'S clothes shop owned by a former Dragons' Den star has shut.
Businessman Niall O'Farrell's Dublin shirt and suit shop, Henry Jermyn, had a closing down sale two weeks ago.
O'Farrell is best known as one of the investors, or 'dragons', on RTÉ's version of Dragons' Den.
The Dubliner founded another formal suit hire store called Blacktie in the 1980s, which traded successfully up until the boom.
The firm became a chain of 11 stores. However, its fortunes took a dive during the recession and it folded in 2013 during a trying year for retailers.
Henry Jermyn has now followed suit. In a statement on its Facebook page, the shop said it was holding a liquidation sale, with all suits priced at €80. Prices were cut further before the store shut.
The shop is now empty and its doors are closed.
Fora rang Henry Jermyn, however there was no answer as the store was closed.
Fora contacted Fitzwilliam Corporate insolvency, the company's liquidator, however no one was available for comment the time of publication.
Losses
Fitzwilliam Corporate insolvency was appointed to Jermyn St, the firm behind Henry Jermyn, last month.
According to the most recent accounts available for Jermyn St, the firm owed €500,000 to its banks as of the end of June 2015.
The directors' report for the 2015 financial year said that the directors thought that the firm had enough money to continue, and added that they would provide financial support if needed.
While the company made a small profit of almost €15,000 in the year to the end of June 2015, it had built up high losses in previous years.
Its accumulated losses at the end of the period stood at just over €500,000.
As well as his interests in retail menswear, O'Farrell also amassed a large property portfolio during the boom. Much of this has since been sold off.
Sign up to our newsletter to receive a regular digest of Fora's top articles delivered to your inbox.
Written by Paul O'Donoghue and posted on Fora.ie