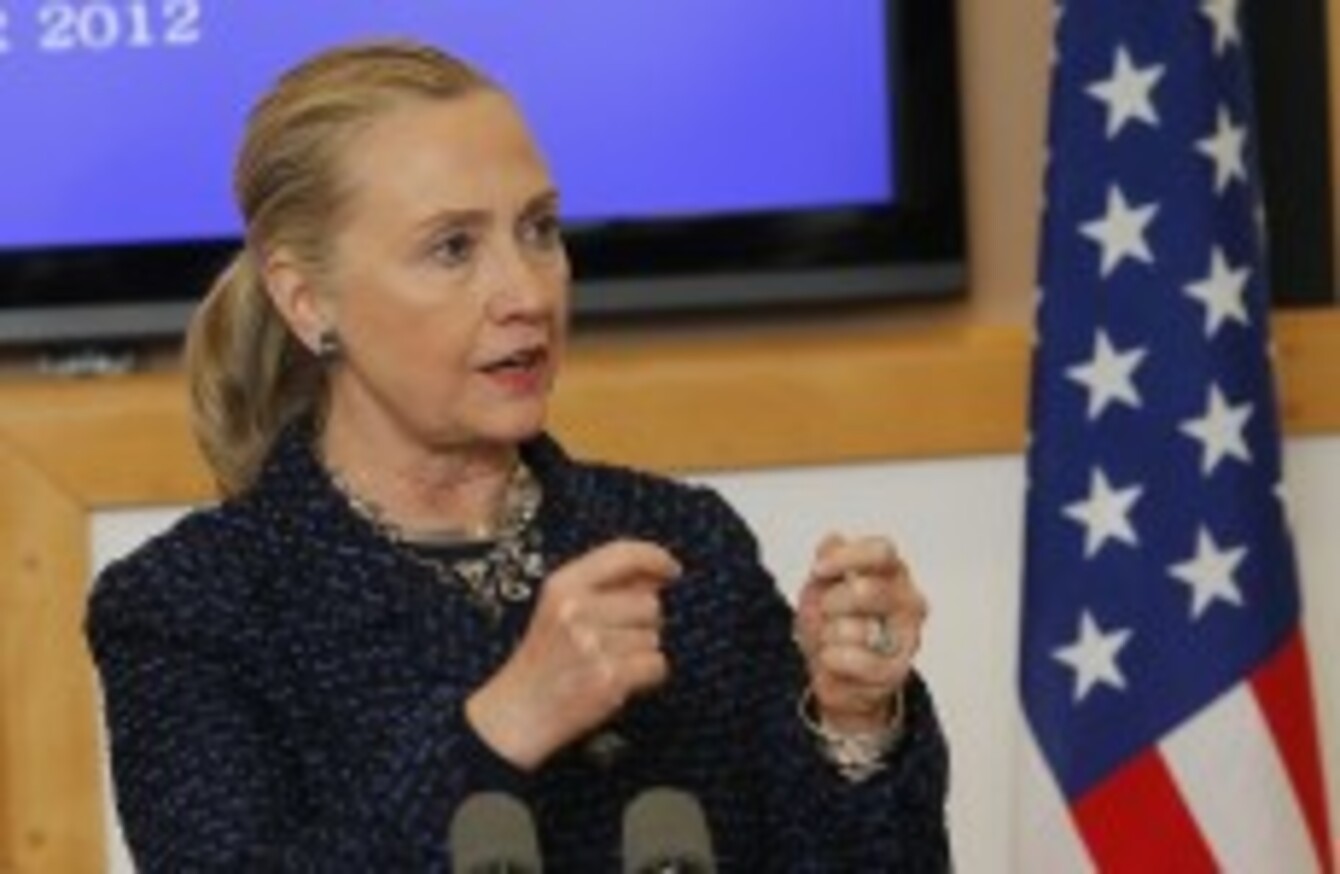 Image: Julien Behal/WPA-Rota/Press Association Images
Image: Julien Behal/WPA-Rota/Press Association Images
ONLY HOURS AFTER being released from hospital after treatment for a blood clot, Secretary of State Hillary Clinton was hoping to end a month-long absence and be back at work next week.
"She's resting at home," State Department spokeswoman Victoria Nuland told reporters. "Some of the senior staff who spoke to her about half an hour ago say that she's sounding terrific, upbeat, raring to go."
The globe-trotting 65-year-old diplomat was admitted to New York Presbyterian Hospital on Sunday after a routine scan revealed the clot in a vein behind her right ear in the space between her skull and her brain.
It was just the latest in a series of health scares, which have grounded the normally tireless Clinton, who in four years in office has travelled almost a million miles and visited a record-breaking 112 countries.
Clinton left hospital late Wednesday after three days of treatment, including spending New Year's Eve in a hospital bed, and doctors who have prescribed her blood thinners say they expect her to make a full recovery.
A tsunami of goodwill messages
"She's looking forward to getting back to the office," Nuland said. "She is very much planning to do so next week. And we'll have further, precise details about that as she continues to make progress."
Nuland said there had been an outpouring of support for Clinton from well-wishers from around the world. "I think you could call the number of goodwill messages a tsunami," she said.
It is unlikely however, that Clinton will be taking any more foreign trips as secretary after doctors recommended that she forego air travel for a while.
On Wednesday, bundled up against the cold in a thick winter coat and wearing dark glasses, Clinton appeared in public for the first time in almost a month as she exited a hospital building.
It was the first time Clinton had been seen since catching a stomach virus on returning from a trip to Europe on 7 December, which triggered a series of health scares, after she became dehydrated, fainted and suffered a concussion.
She has been forced under doctors' orders to rest, sidelining the popular secretary of state just as she was basking in praise for her four-year tenure due to come to an end in January.
Big shoes
President Barack Obama has appointed Senator John Kerry, a former Democratic presidential nominee and long-time foreign affairs expert, as her successor.
Kerry's appointment will have to be confirmed by the new Senate, which was sworn in on Thursday, but as a veteran, well-respected senator, he is expected to sail through his confirmation hearing.
Nuland said Kerry had already visited the State Department headquarters building on Wednesday to meet with senior staff and had left with "a huge file of briefing materials."
"We expect he'll be back in the building on a regular basis starting tomorrow," she added.
Clinton has been largely credited with helping to restore America's image abroad in the past four years, and Obama has said he begged her to stay on.
But the former first lady and senator has admitted to being exhausted after being in the public eye for almost two decades, saying she wants a rest and to return to being a private citizen.
Despite her constant denials though, many people believe she could run again for president, this time in 2016. Although it is not certain yet, whether her health could be a factor in four years time, when she'll be 69 on election day.
There is still some unfinished business for Clinton though, with US lawmakers anticipating she will testify in coming weeks into the 11 September attack on the US diplomatic mission in Benghazi.
Nuland said the State Department was working with Congress to schedule a date for the hearing, as well as to participate in Kerry's confirmation.