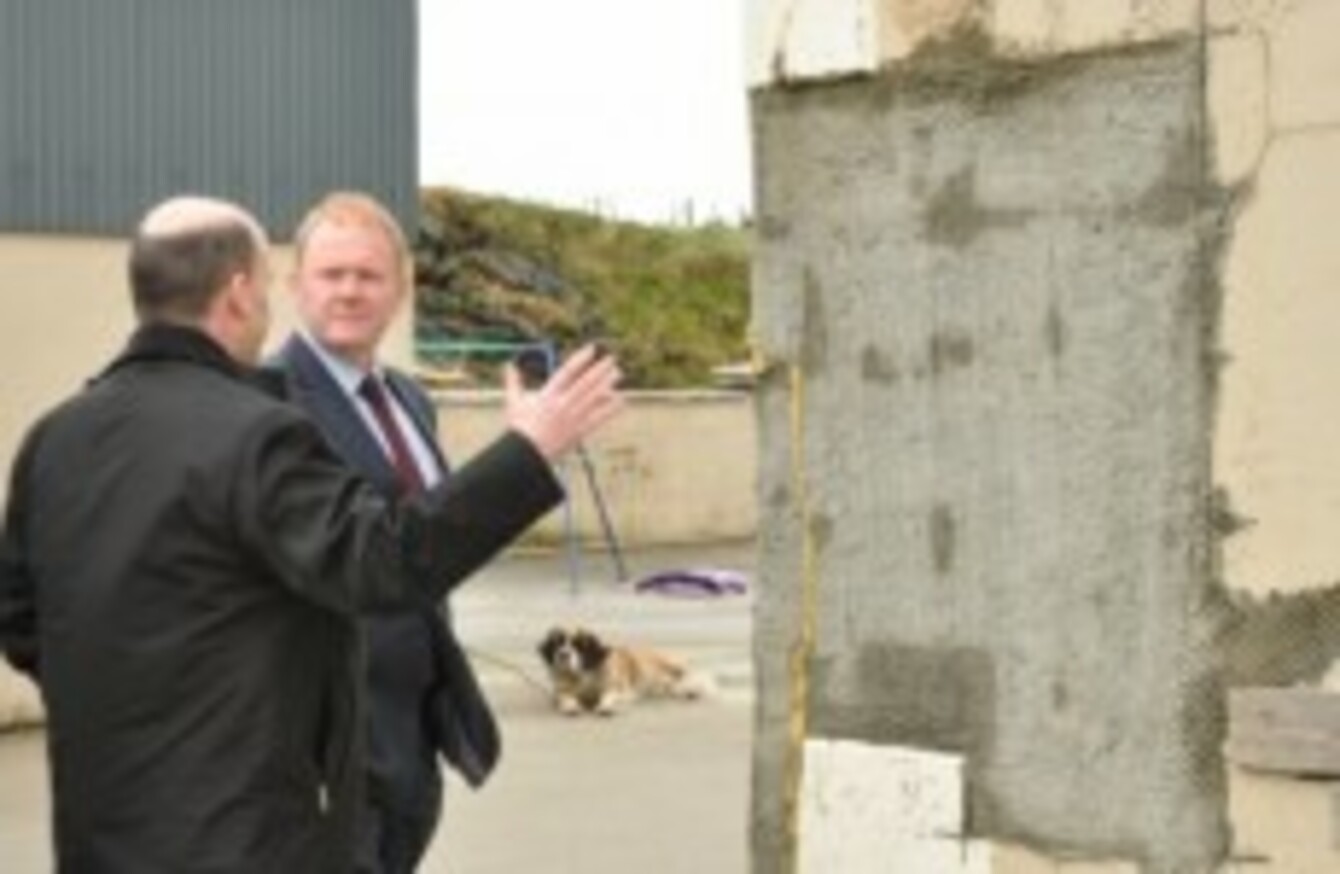 Minister Paudie Coffey inspecting one of the affected houses.
Image: Christina Galbraith
Minister Paudie Coffey inspecting one of the affected houses.
Image: Christina Galbraith
JUNIOR MINISTER JOE McHugh has announced the government is to set up an independent panel of experts in order to address defective blocks that have caused houses to start to crumble in Donegal.
The Mica Action Group (MAG), which has been campaigning on behalf of those affected, welcomed the news.
"This is a very important step in the MAG campaign for redress for affected homeowners in Donegal.
"In setting up a panel, the government recognises the magnitude of the issue we are facing and it is comparable with the process offered to homeowners in Dublin, Kildare, Meath and Offaly whose homes were [affected by pyrite]," MAG chairman Phil McDaid said.
The group said hundreds of people have seen their houses "crumbling around them".
When some homeowners paid for structural engineers to investigate last year, the scale of the problem emerged. Many houses had been built with concrete blocks that were not fit for purpose.
Some of them contained mica muscovite, a mineral which significantly weakens concrete. Others had a lack of water or cement.
Legal repercussions
In a statement, MAG notes the defective block issue is no longer solely a concern for private homeowners as Donegal County Council (DCC) recently confirmed its housing units have also been affected.
There is also the possibility that public sector property may be affected. MAG looks forward to working in partnership with DCC to resolve this scourge for all affected people in Donegal.
The organisation said it will work the government "to ensure that the independent panel is established as soon as possible, comprising of experts who are best placed to research into the issues involved, and investigatory work commences shortly thereafter".
MAG has asked McHugh to address its concerns in relation to house insurance policies and potential legal repercussions for anyone who might attempt to sell a house affected by defective blocks.
The panel's terms of reference have yet to be set out.
Originally published: 6.01am