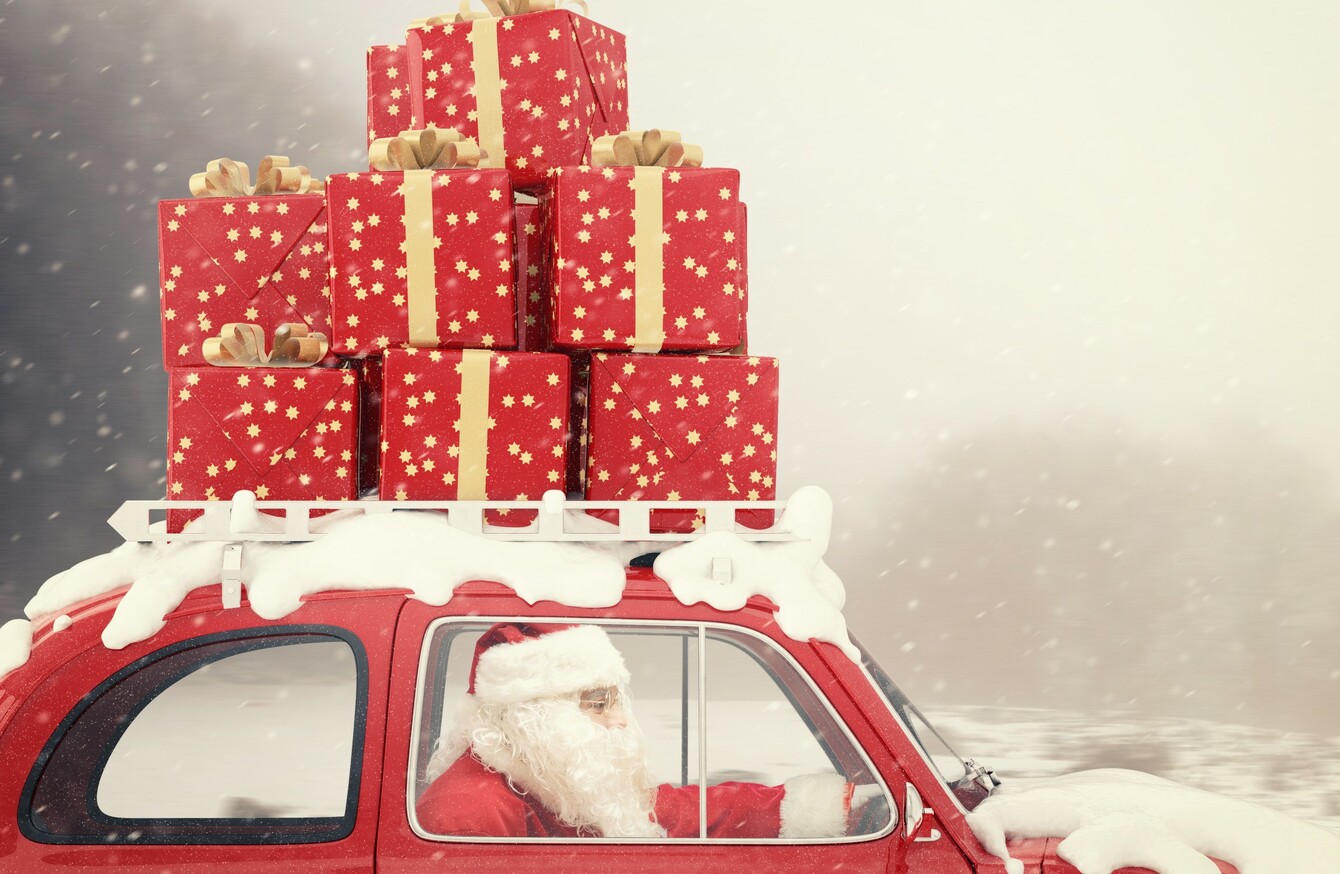 Image: Shutterstock/alphaspirit
Image: Shutterstock/alphaspirit
DRIVING HOME FOR Christmas can be enjoyable. (As long as you aren't stuck behind Chris Rea – will he ever make it home?)
But sometimes driving can be quite stressful, especially during the holidays when it gets dark earlier, when winter roads conditions set in and when you have a car full of kids… or worse, in-laws.
But we have some advice to make driving that little less stressful, and they don't just apply when you are top to toe in tailbacks. You can use these tips whenever you get behind the wheel.
Plan ahead
The day before you need to hit the road, fill up the car with petrol and check screen wash and oil levels. Doing this beforehand helps you get a head start on the trip, cuts time off your journey and is one less thing to worry about.
Getting lost can cause anxiety so if you are going somewhere unfamiliar put the address into the sat nav and/or phone and check the correct route is highlighted. Sometimes sat nav won't have the exact location or picks a route littered with toll bridges, but checking this the day before ensures that you know exactly where you are going.
Printing off directions is also a good idea as sometimes signal and GPS positioning can be lost when on the road.
Take the scenic route! Research published in the journal Landscape and Urban Planning shows that drivers who drive through more green areas are less stressed.
If travelling with children make sure you pack the car so that anything you might need whilst in motion Is easy to hand. Keeping the kids happy is a great way to ensure an argument free and stress free journey.
An hour or so before setting off check the AA Roadwatch Twitter account and website to see if there are any delays, road works or accidents along the route and plan accordingly. If in Dublin, tune into 103.2 Dublin City FM for its excellent Live Drive traffic programme.
Being late is a sure-fire way of upping the cortisol level. When rushed, we may take extra risks or speed to make up time. Speed is the single biggest factor contributing to road deaths in Ireland. So, leave plenty of time so you can have a leisurely drive.
On the road
Set your phone to 'Do Not Disturb'. This is a great stress buster. You won't be bothered by notifications or tempted to look at your phone, which is a huge distraction and cause of accidents.
Skipping radio stations to find a decent song can be distraction so listen to an audiobook or soothing music. Download Marconi Union's Weightless, which has been described as the most relaxing tune ever. It's guaranteed to melt your worries away.
Source: JustMusicTV/YouTube
If you have a passenger let them read the directions, look for pit stops and keep an eye on any backseat passengers. This allows you to relax and just concentrate on the road.
Don't slouch as this causes aches and pains and restricts air to the diaphragm causing shorter, shallower breathing, which can cause fatigue and anxiety. Sit up straight and try to take one deep breath in through the nose and out through the mouth every couple of minutes, or at every red light or at every stop sign. Deep breathing releases stress and helps your body to relax.
If you are by yourself try letting out a roar or scream. It is very cathartic, if a little strange. This is especially good if you are experiencing road rage.  Just roll up the windows before you do this one.
Release tension by contracting your muscles and then relaxing them. Do this when you are stopped at a red light or pulled over, just make sure the handbrake is on. Even just doing this with your hands is a great way to relax and release any built-up tension.
It is a good idea to take a break every two hours and get out of the car to get some air and stretch out your body. If your passengers are annoying you, now is a great excuse to get some space and time away from them.
Locking yourself in a toilet cubicle for a few minutes should do the trick.
So, there you have it. The key to destressing whilst driving is to plan ahead, reduce distractions, take it easy and avoid Chris Rea!