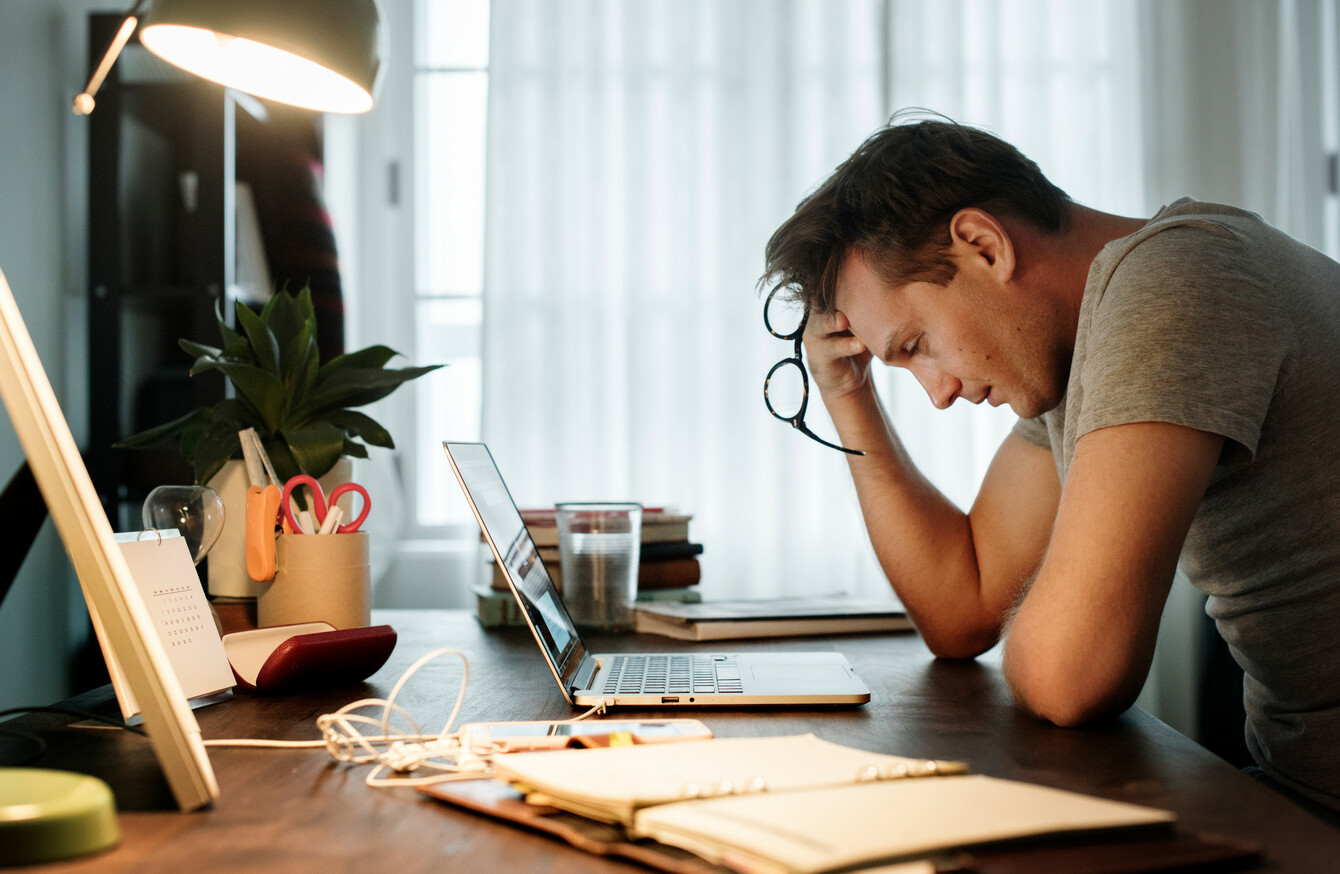 Image: Shutterstock/Rawpixel.com
Image: Shutterstock/Rawpixel.com
DO YOU FIND your stress levels shoot up during the day? Your experience wouldn't be unusual if so – especially if you're working. Just a few months ago, the ESRI found that our level of job stress in Ireland has doubled in the last five years.
And stress can have a very palpable impact on our bodies – according to the Mayo Clinic, it can cause everything from headache, chest pain, sleep issues, sex drive changes to anxiety and depression. It can also lead to poor eating habits, drug and alcohol abuse and social withdrawal. 
During the most recent instalment of The Health Check with Irish Life Health, we found out that overall, readers would rate the impact of stress on overall health as 6.6/10, though the majority wouldn't seek professional help for it (4.4/10).
So, what's causing our adrenaline levels to soar, and how do we calm both our bodies and our brains when it does? We spoke to consultant psychiatrist and author of The Stress Handbook Dr Abbie Lane and clinical psychologist and NUIG lecturer Dr Malie Coyne to find out. 
Why are our stress levels so important?
If returning to your routine this month has you a little on edge (readers rated their stress as 5.9), that's very common. Dr Lane says this figure is slightly lower than national research that two thirds of Irish people tend to rank their stress as between 7 and 10. She explains why:
It's a stressful time of year for a lot of people and in the current climate there's a lot of uncertainty and change. For some people, this uncertainty leads to fear, which leads to a stress response.
While Dr Lane says that stress is necessary and helps us to function, "it becomes a problem when it impairs people from functioning or if we become ill because of it".
The most common issues you'll experience initially from stress are disturbance in your sleep and concentration difficulties. These can lead to worry and for some people, anxiety and depression. Physically, we can experience cardiac illness and events, blood pressure issues and some cancers. "Stress is a significant factor in a lot of illness", says Dr Lane.
It's no surprise then that readers rated the impact of stress on their health as 6.6/10. Dr Lane explains that it can also aggravate illness. 
From a social perspective, the majority felt that stress impacts the way that they treat those around them, rating it 6.6/10. Oddly, this actually echos back to our caveman years, as stress triggers our 'fight, flight or freeze' responses. These responses can even manifest themselves in our interactions with others explains Dr Lane:
'Fight' tends to emerge as irritability or having a short fuse, 'flight' as being withdrawn and not wanting to engage, and 'freeze' as being detached. It can really impact on our work and home relationships.
According to Dr Coyne, this particular impact can "deprive us from the very thing we need most to help us with our stress":
Stress can have a significant impact on relationships as the person suffering can isolate themselves from others or react defensively when under significant pressure.
The good news is that 80% of stress-related illness is preventable, so Dr Lane sees it as very positive that readers rated managing stress as a 6.9/10 in priority. "It's really good to see that people are prioritising looking after their stress."
So, what can we do about it then?
As a consultant psychiatrist, Dr Lane's method for helping people to tackle stress is three-pronged – to eradicate what she calls 'toxic stress', we need to look at 1) our lifestyle 2) our thinking and 3) seek professional support if self-management of these don't help. 
Beneficial lifestyle changes include everything from improving your breathing, keeping hydrated, eating a balanced diet, exercising regularly, engaging in yoga and mindfulness, doing group activities outside of work and home and keeping alcohol and substances to a minimum.
While they're not always possible for everyone, the following four goals have been shown to help keep stress at bay, according to Dr Lane:
Being in optimal physical condition
Developing an interest outside of your home
Having connections with others
Not being in financial difficulty
For Dr Coyne, the impact of these social connections can have an immediate impact on the very symptoms that make us feel stressed:
A meeting of the minds or a good laugh with the right person can activate optimal levels of our 'feel good' brain chemicals and drastically lower stress by relaxing heart rate and blood pressure.
While not all of these are simple to fix, Dr Lane says that you'll find some brilliant resources from HealthyIreland for tackling whichever of these aspects you struggle with. And the majority of our readers said they'd use exercise to combat stress (5.9/10).
This can be one of the most powerful methods – "there are reports that exercise is as effective as therapy for some mood difficulties." In particular, Dr Lane recommends swimming for those who are struggling with stress: "the repetitive motion of swimming is like a form of mindfulness".
Secondly, it's very important that we look at the way we think on a day-to-day basis. Dr Lane recommends having a look at Dr Kirsten Neff's site dedicated to self compassion as a good starting point. 
And a few minutes of mindfulness can make a real, physical impact on your stress. Dr Lane reminds how powerful this can be: "10-20 minutes of mindfulness a day for eight weeks can have a very important impact on the brain in reducing your body's stress response". Dr Lane recommends Buddhify and Smiling Mind for this.
What else could be causing issues?
And the last aspect of our lives that can cause stress is one you're using right now – technology. While readers said they'd be unlikely to use mindfulness apps to target stress (4.1/10), Dr Lane says that there are some very good online resources to manage stress, such as those listed above.
She reminds however that it's "not just as simple as using an app – it needs to be used in the context of other lifestyle changes". Dr Lane also warns that using our phone too much can actually cause stress:
With technology, we are in constant contact and there's no downtime. This keeps us on hyper alert and can trigger a stress response from being switched on all the time.
If this sounds a little too familiar, it's valuable to consider your use of technology, says Dr Lane: "A lot of people would recommend a digital detox – limiting your time scrolling and the use of technology in your bedroom."
Dr Coyne agrees: "There's an awful lot of pressure on a daily basis for how we should or shouldn't live our lives, which makes us hyper-aware of what we're not doing." She reminds that we are consuming "highlight reels" that can create a sense of inadequacy.
Ultimately, it's about making positive changes and getting the support you need:
Identify what is stressing you and what you are going to do about it and the changes you need to make in order to live life without excessive stress. 
Dr Lane says: "I'd encourage anyone who feels they are experiencing this to seek help and get advice from someone they trust – whether it's a loved one, a friend or a professional." 
"Because stress creeps up over time rather than being a really obvious mental health concern, sometimes we do not perceive stress as a significant problem", says Dr Coyne.
Read more from The Health Check:
Over the next few months as part of The Health Check, we'll be capturing a snapshot of our health as a nation with Irish Life Health. We'll be compiling anonymous, real-time ratings and talking to experts about the results and what they mean for our health. We know Irish Life. We are Irish Life Health.