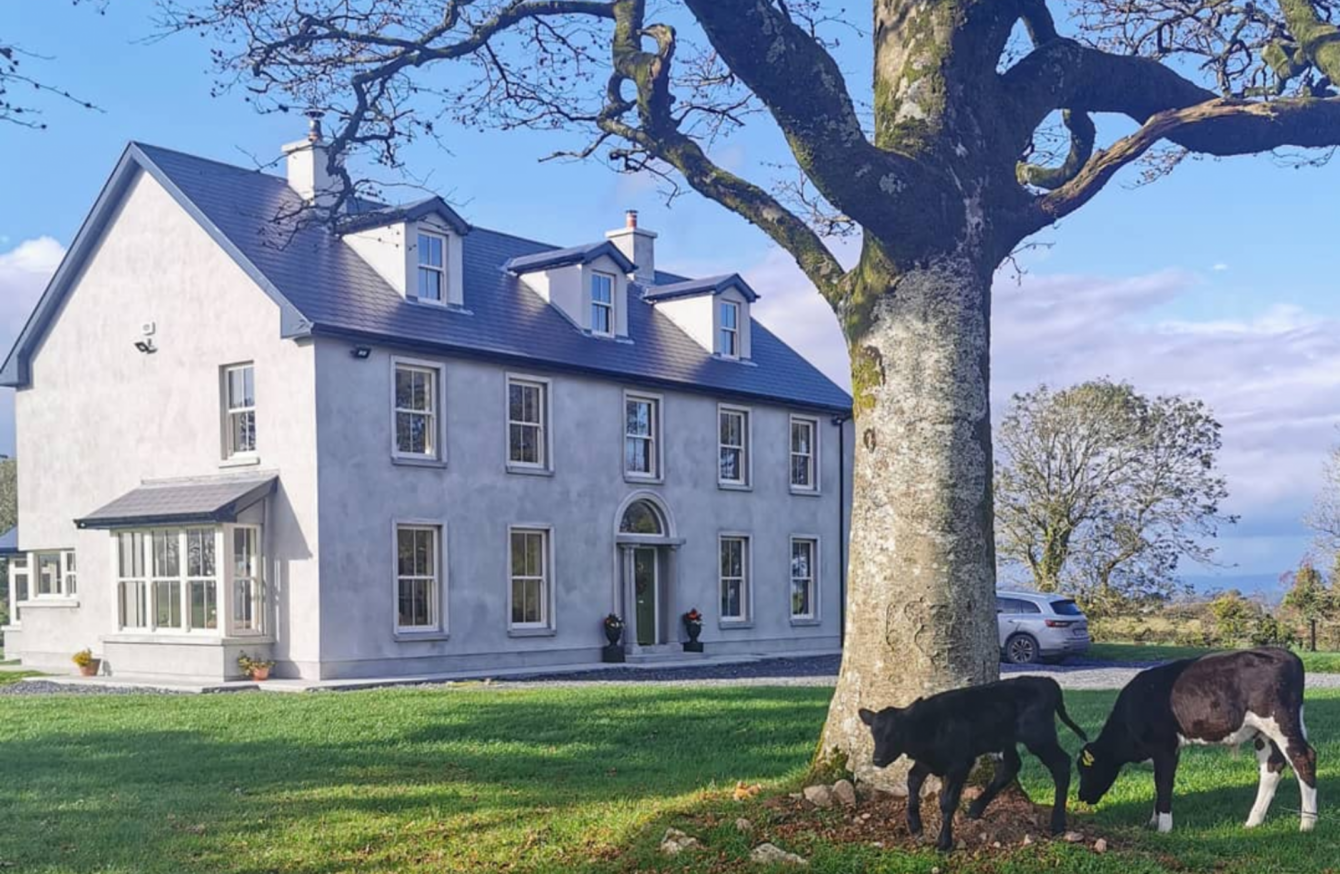 Sarah's house in Waterford.
Image: sarahs_ivy_hill/Instagram
Sarah's house in Waterford.
Image: sarahs_ivy_hill/Instagram
About your home
Where? On the top of a hill, 750m off the road in Co Waterford. It is situated on a former 72-acre landed estate, now owned by my husband's family.
What type of house? A three-storey home, with a traditional block build
How many bedrooms and bathrooms? At the moment, we have five bedrooms and four bathrooms, but we haven't completed any internal work on the third story yet, so that will change the house composition in coming years.
When did you move in? April 2019
About you
Name: Sarah
Age: 31
Occupation: Civil servant
Who else lives there? My husband, our two dogs and 14 other pets!
What made you choose this home over others?
Both my husband and I were always keen to have land for animals and we fell in love with the exact site our house is on many years ago. We knew it would be expensive to build there, but it was worth every penny.
We have extensive views, and because it's set on a landed estate, we are fortunate to be surrounded by hundreds, if not thousands, of trees. We also have an abundance of wildlife, including pheasants, badgers, foxes, hawks and even the common lizard on our doorstep.  
What is your favourite place in your home?
My favourite place is the kitchen. I loved every minute of designing it and it also contains my most beloved item: the double-sided stove! This stove broke the hearts of some of the contractors, but everyone agrees that it turned out amazingly. It has a custom built surround, which gives the impression that it is floating. We love to relax in front of the fire, and it is a great talking point when people visit for the first time.
Is there any part of the home you don't like?
Nothing at all. We are fully aware of how fortunate we are to complete the build, especially in the current housing crisis.
Is there any part of your home that makes it unique?
I think the most unique part of our home is the third storey – most people can't believe it got through planning. We have not completed any work up there yet to make it functional or livable, but it's in the 20-year plan! Obviously, the third floor is not required for our daily living, so when we are more financially comfortable again, we may consider tackling it. Until then, it will just look pretty from the outside.
Take us through an average day in your house, room by room. 
On an average weekend day, we're up early with the dogs.
7am: We usually bring the dogs outside and then head straight back to the utility room to prepare milk for our bull calf Jack and little calf Poppy. They're some of our pets and we adore them!
8am: I head into the animal shed outside to feed the small animal gang while my husband feeds the chickens. 
9am: We're back in the kitchen, eating breakfast at the island. We have no kitchen table yet and it's something we'll think about getting later down the road.
10am: Our day will usually revolve around some DIY project in the house – including recently doing the main bedroom – and also will focus heavily on either buying bedding or food for all the animals. This could be bugs, worms, hay, dry feed – anything!
5pm: We start to think about dinner and by 6pm, we have usually cooked our own food or bought food in. Again, we'll be sitting at the island, chatting about the day and feeding the dogs from the plate. 
7pm: We take some time to relax on the couch.
11pm: This is usually the latest we're in bed. We really wanted a hotel feel to our bedroom, so did some DIY panelling on the main wall and painted it a rich plum colour. We don't have curtains yet so we are appreciating the dark nights. 
Is there anything you'd do differently if you were doing it again?
If I were to do this process again, I would probably have had a set of stairs built earlier, and I would have waited longer before moving in. We spent many weeks climbing a ladder from outside into the main bedroom window, just to get into the house!