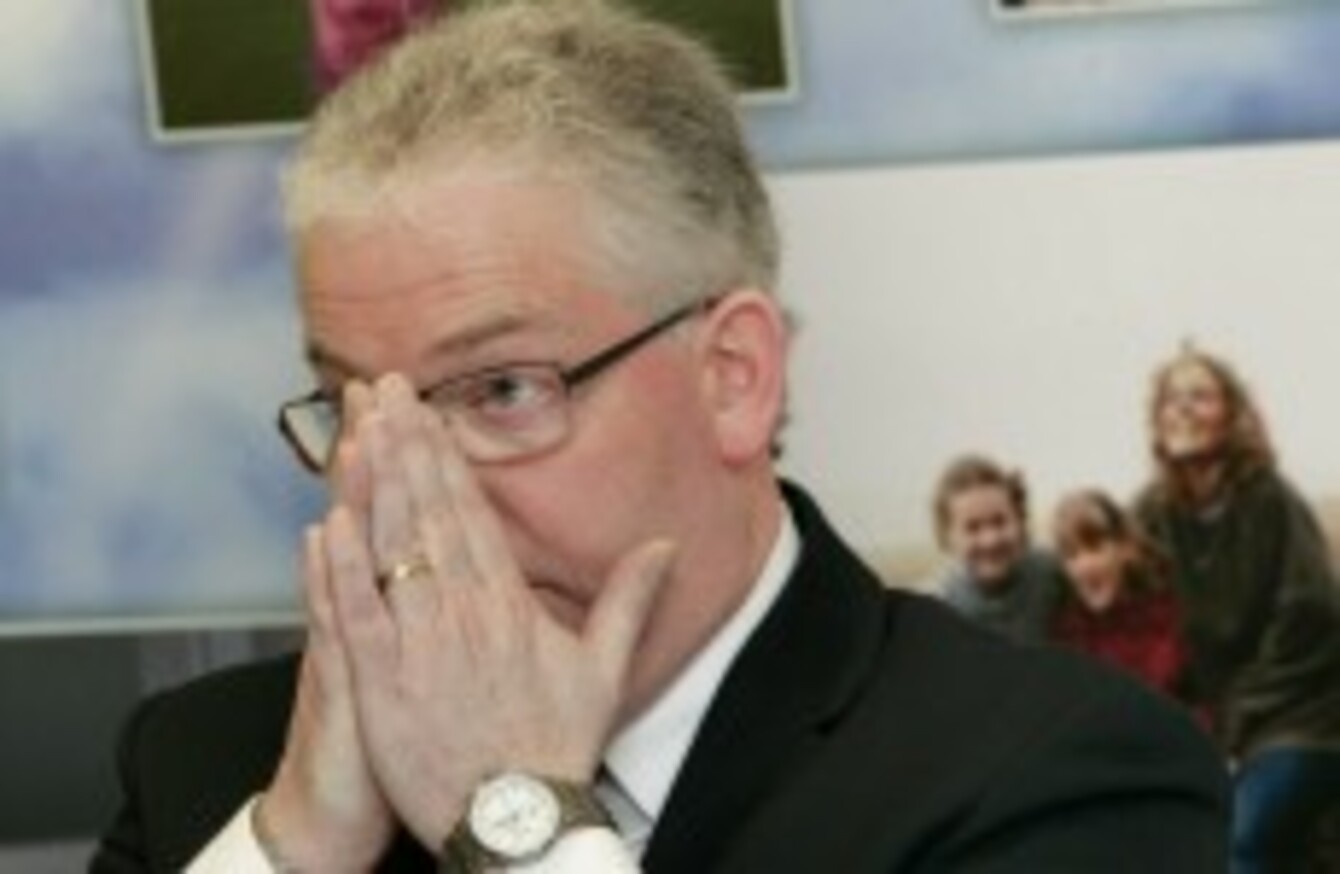 HSE CEO Tony O'Brien
Image: Mark Stedman/Photocall Ireland
HSE CEO Tony O'Brien
Image: Mark Stedman/Photocall Ireland
Updated 6.35pm
THE HEALTH SERVICE Executive is struggling to recruit consultant staff for crucial posts 'for the first time in the history of the state', a confidential report has revealed.
The report, seen by RTÉ's Prime Time, detailed many posts advertised by the HSE that have not been filled in recent years.
This evening, the HSE said it is "urgently progressing" work being done on how to retain medical graduates in Ireland's public health system.
The HSE posts mentioned in the report include vacancies at Waterford Regional Hospital for a Consultant Neurologist, an Emergency Medicine Consultant, and  two Consultant Radiologists, to which nobody applied.
The report also listed, among others, the Coombe, Beaumont, St James, Tallaght and the Mater Hospital as locations where advertised vacancies received few or no applications.
The report was presented to HSE CEO Tony O'Brien late last year.
Minister for Health James Reilly is warned in the report that the HSE is in danger of 'regressing'.
"It is clear that we are facing a recruitment crisis for consultant posts as well as great challenges in retaining or attracting home our graduates," the report read.
We face a real danger of regression to a previous era when healthcare standards were highly variable.
A number of cases where consultants left the HSE for private positions are also highlighted in the report.
HSE response
The HSE noted that Minister Reilly has expressed concerns recently that the 30 per cent reduction in consultant pay is currently being applied in all instances.
The HSE said that Reilly said it "was never his intention that this would include consultants who move post and to consultants coming from abroad".
Reilly said that this needs to be addressed, said the HSE, as it is "constraining experienced consultants from applying". He has sought proposals for him to consider on this.
The HSE suggested "some recognition of experience and additional specialist training" when it submitted its views to the Department of Health for consideration on 23 January.
The Minister set up the Strategic Review of Medical Training and Career structure for  improving the retention of medical graduates in the public health system, planning for future service needs and realising maximum benefit from investment in medical education and training.
The group sent an interim report to the Minister in December 2013, and its recommendations "were largely in the area of the quality of the training experience".
The working group is now examining career structures and pathways following training. The HSE said that this work "will be progressed as a matter of urgency", with a view to preparing a report on medical career structures and pathways following training by the end of March 2014.
Prime Time also revealed by way of a Freedom of Information request that €344,000 was spent on filling a consultancy position in Letterkenny General Hospital with temporary agency staff.
- First published 10.30am. Additional reporting Aoife Barry