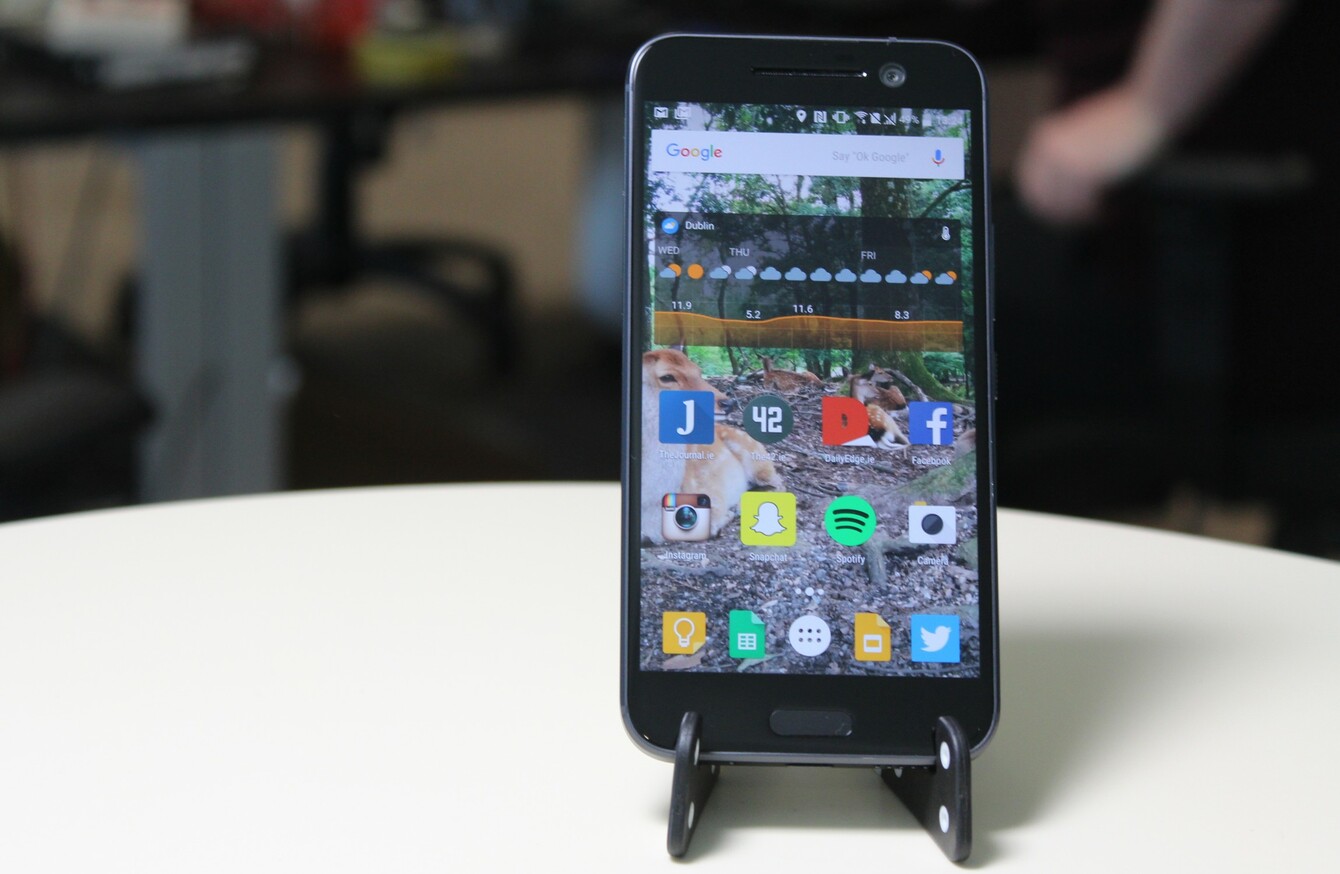 Image: TheJournal.ie
Image: TheJournal.ie
Score: 8.5/10
Verdict: This is HTC's best phone yet but it lacks that little bit extra that would turn it into an essential purchase.
ONE OF THE last companies to reveal their flagship phone, HTC's decision to announce its latest phone when things are quiet wasn't a bad idea. With its smartphone sales plummeting in recent times, it needs a hit and all the attention it can get if it wants to reverse its fall.
That phone is the HTC 10 and it's learnt many lessons from its last few attempts. But in a market where the standard is incredibly high, it needs to pull out all the stops to be noticed.
The best of both worlds 
As mentioned in our preview, HTC 10 has taken inspiration from last year's M9 and the iPhone-like A9. This focuses more on refinement than revolution.
The front is mostly the A9 with fingerprint scanner being the main home button and the back and recents placed beside them and the Boomsound front facing speakers replaced with one at the bottom and one at the top front.
The back follows the design choices of the M range and still feels as comfortable and sleek to hold. It's also incredibly shiny too thanks to the many subtle curves at the back.
You can't fault HTC's design quality and its ability to craft a phone is still one of its main strengths.
Removing bloatware
When it was announced, one of key features was the lack of bloatware on the phone. This can feel a little strange when you boot up the phone and find a home screen with nothing on it save the app tray and the Google Docs and Notes app at the bottom.
Yet that's one of its strongest features. The decision to use Google Photos as the primary photos app and use HTC's camera app works, giving you the best of both worlds.
This is the closest you can get to a stock Android phone without buying a Nexus, and how HTC/Google partnership gives you less reason to search for alternative apps.
In some ways, it's a better phone stock Android phone than Google's own efforts.
Hitting the right notes
Overall, performance is fantastic and pretty much on par with Samsung's Galaxy S7. No lag, instant access when cycling through apps and no real instances of it heating up through use.
The battery life is decent, if not great – HTC promises two days but you'll really get a day through normal use, and another 12 hours if you play it safe.
The sound quality is also pretty good thanks to the inclusion of personal sound profiles. Creating one is easy to do, and the deeper sound it creates does help improve the music you're listening to (On a related note, the bundled earbuds are some of the better ones out there).
The traditional front-facing speakers may be gone but it still manages to deliver good sound quality, even if it's a little heavy on the base.
Consistency 
While it wasn't an area HTC focused on massively with its promotion, the camera is one of its best so far. It's not quite on par with the Galaxy S7 but it's consistent in quality.
Photos tend to be similar to the iPhone in that they opt for natural colours instead of vibrancy, something that can lead to slightly darker photos than normal.
#Open journalism No news is bad news Support The Journal

Your contributions will help us continue to deliver the stories that are important to you

Support us now
Low-light situations show decent results although it takes a little longer than other flagships to focus properly. This is still a very short period to wait but after being used to other rival phones booting up instantly, it certainly more noticeable.
The other thing is the lack of a good quick launch option. Instead of double pressing the power button for the Nexus range, HTC opted for a double swipe down while the phone is locked. It's different, but it's an unnecessary hindrance.
HTC 10 photos

HTC 10 photos

HTC 10 photos

HTC 10 photos

HTC 10 photos

HTC 10 photos

HTC 10 photos
Should you buy it?
While it's a fantastic phone, the biggest criticism you could give it is it doesn't have a definable selling point. It delivers in a number of areas including sound, performance and camera, but for the average person, they're not quantifiable.
An amazing camera, long battery life, or easy software are things that people can get behind but there's not one main feature you could say stands out. If you're saying why you should buy the HTC 10, the answer is "because it's a great all-rounder".
There is a place for the HTC 10 and you most certainly won't be disappointed using one, but in a world full of great phones, that one thing could end up hindering it. And if it does, that would be a real pity.
Pros
- Lean version of Android works in its favour.
- Performance and hardware is top-notch.
- Consistent and accessible camera.
- Sound quality is great.
Cons
- Battery is decent, but not great.
- Camera focus can take longer than expected to focus.
- Lack of convenient quick launch method for camera.
The HTC 10 will cost €699 unlocked and will be available in Three from 5th May.