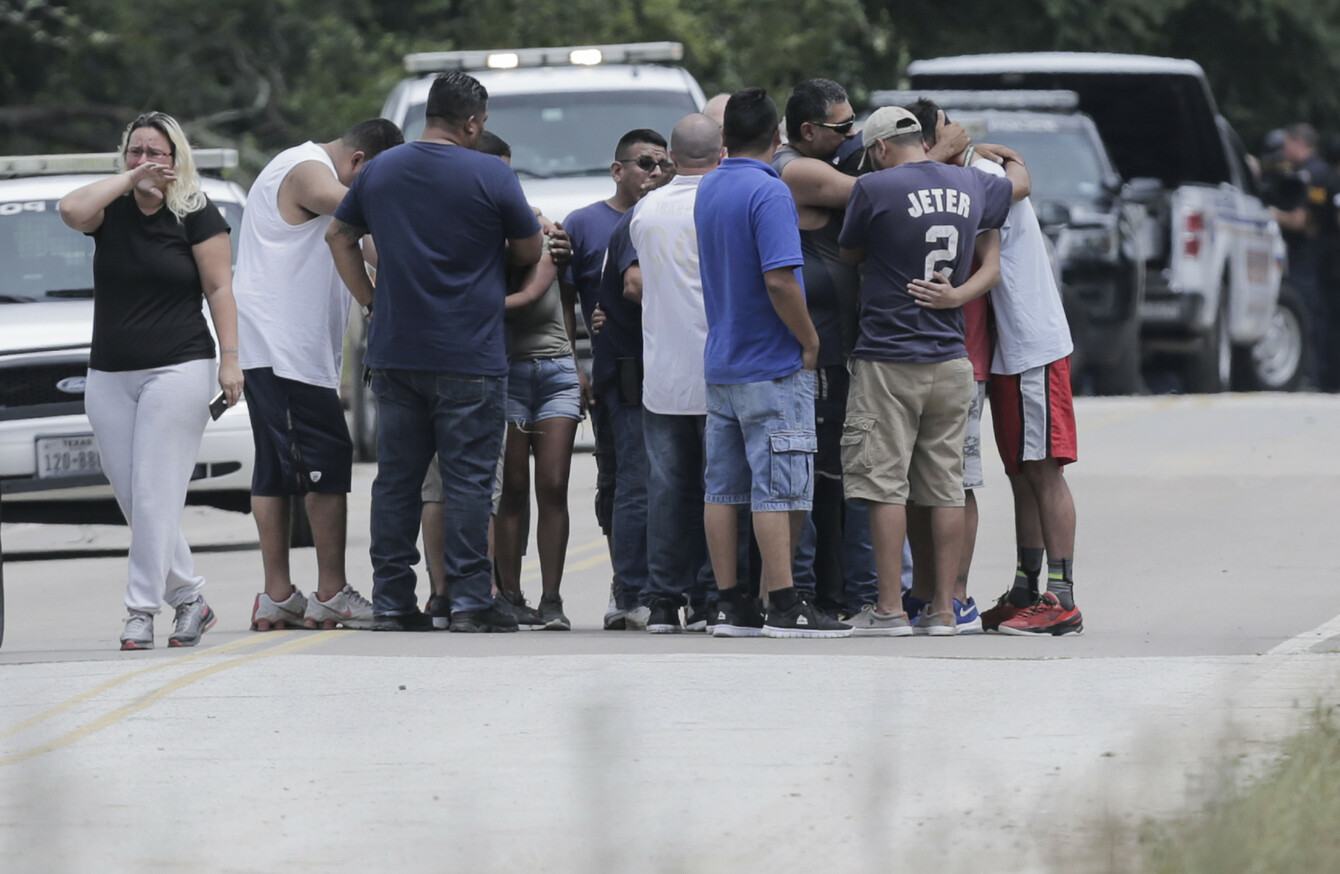 Family members react as a van is pulled out of the Greens Bayou, Texas with the bodies of several family members
Image: Elizabeth Conley via AP
Family members react as a van is pulled out of the Greens Bayou, Texas with the bodies of several family members
Image: Elizabeth Conley via AP
ONE MAN USED his last words to save a friend's life, warning him away from a live electrical wire. Another died checking on his uncle. Several others were last seen helping people out of floodwaters.
These people are among the victims of Hurricane Harvey – the storm that has ravaged through Texas – who lost their lives trying to save other people.
The victims of the monster storm range from six years old to 89. The stories of their final hours are beginning to emerge as the death toll from the storm continues to mount.
'This is absolutely devastating'
25-year-old Andrew Pasek was en route to check on his older sister's cat when he stepped on a live electrical wire in ankle-deep water on Tuesday, his parents have said.
Pasek fell into the lamppost attached to the live wire. His friend tried to come to his aid, but Pasek warned him away.
"He said, 'Don't touch me. I'm dying,'" according to his mother, JoDell Pasek, who lost her other son to a drunken driver in the 1990s.
Al Pasek said his son was "a remarkable young man" who was always rescuing animals that needed a home, and even once saved his own father's life when he choked on a piece of food and couldn't breathe for more than a minute.
"This is absolutely devastating," Al Pasek said of his son's death.
Police death 
Houston police sergeant Albert Steve Perez died when he was heading to work around 4am local time on Sunday. The 60-year-old father of two left after his wife urged him to stay home, Houston police chief Art Acevedo said.
"I've got work to do," Perez told his wife, according to the chief.
"He has that in his DNA."
Acevedo added: "I've only been here nine months, we've got 6,500 employees and I knew who Steve Perez was because he was a sweet, gentle public servant."
Boat accident 
Two men, 45-year-old Yahir Rubio-Vizuet and 33-year-old Jorge Perez, died in a boat accident while on a mission with family and friends to save people from the floodwaters, according to their family.
Two men in their group remain missing, with their family members posting Facebook Live videos as they search on foot for their loved ones.
Other victims of Harvey died in their homes, businesses, or cars, simply trying to stay safe or find refuge.
'A reputation for helping people'
58-year-old Ruben Jordan disappeared while driving during the storm and was confirmed dead by the Friendswood Police Department, according to his family, who don't know exactly what happened to him.
Jordan, a beloved football and track coach at Clear Creek High School, was "a hell of a man" with a reputation for helping people, said his brother, Oscar Drew Jordan.
He said Ruben Jordan once took a former student who was addicted to drugs into his home so he could get clean and then helped the young man get his own apartment.
"He had a bigger heart than anyone I know," his brother said.
Family accident
Samuel Saldivar told police he was trying to bring his elderly parents and his brother's four grandchildren to safety from their flooded home when the van he was driving was tossed by a strong current into the bayou as it crossed a bridge on Sunday.
Saldivar escaped through a window but the others were trapped when the van's partially submerged sliding door wouldn't open.
The bodies of Saldivar's parents and the four grandchildren, who were aged between six and 16, were found on Wednesday in the submerged van.
'Everybody loved him'
On Tuesday, 82-year-old Ronald Zaring died on a rescue bus on the way to a hospital.
His son, Devin Zaring, said that after the storm hit, there was no way he could get to the nursing home in Friendswood where his Navy veteran father was living after an Alzheimer's diagnosis.
But Zaring took comfort in knowing his father was in good hands. Residents and staff were evacuated to a local high school on Monday and were headed to Huntsville.
Ronald Zaring probably died of heart disease combined with pneumonia, according to reports.
"He was just a super nice guy. He didn't know a stranger," Devin Zaring said. "Everybody loved him."
'Very good, very caring people'
On Wednesday amid clear skies, 65-year-old Donald Rogers decided to check on his uncle, who lived about 16 kilometres away in Fulshear, Texas.
Rogers and his wife, 58-year-old Rochelle, were passing over a bridge in their pickup when the swift current flipped it over, said Rogers' stepbrother, Tony Henny.
Rochelle was able to call 911 but rescuers arrived only to find the couple dead in their truck.
"Both of them were very, very good, very caring, extremely benevolent people," Henny said.
"Donald especially would give his last."