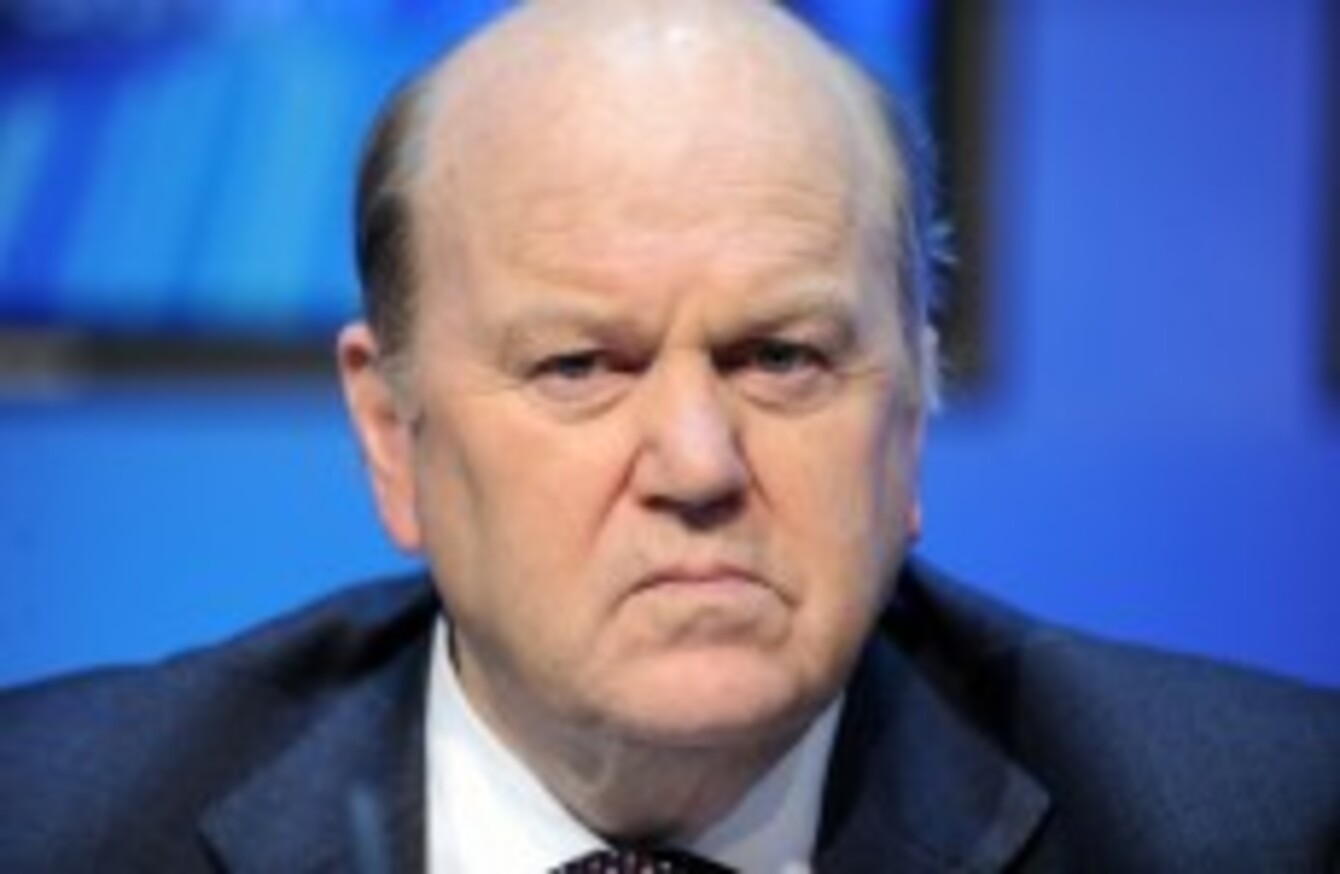 Image: Barry Cronin/Photocall Ireland
Image: Barry Cronin/Photocall Ireland
FINANCE MINISTER MICHAEL Noonan has said that it would be legally problematic to give staff at the liquidated Irish Bank Resolution Corporation (IBRC) anything more than statutory redundancy despite previously agreed redundancy packages.
In a letter to the Environment Minister Phil Hogan, who had been lobbied on the matter, Noonan wrote that while it is "unfortunate" that staff were not given more notice of the bank's liquidation in February it was "imperative" due to the "scale, sensitivity and complexity" of the matter.
Many of the 800 staff at the former Anglo Irish Bank have been angered by their treatment and the loss of redundancy packages that had been agreed prior to the bank's liquidation which will see many lose their current positions once the process is completed later this year.
The previously agreed redundancy packages consisted of four week's pay per year of service. Statutory redundancy entitles them to two weeks' pay per year of service meaning many staff have seen their redundancy packages halved.
This week the Irish Bank Officials Association (IBOA) reiterated to its hundreds of members who work permanently at the bank not to co-operate with NAMA and Capita, the firm employed to deal with some of its loanbook, until such time as there is a solution to staff issues.
IBOA also warned that "further serious action" will be required in order to obtain a satisfactory solution and told its members that it would discuss "how we might escalate action to increase leverage".
But in the letter to Hogan, seen by TheJournal.ie, Noonan said that it would be legally problematic to ask the liquidator, KPMG, to divert assets from creditors to employees and rud s out any change in this stance.
'Standard rules'
He wrote: "There are standard rules on how the assets of companies in liquidation are distributed and it could be legally problematic for me to ask the Special Liquidators to interfere with these standard rules to the detriment of creditors and preferment of employees.
Noonan also said in the letter that the work of IBRC staff "over the past few difficult years whilst the bank was in wind down are greatly appreciated" by the government and pointed out IBRC's assets are sold off some staff will be offered employment by the purchasers of those assets.
Current IBRC staff have had their contracts with the bank extended on existing terms to the 7 August with a month's notice after that as the bank undertakes the process of offloading its assets but this process could be hampered by non-cooperation of some staff.
Writing for TheJournal.ie recently, one staff member said that the liquidation process had left staff morale "low" and "employees' mental and physical health at risk".
The staff member also said that the liquidation process had resulted in it losing "a lot of trust from clients" who it had worked to rebuild relationships with after the collapse of Anglo in 2008.
"Now with liquidation we are back to where we were, battling to get the borrowers back on side in a bid to ensure that loan repayments are kept up," the staff member wrote.