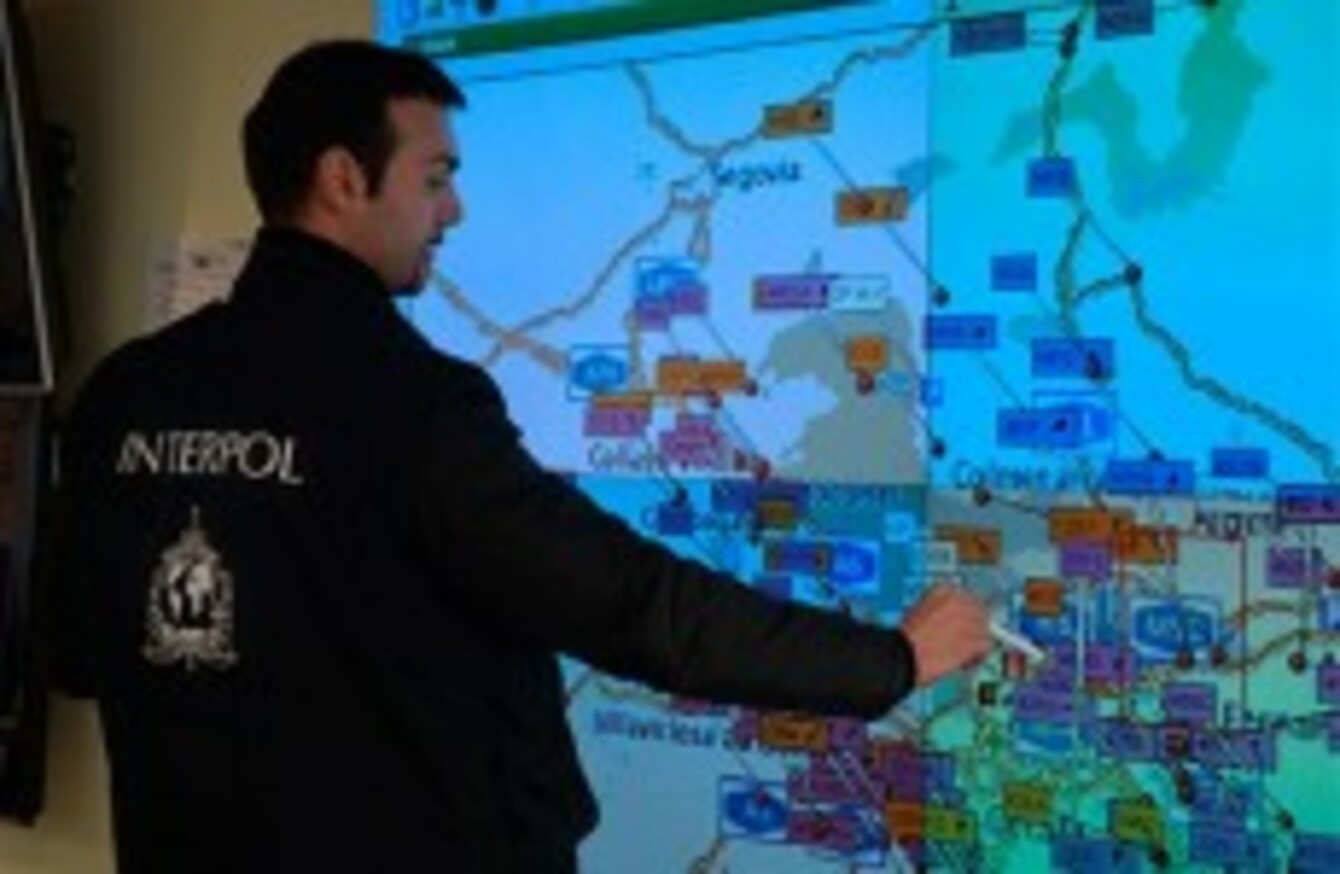 An Interpol officer looks at map where seizures have taken place
Image: (AP Photo/Interpol)
An Interpol officer looks at map where seizures have taken place
Image: (AP Photo/Interpol)
OVER A TWO-month period an Interpol anti-counterfeiting sweep netted tens of millions of euros worth of fake shampoo in China, phony cigarettes in Turkey and counterfeit beer in Chile.
In a statement, Interpol say that more than 6,000 people around the world were arrested. The operations coordinated by the Lyon, France-based international police agency in May and June seized some 24 million fake goods worth nearly $133 million (€101,661,023).
The combined haul ranks among the largest operations ever conducted by the agency's special anti-counterfeiting unit, according to its director, Michael Ellis.
Counterfeit goods
As part of the worldwide push against counterfeiting, the agency helped lead operations by local authorities in the Americas, Africa, Europe and, for the first time, in Asia.
The Asian operation shut down 21 production sites operated by eight criminal syndicates making fake shampoo and toothpaste in southern China. More than 400 people were arrested in Thailand for hawking counterfeit clothing and DVDs, while in Vietnam police arrested an individual linked to $6 million (€4.5 million) worth of illicit electronic appliances.
Interpol will use intelligence gathered during the raids to look for links between criminal organisations, Ellis said. "The way the criminal networks work, there will be links. There's a factory in one country, distribution supply chain in one country, money paid in a third country," Ellis said.
Among other findings were:
A subterranean tobacco factory in Ukraine used for making fake cigarettes
A workshop in Lima, Peru, used to put fake brands on illicit motors from China
94,000 bottles of counterfeit beer in Chile
Beyond the record number of arrests for an Interpol operation, the most important achievement was the shuttering of numerous factories where fake goods are made, Ellis said.
#Open journalism No news is bad news Support The Journal

Your contributions will help us continue to deliver the stories that are important to you

Support us now
Interpol said the operation highlights the potential danger that fake goods represent to consumers.
"It's about quality and expectations. You're buying a particular electrical component part, you have trust, because it's a brand you know and respect," Ellis said. "But that product could in fact be dangerous or defective. It's misusing trust of the brands."