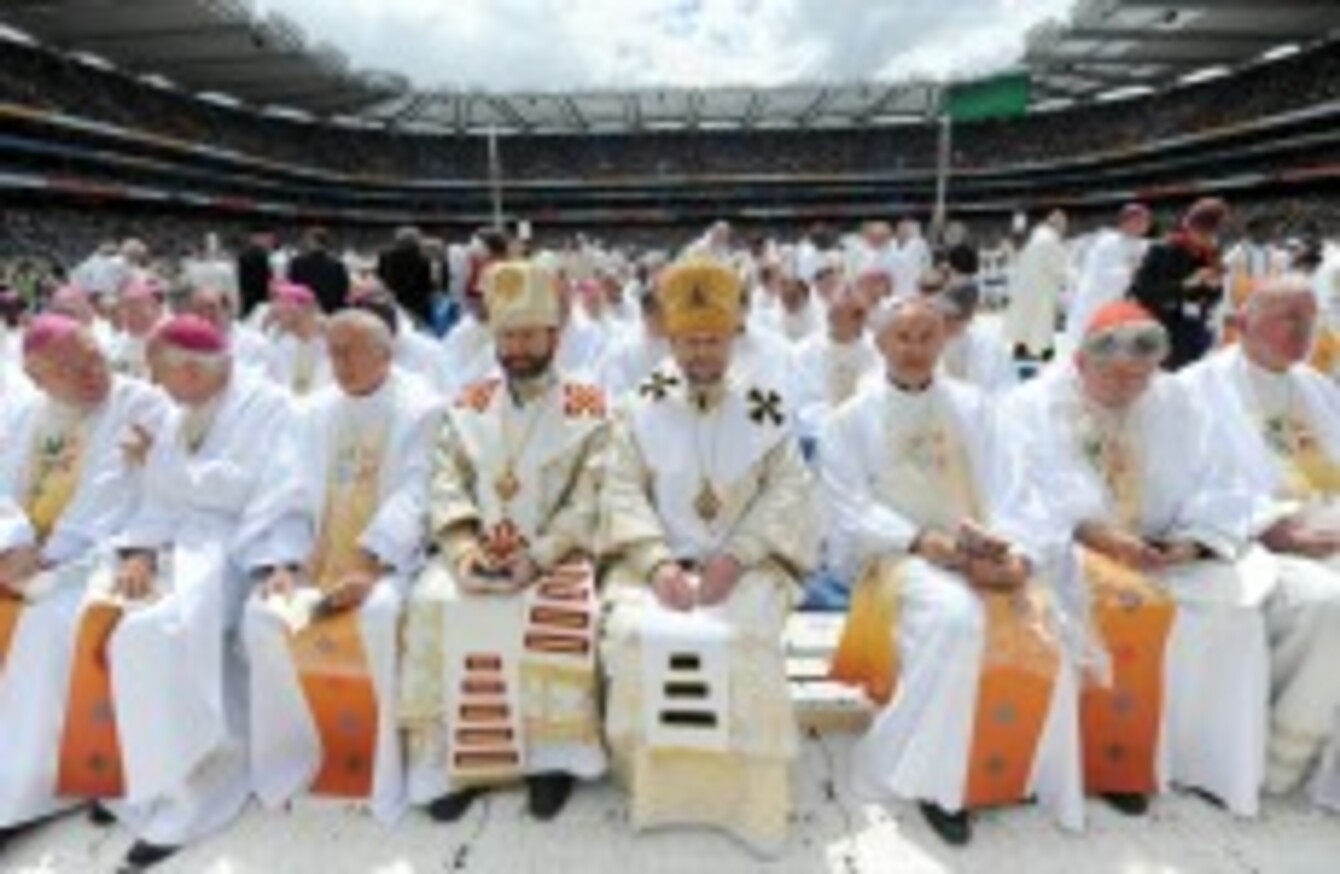 The Eucharistic Congress - a great bunch of lads.
Image: Photocall Ireland archive
The Eucharistic Congress - a great bunch of lads.
Image: Photocall Ireland archive
HOW WILL WE remember the post-boom years in time to come?
Donal Conaty of TheMire.net has been chronicling the fall of Celtic Tiger Ireland through daily spoof news posts since 2009.
Extracts have been gathered into a new book, Ireland In The Bailout Years: Tall Tales from Ireland in The Mire, available to buy here for Kindle or in paperback.
Each weekday until Friday, TheJournal.ie brings you a taste of the book's savage satire, year by post-boom year.
Today: 2012
Outraged Ministers believe VHI increases are targeted at them
Monday, 06 February
Senior members of the Government are outraged at the VHI's plan to increase premiums as they feel it is targeted at them.
"The VHI should not be allowed to do this," a member of the Cabinet said. "It is a form of bullying."
"Politicians, developers in Nama and a few bankers are the only people who can afford health insurance," the Minister said. "It is not fair to single us out for excessive charges."
He insisted it was little comfort to him that he would be able to claim his health insurance on expenses. "There is a principle involved," he said hilariously.
Inclusion in Leaving Cert could be the end of Chinese
Tuesday, 08 May
Chinese could cease to exist as a spoken language by 2020 if it becomes part of the Leaving Certificate curriculum.
The stark warning came after Education Minister Ruairí Quinn sought to boost the numbers of Irish people speaking Mandarin (standard Chinese).
Officials in China were horrified at the development. "Please don't kill our language," Chinese Premier Wen Jiabao said.
"If you promise not to teach Chinese we'll build you a giant shop in Athlone," he added.
Germans say rest of Europe is isolated
Wednesday, 23 May
German officials have insisted their country is not isolated over the euro zone growth agenda.
Most of Europe appears to now support the position of French president François Hollande ahead of today's informal EU summit.
"If no other European country supports our view that does not mean we are isolated," a senior German official said.
"It means they are isolated," he explained.
No loaves, no fishes, no good – Roy Keane slams Eucharistic Congress
Monday, 18 June
Controversial religious figure Roy Keane has slammed the Eucharistic Congress which concluded in Dublin's Croke Park yesterday.
"Too many prima donnas, too many stars," Mr Keane spat. "Just turning up for a sing-song and a bit of a pray."
"And the Pope on video, how tacky. Pope Soap on a Rope had more class."
"No loaves, no fishes, no good," he concluded.
Huge cocaine haul proves economic policy is working
Wednesday, 27 June
A Government spokesman has claimed that a huge cocaine haul in Dublin proves that economic policy is working.
"We must be doing something right if the streets are awash with cocaine," the spokesman explained.
He added that the Croke Park Agreement had been critical in keeping cocaine consumption up during difficult times for the industry.
"It's the increments, we'd never have done it without the increments," he said.
#Open journalism No news is bad news Support The Journal

Your contributions will help us continue to deliver the stories that are important to you

Support us now
Special classes to tackle accidental paedophilia in the Church
Friday , 07 September
In an attempt to stamp out accidental paedophilia in the Catholic Church priests are to undergo special classes to help them understand when friendships with children cross the boundary line.
"Too often we have found that a priest and a young child are having harmless friendly fun when suddenly it ends in sexual assault," a bishop said.
He explained that the classes would focus on real-life situations of children and priests at play.
"Unfortunately we haven't been allowed to use real children for the classes," he lamented. "So some of the priests will take it in turns to dress up."
Mars rover finds three primary care centres in one constituency
Friday, 28 September
NASA believe they have found evidence of political life on Mars after their rover, Curiosity, found three primary care centres in one constituency.
"It's highly unusual and can only point to political life on Mars," NASA's Chief Scientist said.
"There is no evidence of a medical need for all three of them," he added.
"A stroke is a stroke is a stroke whether you're from Mars or Swords," a political analyst observed.
Waters outraged as Caesarean study excludes men
Tuesday, 13 November
A report on the number of Caesareans section procedures carried out in Irish public hospitals has been criticised for focusing on women.
The Mire's maleness correspondent John Waters said men should not have been excluded from the report simply because of their gender.
"Where are the men in this report? It's all women, women, women," he raged. "Are we invisible? Can you see me?"
Mr Waters said future reports on Caesareans would have to focus exclusively on men to counter the imbalance.
Donal Conaty is a former Irish Times London correspondent and author of the IMF bailout comedy, The Eighty-Five Billion Euro Man. He has been blogging on his satirical site TheMire.net since 2009.