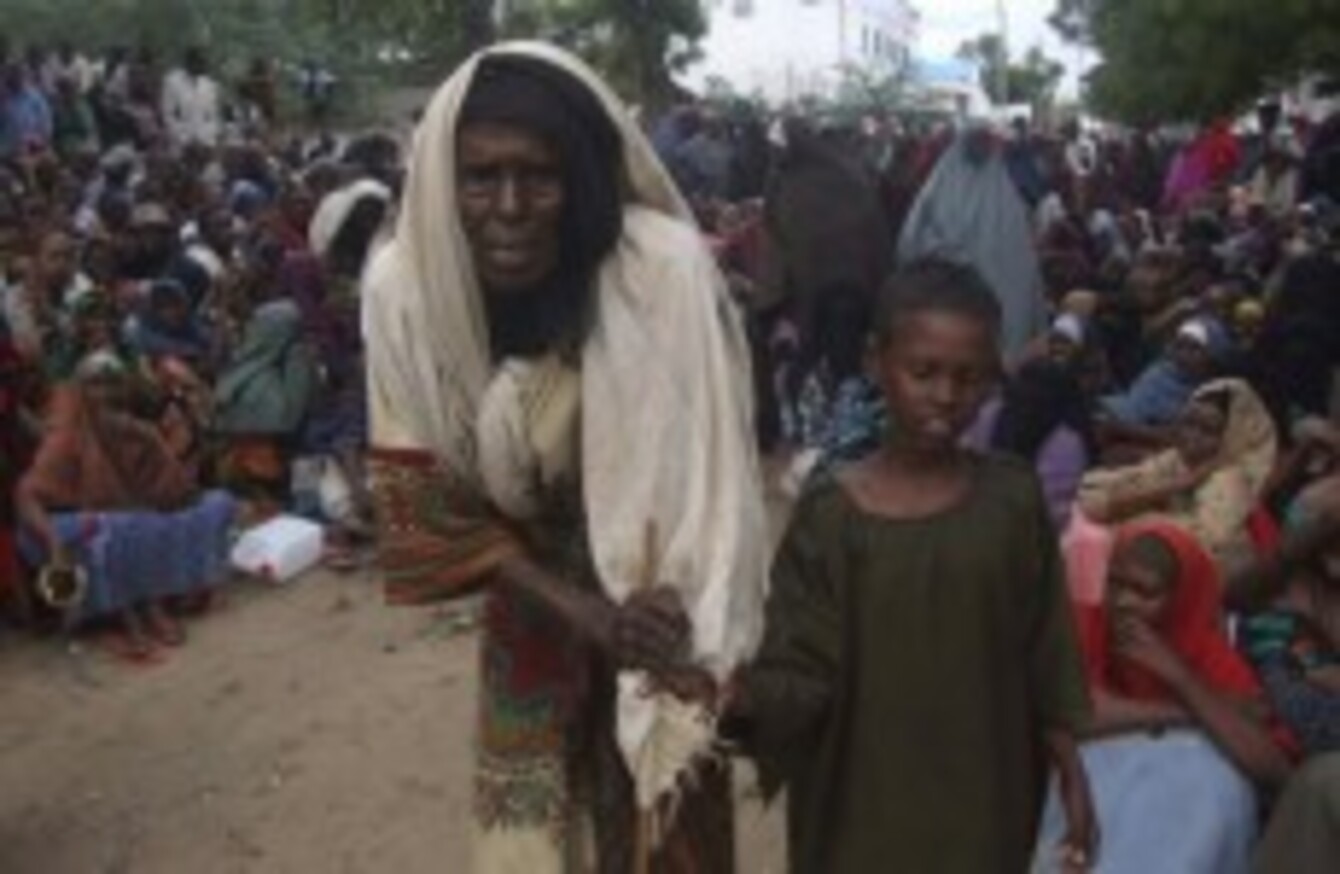 Waiting for food at a camp in Moghadishu, Somalia this week.
Image: AP Photo/ Mohamed Sheikh Nor
Waiting for food at a camp in Moghadishu, Somalia this week.
Image: AP Photo/ Mohamed Sheikh Nor
IRELAND IS TO donate an additional €1m in emergency funding to help alleviate the current humanitarian crisis in the Horn of Africa.
Junior Minister for Trade and Development, Jan O'Sullivan, has stated that the aid will bring to €5.6m the total given by the Irish State to the East Africa area since the beginning of the year.
The area – including countries such as Ethiopia, Kenya and Somalia – has been hit by the worst drought in six decades. Concern aid worker Jennifer O'Gorman, from Bray, Co Wicklow, is on the ground in a camp in Moghadishu, Somalia. She wrote in TheJournal.ie yesterday that some of the children in the camp are so weak from malnutrition that they can't move, and so dehydrated that they can't cry. She wrote:
All around I see people like this, people suffering hunger and mental trauma in equal measure, listless and desperate for help. It's hard not to be affected by these scenes, but I somehow manage to contain myself because I know Concern and just a few other agencies are here now. But the scale of this unfolding catastrophe is enormous and so much more help is needed.
Jan O'Sullivan said Irish people had been moved by the plight of people who are "literally starving". The junior minister discussed the crisis with her EU counterparts during a meeting in Poland yesterday. The €1m extra funding from Ireland is to be divided into €750,000 for the World Food Programme's distribution of high-nutrition food to small children and pregnant women; and €250,000 is to go to the UN High Commissioner for Refugees to provide shelter, healthcare, water and sanitation.
O'Sullivan said:
Today's announcement brings to €5.6m the Government's funding to Concern, Trocaire, Goal and World Vision for emergency food, water, sanitation and healthcare, and to the United Nations agencies in the region so far this year. Only by working together in a strategic and effective manner will the international community, aid agencies and the Governments of the region be able to respond fully to this devastating crisis.