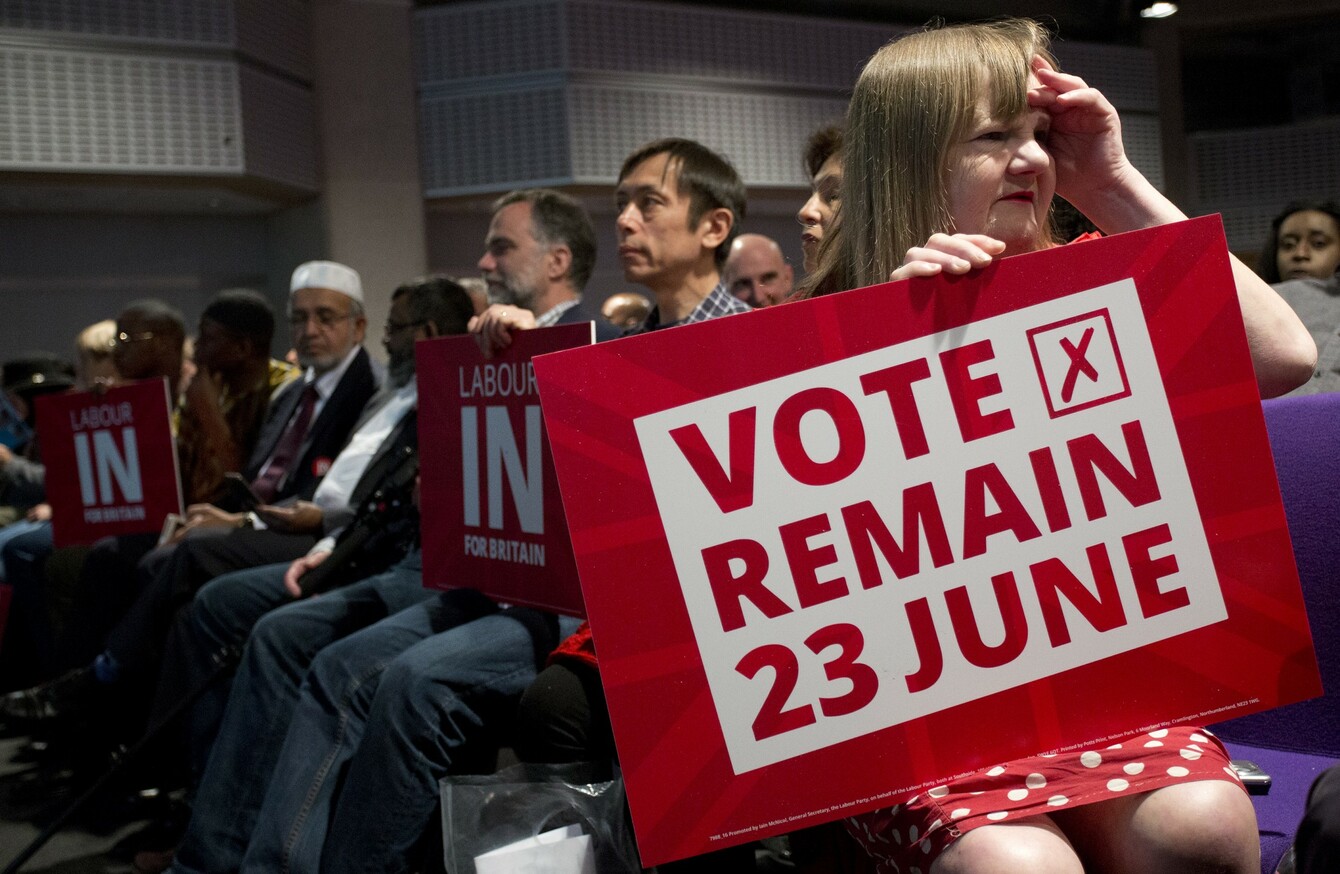 Image: Isabel Infantes/EMPICS Entertainment/ PA Wire
Image: Isabel Infantes/EMPICS Entertainment/ PA Wire
WE'VE HEARD FROM countless well-known faces about why Ireland should be worried about a Brexit.
Former tánaiste and senior counsel Michael McDowell has said "we have reason to be scared", while household favourite Michael O'Leary described it as "absolutely crazy".
The latest group of people to highlight their 'significant concerns' are Ireland's directors and business leaders.
A recent survey conducted by the Institute of Directors in Ireland (IoD) found that nine in 10 of its members were worried about the UK potentially leaving the EU.
Maura Quinn, chief executive of the group said:
As the UK's nearest neighbour, with strong economic ties, trade and business interests, Ireland has a very significant interest in the outcome of the upcoming UK referendum on EU membership.
More than 80% of those surveyed are concerned that the Irish government is not adequately prepared if the 'Leave' side come out on top in next month's vote.
Over three-quarters of the 377 people surveyed believe that Irish businesses are also unprepared, with only 12% of organisations already having a contingency plan in place.
On 23 June, the UK will vote on their EU membership, as promised by David Cameron back in 2013.
With only 34 days to go, The Economist's poll tracker shows that 41% intend to vote to remain in the EU, 40% vote to leave and 14% say they don't know.
The main worries for Ireland – according to business groups – are a loss of trade between Britain and Ireland and an increase of trade barriers for small to medium enterprises.
In May 2015 and in April of this year, IBEC issued its own warnings of the potential risks facing Ireland. Teagasc also voiced concern for the agri-food sector in a report.
Speaking today on Morning Ireland, Professor John McHale, chair of the Irish Fiscal Advisory Council, said that a 1% UK loss of GDP would mean a 0.3% loss for Ireland's GDP.
He added that there would be some benefits for Ireland if Britain did leave the EU, such as Ireland attracting foreign direct investment, but that these benefits would be "small relative to the losses".
Economist David McWilliams maintains in his blog that we could "win big" if the UK opts for a Brexit. He explains that if Britain leaves, some of the investment currently going there will be diverted to Ireland because of attractive tax rates and full access to the EU.
In short, Brexit may actually be good for us in the long term, particularly if the damage to the UK's investment image is as bad as the Remain camp claims it will be if the UK leaves.