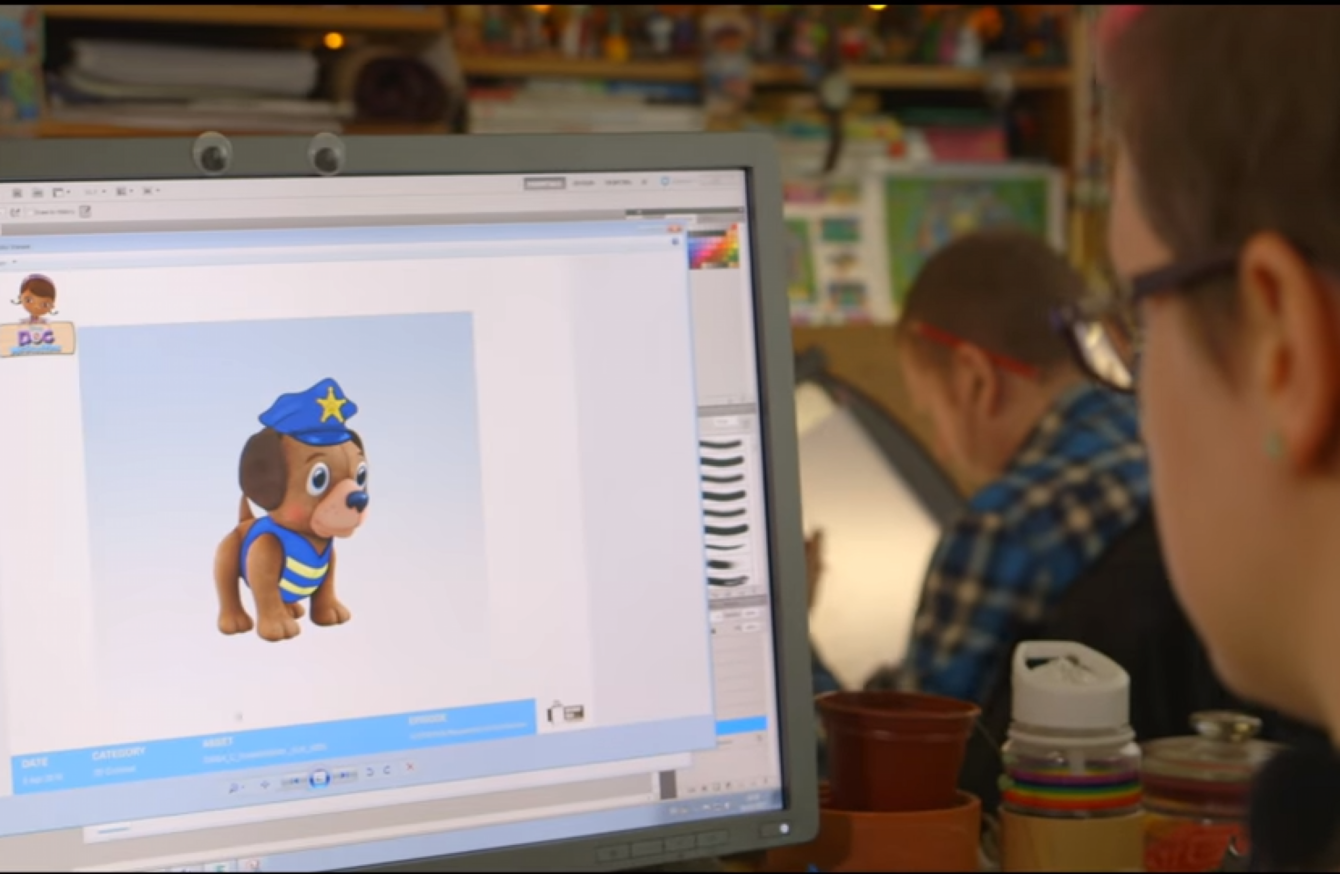 Image: Brown Bag Films/YouTube
Image: Brown Bag Films/YouTube
AWARD-WINNING ANIMATION studio Brown Bag Films has called for "less restrictive" rules around foreign worker permits to help tackle the shortage of skilled staff for its growing business.
The Dublin-based studio, which has won several Emmys and was Oscar nominated for the short animation Give Up Yer Aul Sins, made the comments in response to a review of the current employment permit scheme by the Department of Business.
Brown Bag said that there are currently "not enough qualified experienced candidates" in the Irish or European Economic Area (EEA) pool to work in the "rapidly growing" animation industry here.
"Within the animation and gaming industry, there is evidence that both industry and education are adapting curriculums, however the time taken for this to result in a large pool of talent does not meet immediate needs or needs within the next two years," it added.
Brown Bag Films said that it was issued with 31 work permits for non-EEA staff last year, the most of any firm in its industry.
It hired a total of 107 new staff in 2017, meaning that more than 30% of new hires were employed from outside the EEA through the permits system.
The company pointed out that a number of relevant animation roles – such as art directors, location designers and character designers – were recently added to the 'highly skilled eligible occupations' list.
This list features high-skilled jobs for which permits can be granted as there is a shortage in respect to qualifications, experience or skills in Ireland.
However the studio added that it requires more than 60 various animation roles, many of which are not included on the list, and its average time to hire staff has "increased significantly in the last 12 months" due to a lack of candidates in Ireland and the EEA.
Brown Bag, which also produces children's TV shows such as Doc McStuffins and Octonauts, suggested that the list should be extended to cover more technical roles or the salary threshold for a critical skills work permit should be reduced.
A critical skills permit is designed to attract highly skilled people into the Irish labour market with the aim of encouraging them to take up permanent residence in the State.
However, the studio said it would need to offer a salary of more than €60,000 to meet the criteria for a critical skills permit, a sum which it added was "too high".
"We struggle to fill mid-level positions from within the EEA and we cannot meet the threshold of €60,000 for these level roles."
The studio added that the permit system should give preference to fast-growth industries or those that are being specifically targeted by the IDA and other groups to come to Ireland.
Permit consultation
Brown Bag filed one of 30 submissions for the Department of Business, Enterprise and Innovation review of its various employment permit schemes for non-EEA staff.
In its consultation documents, the department said that the focus of the employment permit regime in recent years has been "to ensure that the skills requirements of enterprise in the State can be met through economic migration where necessary".
It added that as the State approaches full employment there have been calls to open up the employment permit scheme to lower-skilled workers.
However there are concerns that economic migration is not a sustainable long-term solution to skills and labour shortages.
In its response to the review, business lobby group Ibec said the current employment system generally worked well in responding to shortages in the labour market.
The organisation pointed out that the number of employment permits has been increasing in recent years, with over 9,000 new permits issued in 2017. It added that the IT and health and welfare sectors accounted for three-quarters of all new permits.
However it also called for some rules to be relaxed as "the gap between what can be locally supplied and what needs to be hired in continues to grow significantly".
Ibec recommended that non-EEA international students who graduate from third-level courses be allowed to work in Ireland for longer than the current 24-month cap.
The lobby group also called for the government to look at models like Canada or New Zealand's low-skilled foreign worker schemes to help deliver more recruits to industries like food processing, hospitality, agriculture and healthcare.
"For some sectors, the situation is so critical that it is impact the ability of companies to plan for expansion or meet day-to-day operational demands," its submission said.
The food processing industry, for example, competed with the construction industry for workers but "due to low margins … (could not) match construction wages", Ibec said.
Business case
In it submission, the Irish Hotels Federation (IHF) also called for a less-restrictive permit regime.
The organisation, which represents over 1,000 businesses, said hotels "struggle to compete for EEA workers with other more profitable, less labour intensive sectors such as IT and construction".
"Where an employer has advertised a position on a national and European-wide area and is unable to fill the position they should then be eligible to apply for a permit," it added.
Like Brown Bag, the IHF also had issues with the pay threshold for critical skills permits, which for the hospitality industry meant a minimum salary of €30,000.
It said that the threshold impacted employers' wage costs, created disgruntlement with existing staff and bore no resemblance to industry norms.
However not all submissions were in favour of liberalising the State's policies around work permits.
The Irish Congress of Trade Unions (ICTU), the umbrella group for unions across the island, said some of the main issues with permits were protecting migrant workers from exploitation and guarding the labour market from "downward pressure" on pay and conditions.
"Paradoxically, this pressure has often been highest on citizens of the EU15 member states working and living in Ireland," it said.
ICTU added that it is concerned about the "ever-increasing reliance" of employers on work permits to fill skills gaps and labour shortages, and that there is a danger employers may exaggerate their need for additional labour.
"The phrase 'attraction and retention issues' (from employers) is a polite euphemism for pay and conditions," it said.
"If sectors become reliant on migrant labour paid at or about the minimum wage, they run the risk of downgrading the pay and employment conditions associated with their sector."
The ICTU said that many people are still unemployed, underemployed and participating in activation programmes in Ireland and across Europe.
It said that these groups should be exhausted before more job categories are removed from the ineligible list, while it also called on the government to provide better data on the number of workers currently on language-school related visas.
Sign up to our newsletter to receive a regular digest of Fora's top articles delivered to your inbox.
Written by Sarah Harford and posted on Fora.ie