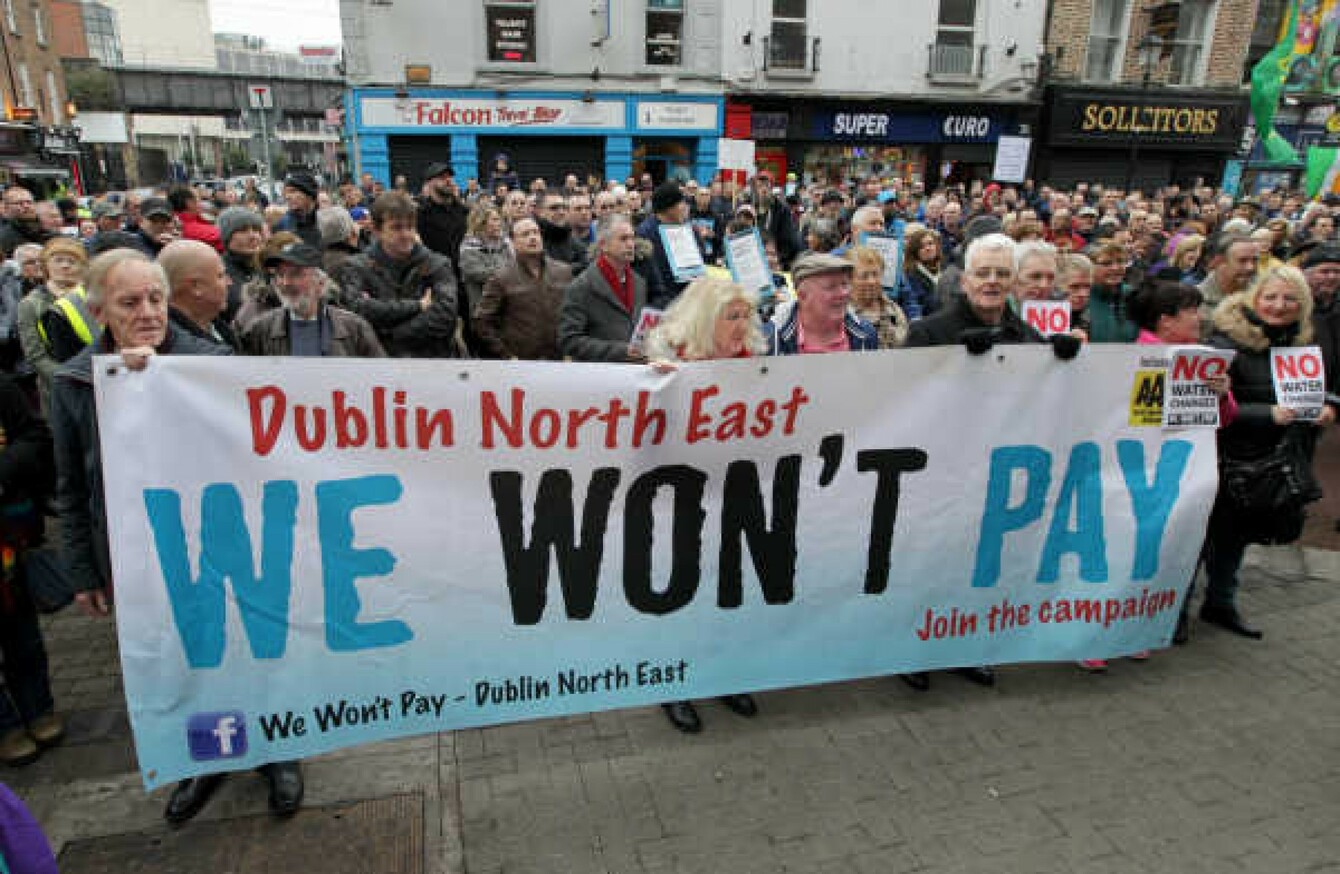 HOUSEHOLDS WILL NO longer receive Irish Water bills from this month, as the suspension of water charges takes tangible effect.
The charges have been suspended for the rest of the year while an expert commission deliberates how we fund our water system in the years to come.
Yet there are a host of imponderables, given that a large tranche of the population paid their bills, while others didn't.
So no more bills - that's great news isn't it?
It's a bit more complicated than that. Households who haven't paid their existing bills remain liable for usage up to the end of March, according to the Government and Irish Water.
And charges are only suspended until the end of this year, so the utility could begin to start firing out the bills again before six months are out.
I've paid my Irish Water bills – does that mean I'm going to be effectively penalised for obeying the law?
Fine Gael and Fianna Fáil maintain that non-payers and payers are to be treated equally. It effectively means that either people who paid will get their money back, or everyone who decided not to pay the bills will be pursued for payment.
Irish Water say "outstanding bills issued should be paid in full", and helpfully say they will continue to accept payments through a whole host of means.
Direct debit customers who haven't cancelled will no longer have payments deducted.
Can the Government make me pay my outstanding water charges?
As it stands, Irish Water's strategy appears to be little other than sending pleading letters, text messages and occasional phone calls to recalcitrant water consumers.
A legal debt remains payable, but short of sending debt collectors to the doors of 500,000 people or instituting legal proceedings, it's unclear what the Government can do.
What happens to Irish Water? 
They might be about as popular as a foreigner at a Ukip convention, but Irish Water haven't gone away, you know.
Everyone's favourite semi-state remains in situ as the national water utility, handling water supply issues (and payment).
Are other people still paying their bills?
In May, Irish Water released figures showing a 20% drop in charges paid in the first quarter of 2016, from €42.3million to €33million.
It was viewed as a sign of wilting public willingness to cough up for a charge that was likely to be suspended following the General Election result.
At the end of May, Irish Water sent out the fifth and last batch of bills, covering January to March. They are due to release last figures for 'Cycle 5′ at the end of this month.
Another large drop in paying figures is expected, with a substantial proportion of the 200,000 direct debit customers expected to have cancelled their mandates.
Overall, how many people paid their bills last year?
Almost two-thirds of liable households (64%, or 975,000 people) paid domestic water charges in 2015.
The total amount collected over the year was €144m which was 53% of the total income due from domestic charges during 2015.
What about the EU, how do they feel about the suspension of charges?
They're not one bit happy. As confirmed by The Journal at the start of June, the European Commission insists our exemption from charging for water was over. In their words, water charges are "established practice" in Ireland and must remain, under the polluter pays framework.
They say any flexibility accorded to Ireland ended in 2010, when the Fianna Fáil-led coalition, backed by the Greens, agreed to introduce the charges.
Ah sure, Enda will fix some sort of deal, won't he?
Doubtful. Given Ireland's unique exposure to Brexit, it's not really high on the wishlist of Ireland's EU staff – or Brussels, given the imminent departure of the EU's second biggest economy.
The Commission is unlikely to allow Ireland to breach the EU Water Framework Directive, and are likely to fine Ireland thousands of euro per day.
Could Late Payment Charges be applied to my account?
A late payment charge applies for usage before 1 April 2016, but Irish Water say "there are no plans" to apply late payment charges for time in the suspension period.
I'm moving house, what do I need to do?
If moving out of a rented property, Irish Water are asking people to ring them for a "closing bill", for charges up to March 31. If moving into a rented property, Irish Water want you to register.
Under legislation, a property seller needs to provide evidence that the property has no outstanding bills with Irish Water or that the property is not connected to the Irish Water network.
What about the meters, are they still being installed?
Irish Water staff are continuing to read meters in order, they say, to learn information about the leaks and other issues.
They say they are planning to continue to install meters "on a case-by-case basis". The first phase of household meter installations is due to complete this year.
I have mixed (household and business) water usage at my property, how will this affect me?
Commercial charges are unaffected by the suspension, and will continue to be levied by the relevant local authority, pending transfer to Irish Water's billing system.