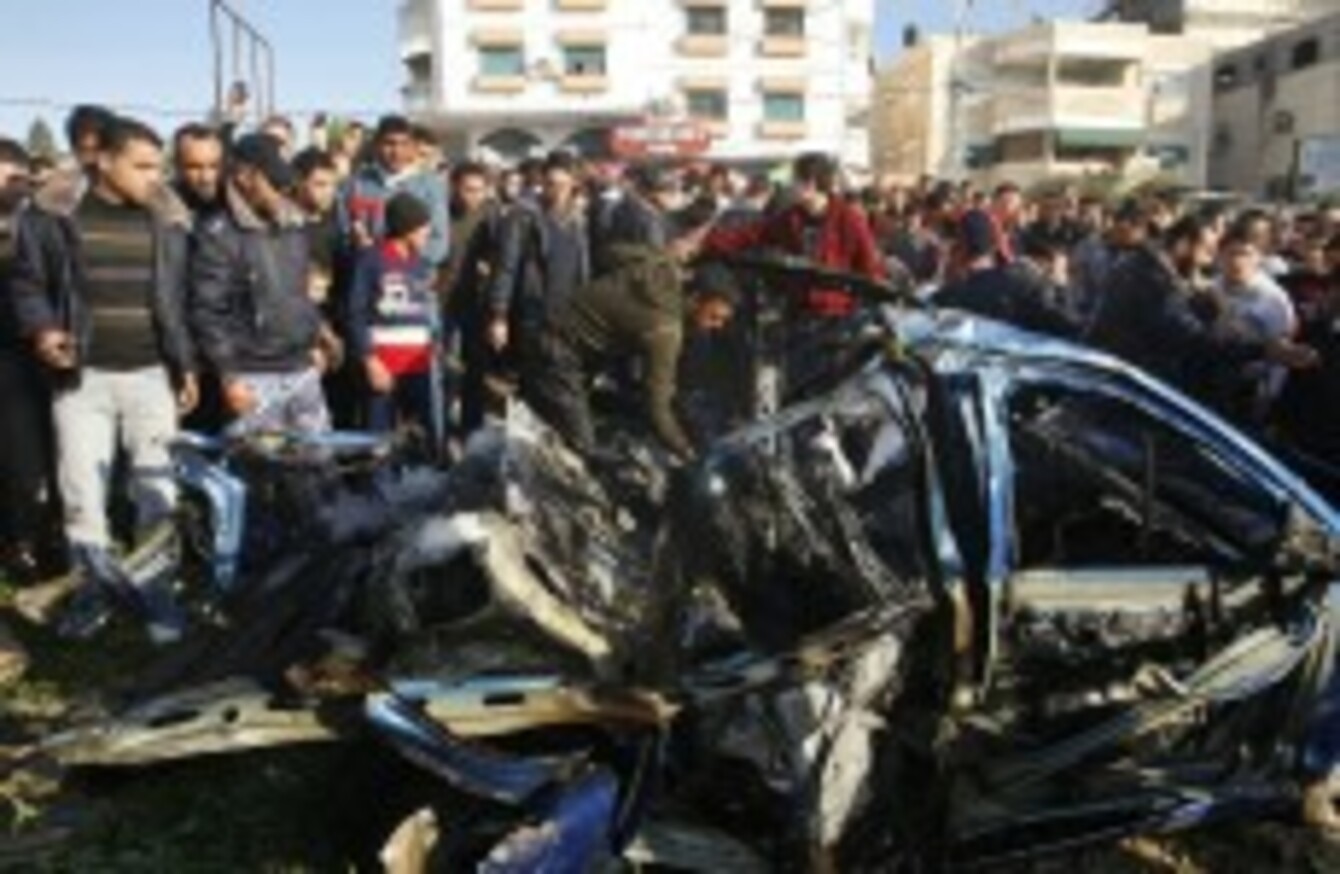 Palestinians gather around the wreckage of a car targeted in the airstrike that killed Zuhair al-Qaissi
Image: Hatem Moussa/AP/Press Association Images
Palestinians gather around the wreckage of a car targeted in the airstrike that killed Zuhair al-Qaissi
Image: Hatem Moussa/AP/Press Association Images
ISRAELI AIRCRAFT HAVE killed 14 militants in the Gaza Strip, in the bloodiest exchange of strikes this year between Palestinians and military forces.
Nearly 100 rockets have been fired into Israel since yesterday, when Israeli authorities launched an attack on a commander who they say was planning an attack.
This unleashed the rocket barrage by Palestinian militants from the coastal territory toward Israel's southern border communities. One of those rockets seriously wounded an Israeli civilian and sent families scattering into bomb shelters.
By midday today local time, militants fired 92 rockets at Israel – far more than the total number fired from the beginning of this year until this exchange of strikes began, a military spokesman said. He spoke anonymously in line with military regulations.
Egypt said it was trying to shackle together a cease-fire to halt the violence, but truce hopes seemed distant on Saturday.
Gaza residents said they could hear the low whooshing noise of militants firing rockets from border areas toward Israel.
Hundreds of Palestinian mourners gathered on the streets to bury their dead. They were carried in coffins, their bodies too torn up to be wrapped up in cloth, as Muslim tradition dictates. Masked militants among them sprayed machine gun fire above their heads in angry grief.
Gaza's Hamas rulers condemned the Israeli strike but, pointedly, their militants did not fire rockets at Israel. Still, Israel's military said it would hold the militant group responsible for any attacks that initiated from Gaza.
The Palestinian militants were killed in eight airstrikes overnight and this morning, said Gaza health spokesman Adham Abu Salmiya. He said some 20 more civilians were wounded by flying shrapnel from the exploding missiles, some of which targeted militants deep in civilian areas of the crowded territory.
The most recent airstrike targeted two Palestinian militants on a motorbike in the border town of Bani Suheila in the south-east of Gaza, Abu Salmiya said.
The flare-up began midmorning Friday, when an Israeli airstrike targeted Zuhair Al-Qaissi, the commander of one of the militant groups behind the abduction of an Israeli soldier five years ago.