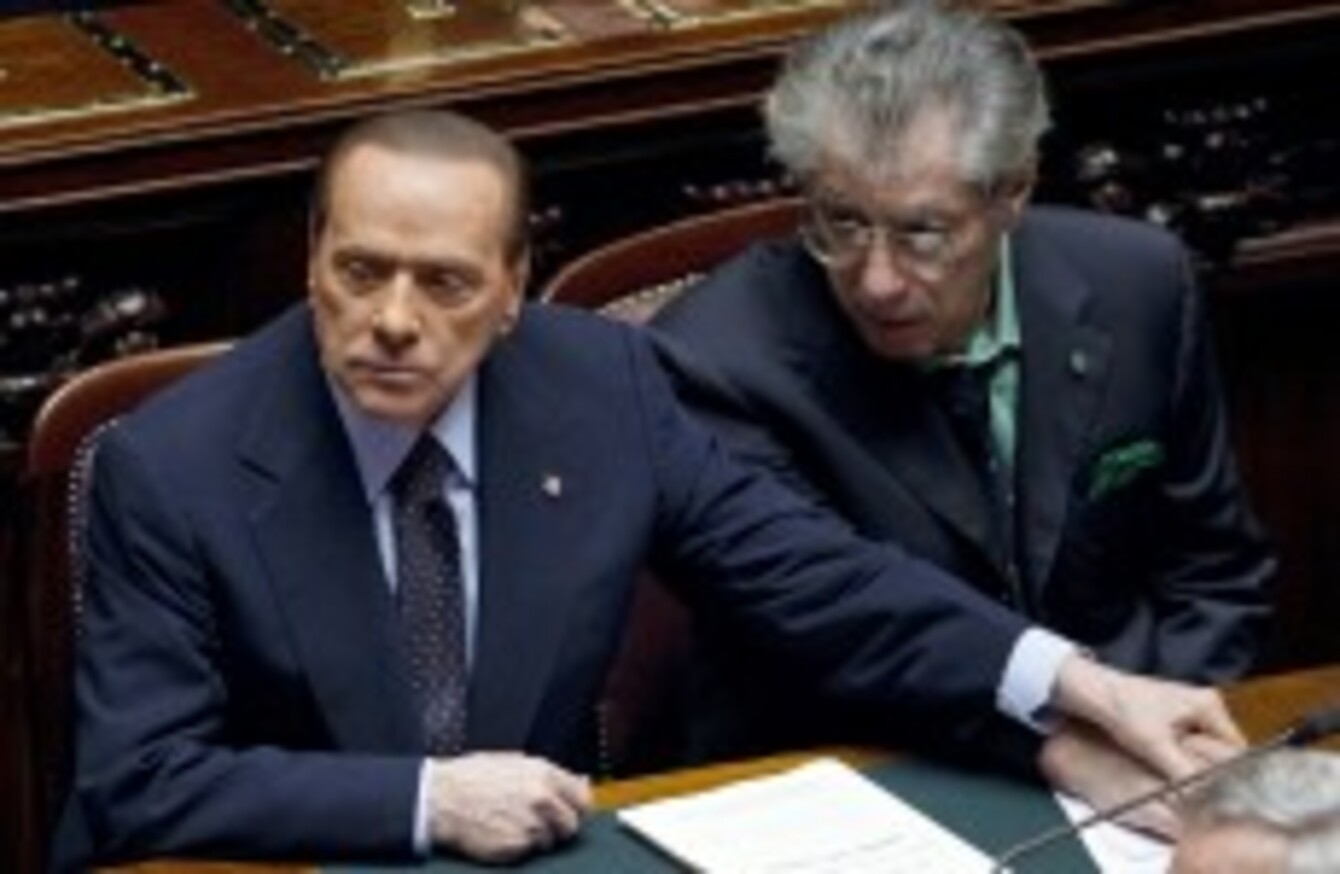 Image: Andrew Medichini/AP
Image: Andrew Medichini/AP
THE ITALIAN SENATE has passed a €60bn package of budget laws aimed at trying to curb the government's spending and move the economy away from the brink of a bailout.
The package of austerity measures is now set to be passed in the Chamber of Deputies over the weekend, by Monday at the latest – clearing the way for Silvio Berlusconi to step down as prime minister.
The senate approved the package of measures by 156 votes to 12 – indicating that there should be little difficulty in getting the measures pushed through the lower house of parliament.
Among the measures passed by senators, BBC News reports, are an increase in VAT, a three-year freeze in public pay and a special tax on the energy sector.
For the first time, cash transactions will be limited to €2,500 – in an attempt to stop crime and tax evasion – while the retirement age for women, which currently stands at 60, will be gradually raised to 65 to be equal with the male retirement age.
It is now widely expected that Mario Monti, Italy's former European Commissioner, will succeed Berlusconi as prime minister once the austerity measures have been enacted.
Monti was yesterday appointed as a Senator for life by Italy's president Giorgio Napolitano, and Reuters reported that he was welcomed with warm applause as he took his seat in the chamber for this morning's vote.
It is possible that Monti could be appointed the new premier as quickly as Sunday, with the Chamber of Deputies reportedly keen to enact the measures over the weekend in time for the reopening of financial markets on Monday morning.
Monti, who was appointed to Europe by two successive governments, is likely to be supported by the Democratic Party, the largest party in opposition in Italy.
He will also gain the support of centrists, but it is unclear whether he will retain the support of Berlusconi's ruling People of Freedom party. The Northern League, the junior partner in Berlusconi's coalition, has said it will not support him.
It is not clear for now long Monti proposes to remain in power before seeking a dissolution of parliament; the current parliament's five-year term does not expire until early 2013.
The delay of an election and the formation of a stable government, however, should be enough to ease the current fear that Italy may be forced into needing an EU and IMF bailout.
Yesterday Italy raised €5bn by auctioning 12-month bonds – but had to shell out over 6 per cent interest. Today the price of 10-year bonds has fallen to below 6.5 per cent.
The interest rate asked of Italy is particularly important, as the country needs a low interest rate in order to keep its national debt – of €1.9 trillion – under control.