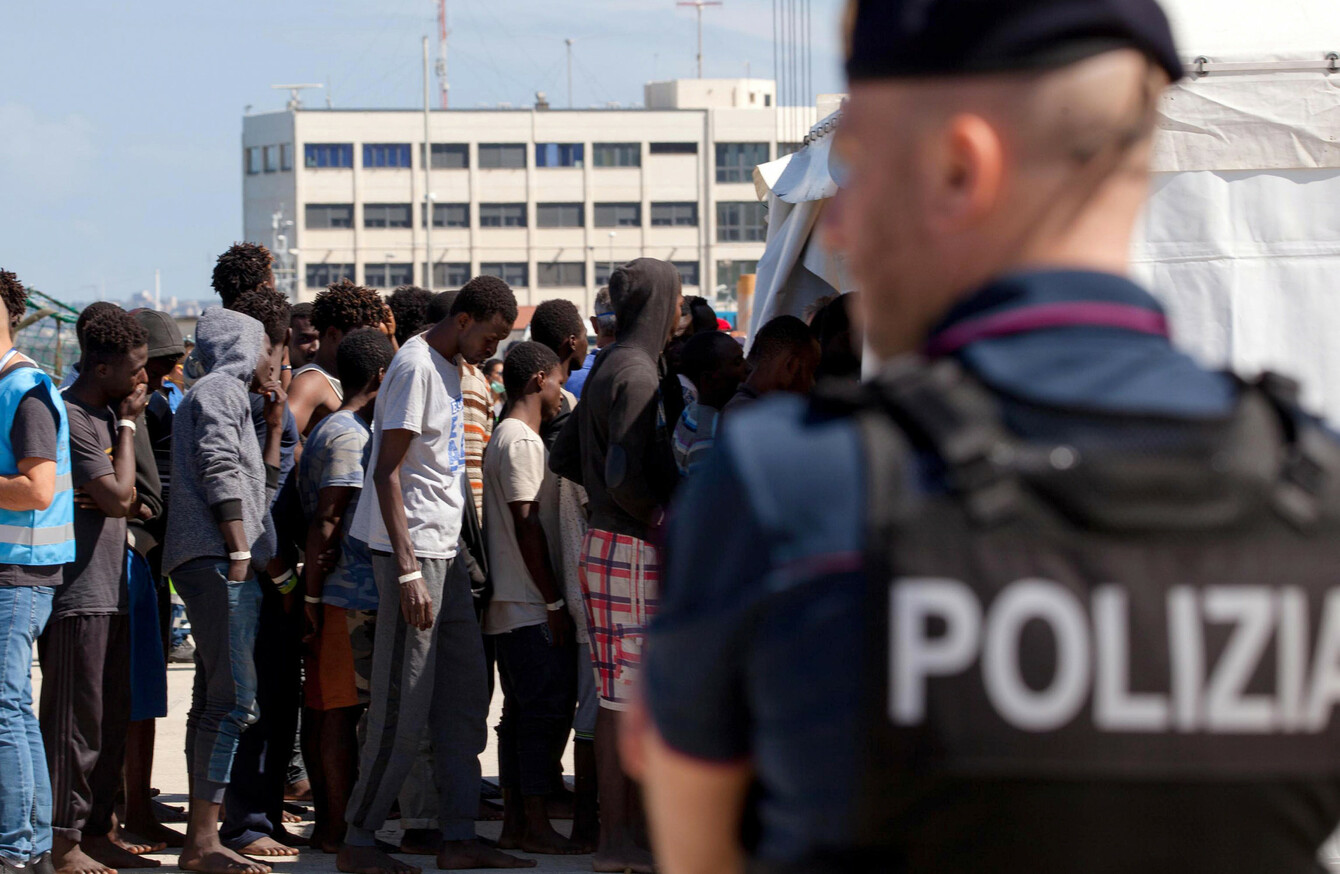 Image: Marco Costantino via AP
Image: Marco Costantino via AP
Updated Jun 11th 2018, 2:51 PM
SPAIN'S NEW PRIME Minister has ordered authorities to allow a rescue ship carrying 629 migrants to dock in the eastern port of Valencia after the boat was refused by Italy and Malta.
The migrants were left at sea as a diplomatic standoff reached its second day under Italy's new anti-immigrant government.
A statement by Prime Minister Pedro Sanchez's office said:
It is our duty to avoid a humanitarian catastrophe and offer a secure port for these people.
Amid the political dispute, The Aquarius, a rescue ship belonging to the SOS Mediterranee charity, has been stuck in the Mediterranean Sea with its passengers, including 123 unaccompanied minors and seven pregnant women.
Medical workers say food onboard the ship is going to run out tonight.
The government statement said Spain wanted to comply with its international responsibilities on humanitarian crises.
Minors and pregnant women aboard 
The ship said it had been ordered by Italy's coast guard coordination centre late last night to remain 56 kilometres off Italy and 43 kilometres from Malta.
The migrants had been rescued during a series of operations on Saturday by Italian maritime ships, cargo vessels and the Aquarius itself. All passengers were offloaded to the Aquarius to be taken to land.
Doctors Without Borders, which has staff aboard the Aquarius, tweeted a video of some of the women aboard the ship praying this morning and said they were unaware of the diplomatic drama being waged on land over their fate.
Marco Bertotto of Doctors Without Borders also told Italian state TV that some of the 629 migrants aboard the Aquarius have water in lungs after falling into the Mediterranean Sea from smugglers' boats.
Others have burns from boat fuel mixed with seawater or are suffering from hypothermia.
Anti-immigration campaigns
The standoff marked the first inevitable clash over migrant rescues with League leader Salvini, now running Italy's interior ministry.
Salvini campaigned on an anti-immigrant platform that also included a vow to expel hundreds of thousands of migrants already in Italy, even though experts doubt such mass deportations are feasible or financially viable.
Malta, for its part, has consistently refused to take in migrants, citing its small size and limited capacities.
The island nation has progressively reduced the number of migrants it has taken in over the past decade, from a high of 2,775 in 2008 to just 23 last year, according to UN statistics.
Salvini pointed to Malta's unwillingness in accusing Europe as a whole of leaving Italy on its own to deal with the refugee crisis. He noted that other European countries are very much involved in current rescue operations in the Mediterranean – including a German aid group currently off Libya – but no country is stepping up to actually take in the migrants.
"Italy has stopped bowing our heads and obeying," Salvini said in a Facebook post.
"This time we say no."
The standoff is actually the third in recent weeks, after the outgoing government of Premier Paolo Gentiloni refused to let humanitarian aid groups dock in Italian ports until the ships' flag nations had formally requested permission. Those incidents delayed the migrants' arrival, but they ultimately made it to Italy.