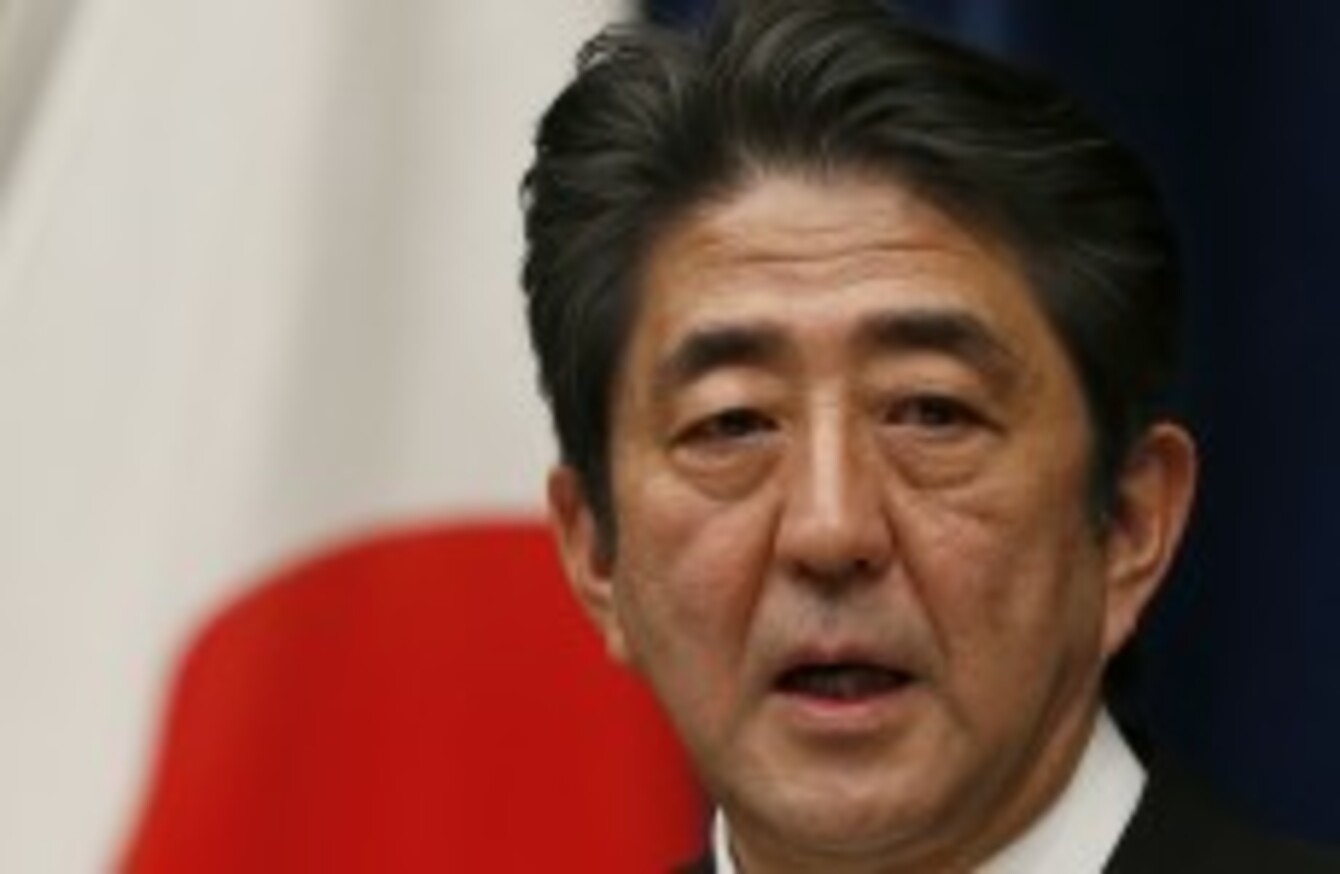 Shinzo Abe during a press conference today
Image: Shizuo Kambayashi/AP/Press Association Images
Shinzo Abe during a press conference today
Image: Shizuo Kambayashi/AP/Press Association Images
JAPAN'S NEWLY-ELECTED prime minister Shinzo Abe pledged to rebuild the economy and mend Japan's alliance with the United States in the face of an assertive China at his first press conference earlier today.
Abe was elected premier by the lower house of parliament earlier in the day after sweeping to power on a hawkish platform of getting tough on diplomatic issues while fixing the economy.
"A strong economy is the source of Japan's national strength. Without a strong economy, Japan will not achieve fiscal reconstruction and have a future," Abe told the late-night press conference.
Earlier today, the yen had tumbled against the dollar on growing speculation that the Bank of Japan will usher in further easing measures — a key plank of Abe's campaign.
Abe vowed to defend Japanese territory and waters but stressed that his government will carry out a diplomacy drive to "win back" national interests.
"More than anything, we must re-establish trust in the Japan-US alliance," he said, adding that he has spoken to US President Barack Obama and agreed to foster long-term relations.
Strained
Ties with the US were strained under the previous government, which pushed for the relocation of American bases in Okinawa.
Abe also said that his cabinet would stay focused on the reconstruction of the northern region that was devastated by a 9.0-magnitude earthquake, tsunami and the Fukushima nuclear crisis in 2011.
Abe achieved a resounding election victory earlier this month for his Liberal Democratic Party over the Democratic Party of Japan (DPJ).
He secured 328 votes to 57 for the DPJ's new leader Banri Kaieda, the industry minister during last year's Fukushima nuclear crisis.
Within hours of his election, Abe, who was prime minister from 2006 to 2007, unveiled his new cabinet as he rushed to draft an extra budget.
Taro Aso, another former prime minister in Japan's revolving-door political system, was appointed as both Abe's deputy and finance minister.
The foreign minister job went to Fumio Kishida, who was a state minister in charge of Okinawan affairs during Abe's previous tenure.
Fukushima
His appointment was seen as a reflection of Abe's desire for progress on the relocation of US military bases in the southern island chain, and comes as Japan is embroiled in a territorial row with China.
The defence portfolio went to Itsunori Onodera, who served as deputy foreign minister for a year during Abe's earlier premiership and during that of his successor Yasuo Fukuda.
Sadakazu Tanigaki, the head of the LDP when the party was in opposition after ruling Japan for most of the past six decades, became justice minister.
Abe, Japan's seventh premier in less than seven years, replaces Yoshihiko Noda whose DPJ suffered a stinging defeat at the polls.
The party, which came to power in 2009, was seen as being punished for policy flip-flops and its clumsy handling of the Fukushima atomic disaster.