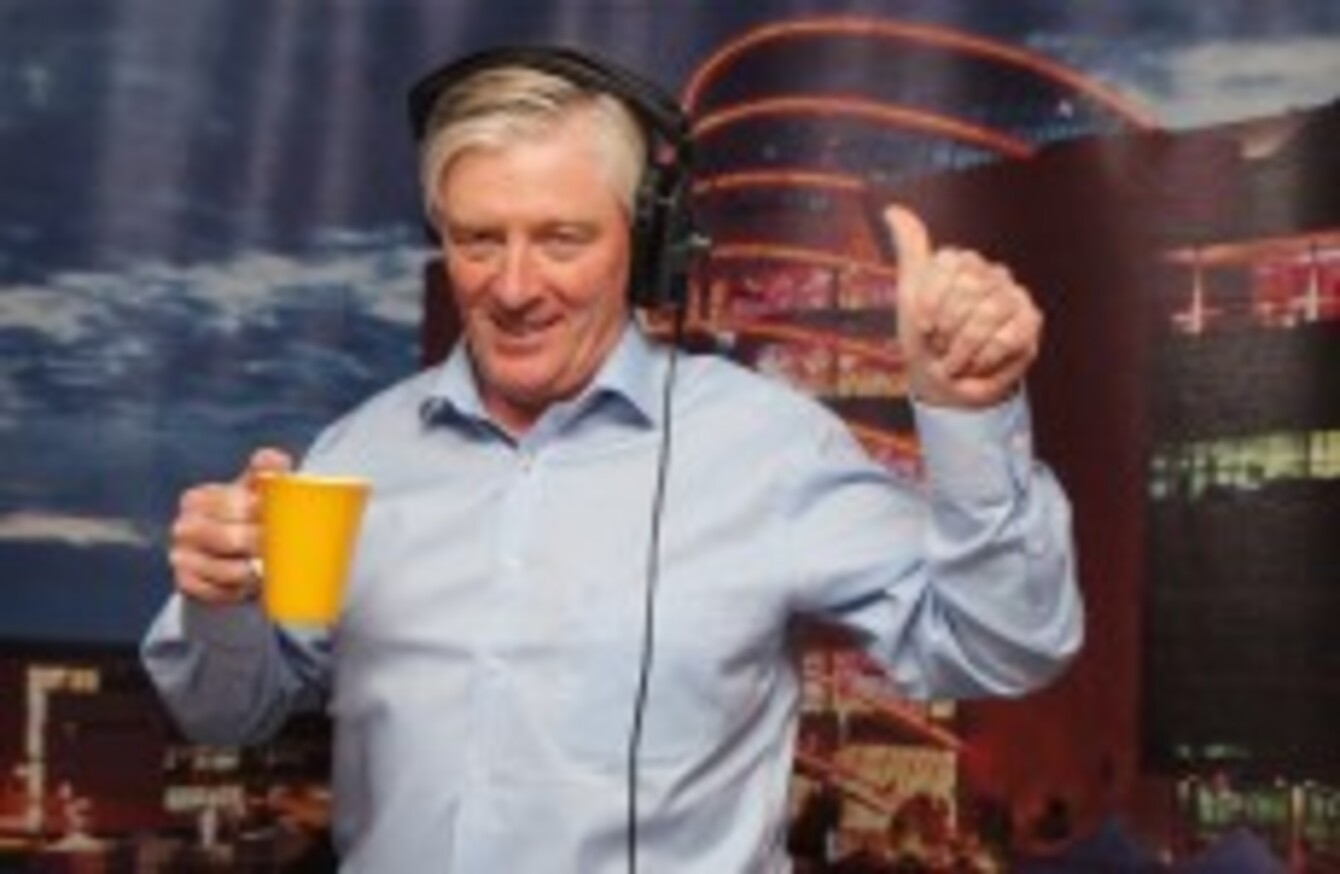 Image: Sam Boal/Photocall Ireland
Image: Sam Boal/Photocall Ireland
IT'S THE DAY when all the radio stations compete to tell everyone how successful they are.
The latest radio listenership figures  - known as the JNLRs – were released this afternoon, and within minutes, employees at every radio station in the country were poring through the vast amount of statistics within its pages.
Because there's so much information, there are a lot of figures that stations can spin to present themselves in a positive light to advertisers and listeners.
The report covers the 12 months from April 2013 to March 2014, and showed that 83 per cent of all adults listen to the radio every weekday. Just over half (57 per cent) listen to a local or regional station, while just under half  (45 per cent) listen to a national station.
Irish people are a radio-lovin' folk: on average, we listen to almost 4 hours per day between 7am and 7pm on a weekday.
National radio stations are the most popular in Dublin, while local and regional stations do best in the north-west, Cork, and the south-west regions (and particularly among younger people aged 15-34, who listen to them a lot more than they do to national stations).
The JNLR/Ipsos MRBI report notes that in many areas local radio stations reach more than 40 per cent of the local adult population every day, while in Kerry, Mayo and north Donegal, more than half the population tunes in every day
One of the biggest changes in Irish radio in the past year was the shake-up at 2FM which saw many presenters axed or given less-prominent slots to allow new shows to come through. The station's boss Dan Healy said it was too soon to see any changes in the listenership figures. However, he said, "we have seen progress in the Dublin market compared to this time last year".
Here's a quick round-up of some of the big results.
Seán versus Pat:
You know Pat Kenny moved to Newstalk, right? Did we mention that? Well, he's still not quite there a year, but so far his mid-morning breakfast show is now at 114,000 listeners every day, up by 18,000.
Meanwhile Today with Seán O'Rourke on RTÉ Radio One is down by 15,000 listeners – but he won't be crying into his microphone just yet. The show still gets 312,000 listeners, putting it comfortably within the top ten most listened to programmes on Irish radio.
The Breakfast Club
Morning Ireland on RTE Radio One continues to hold its position as the big daddy of Irish radio with 440,000 listeners – even though it lost 5,000 listeners – making it the most popular programme in the country yet again.
Further up the dial, Newstalk Breakfast presented by Ivan Yates and Chris Donoghue saw its listenership increase by 16,000 to 137,000.
At the lighter end of things, Ian Dempsey has 189,000 listeners every day on Today FM, compared to 124,000 for 2FM's Breakfast.
Mid-morning talk kings
Ray D'Arcy saw his figures on Today FM fall to 218,000 listeners, but he remains significantly ahead of Ryan Tubridy on 2FM which has 148,000 listeners, and which also saw a decline.
Evening talk shows
In the battle for commuters on the way home from work, RTE Radio One's Drivetime with Mary Wilson continues to lead the way with 241,000 listeners, although the figures fell by some 19,000, followed by The Last Word with Matt Cooper on Today FM with 157,000 listeners every day and The Right Hook with 121,000.
The Quiet Man
Ronan Collins has slowly but surely built up his audience to 221,000 listeners every day on what has typically been a weird makeshift slot on RTE Radio One between the Today programme and the News at One. His try-anything approach to music is clearly winning over his audience.
National stations
There was very little change in the overall listenership of the national stations. When respondents were asked which national station they had listened to yesterday, 24 per cent said RTE Radio One (which was no change on the previous figures. Twelve per cent listened to Today FM, a fall of one percentage point. Ten per cent listened to 2FM (also down one),  9 per cent to Newstalk (no change) and 4 per cent to Lyric FM.