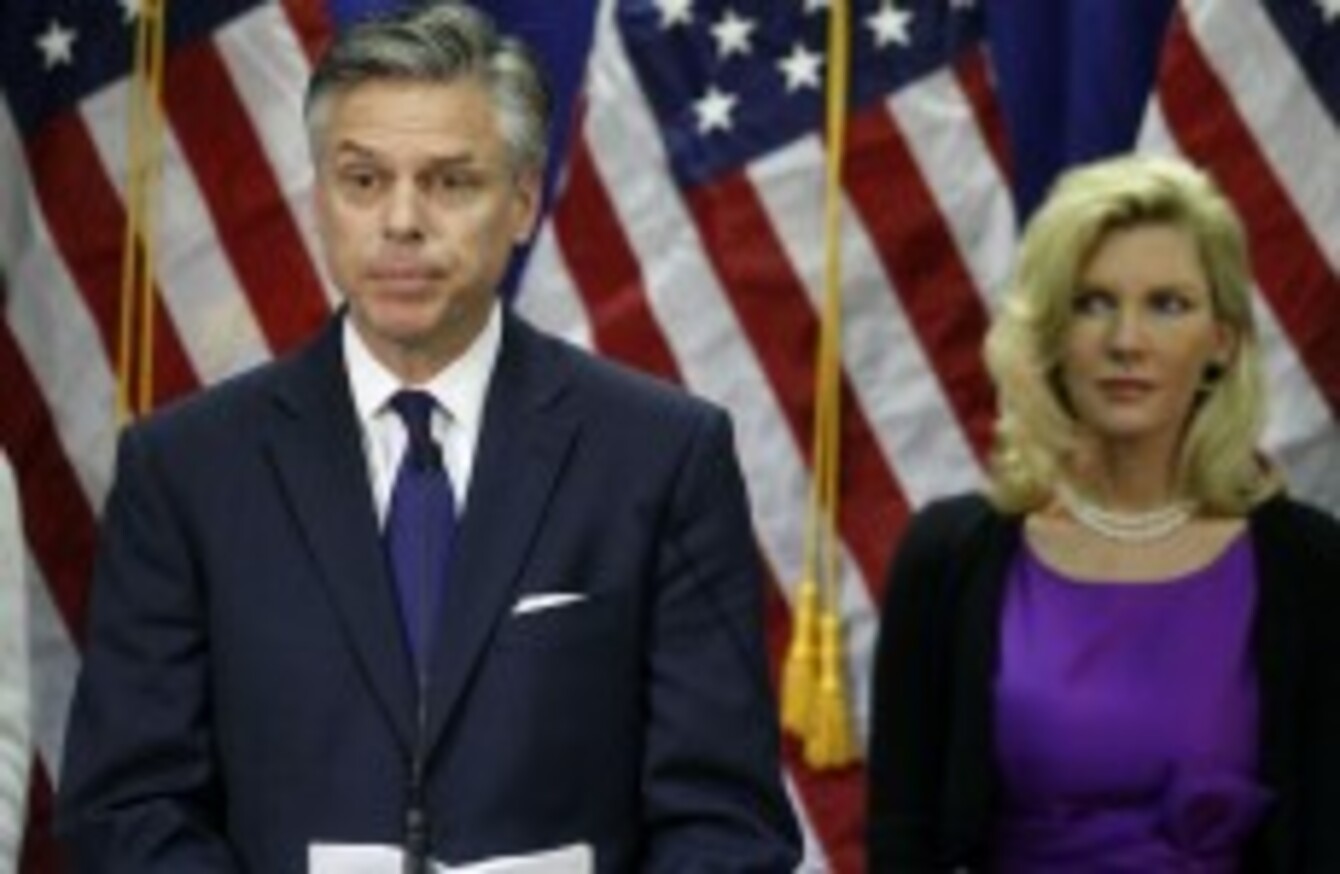 Jon Huntsman, accompanied by his wife Mary Kaye, announces he is ending his campaign.
Image: Charles Dharapak/AP
Jon Huntsman, accompanied by his wife Mary Kaye, announces he is ending his campaign.
Image: Charles Dharapak/AP
FORMER US DIPLOMAT Jon Huntsman has announced the end of his campaign for the Republican Party's presidential nomination – and offered his backing to frontrunner Mitt Romney.
Huntsman announced today he was suspending his campaign – a theoretical term which allows him to continue fundraising, even though he is no longer seeking the job – after complaining that the Republican campaigns had descended into petty squabbles.
"This is the most important election of our lifetime – this country desperately needs to begin a journey that will allow us to urgently tackle our most grave deficits" of finance and trust, the former Utah governor said.
"Only bold ideas will get us to where we need to be – this campaign needs to be driven by those ideas. The Republican Party is the party of ideas, but the current toxic form of our political discourse does not help our cause."
Huntsman only mentioned the name 'Romney' once in his speech – to namecheck him as the candidate who would gain his support – arguing that the Republican ranks needed to unite behind the candidate with the greatest chance of defeating Barack Obama in November.
Huntsman – an Obama-appointed diplomat who served a two-year stint as ambassador to China from 2009 to 2011 – said his endorsement of Romney came despite their differences on many key points.
The withdrawal comes less than a week after Huntsman finished third in the first fully-fledged primary of the campaign, taking 17 per cent of the vote in New Hampshire behind Romney and Ron Paul.
Huntsman's campaign had become a minor laughing stock in the past days after a poll of voters in South Carolina, where the next primary will be held on Saturday, deemed TV satirist Stephen Colbert to be a more favourable candidate than Huntsman.
His endorsement of Romney also comes less than a week after he deemed the former Massachusetts governor to be "unelectable", attacking Romney for his quip that he liked "to be able to fire people".
His withdrawal – and that of Michele Bachmann, 12 days ago – means there are now effectively five candidates left in the field: Romney, Texas congressman Paul, Texan governor Rick Perry, former Pennsylvania senator Rick Santorum, and former speaker Newt Gingrich.