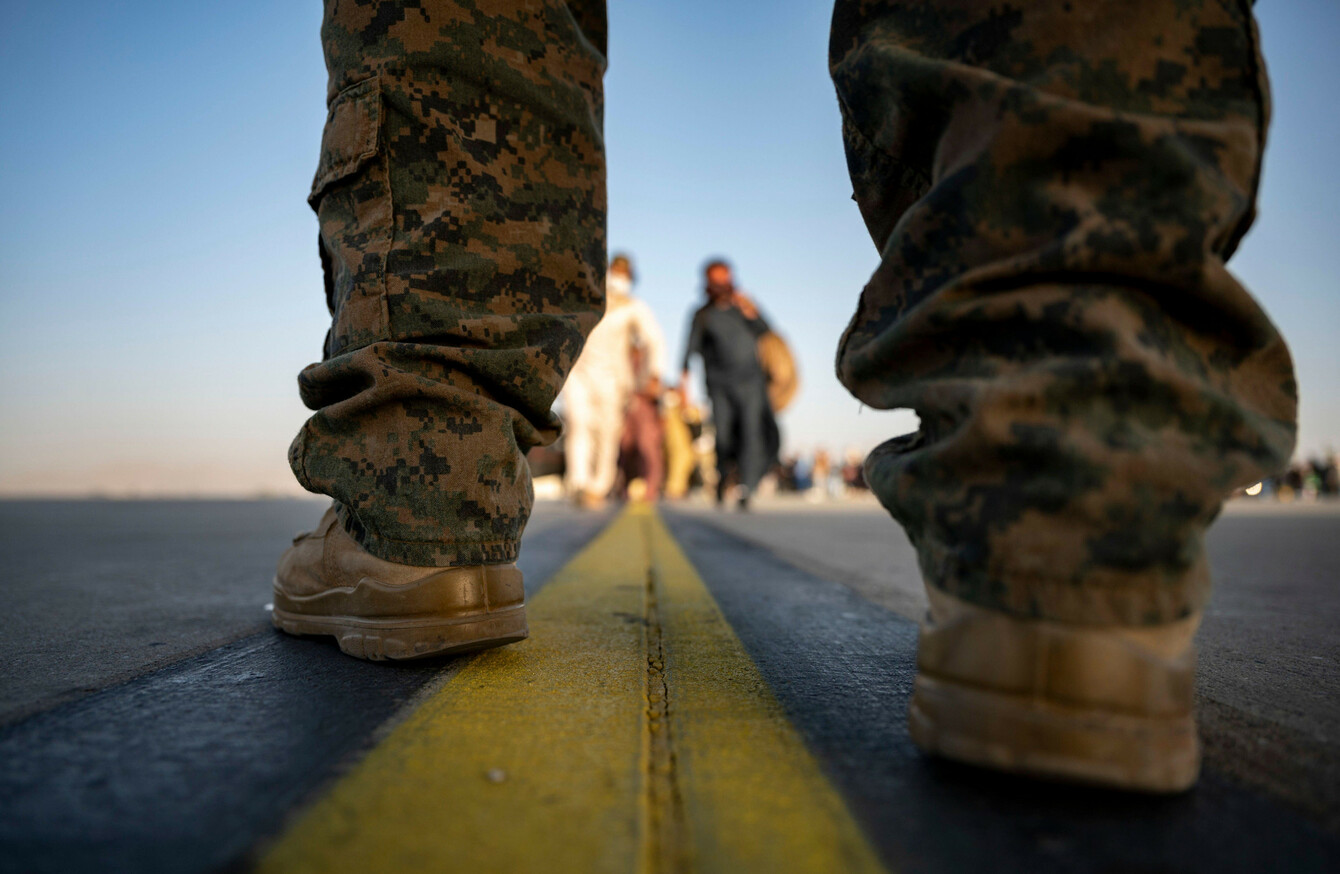 File image of a US marine at Kabul airport earlier this week.
Image: Alamy Stock Photo
File image of a US marine at Kabul airport earlier this week.
Image: Alamy Stock Photo
Updated Aug 26th 2021, 6:07 PM
[Note: You'll find our coverage of the breaking story about the explosion outside the airport here].
THIRTY-SIX IRISH citizens and residents have been evacuated from Kabul, the Department of Defence has confirmed. 
Foreign Affairs and Defence Minister Simon Coveney said this evening that the withdrawal of the Emergency Consular Assistance Team in Kabul, which had been attempting to evacuate Irish citizens, was now complete.
The Department of Defence said 36 Irish citizens and residents had been evacuated in total, but that around 60 Irish citizens and their families remain in Afghanistan, as well as 15 Afghan citizens with Irish residency.
"I know there are many in Ireland today with deep concerns for family members, friends and colleagues who remain in Afghanistan," Coveney said.
"Along with other countries, our team needed to evacuate due to the deteriorating security situation.
"I can give full assurance that the overall consular effort is continuing and we remain strongly committed to assisting those requiring ongoing consular support in Afghanistan."
Speaking to RTÉ's DriveTime this evening, Coveney said one evacuation flight brining Irish citizens from Kabul Airport was the last flight to take off before today's explosion.
Coveney said Kabul Airport is now effectively closed and advised Irish citizens not to come to the airport.
He confirmed it is unlikely that the 60 Irish citizens and their families as well as 15 Afghan citizens with Irish residency will be able to leave Afghanistan from Kabul Airport over the coming days. 
"Virtually every country now is advising its citizens to stay where they are," says Coveney, adding that the Department of Foreign Affairs will remain in contact with this group. 
"We're going to keep working to find ways to help people to get out of Afghanistan…but that is going to take time," he said. "The solution is not to turn up at the airport this evening and try to get in because you won't." 
Withdrawing troops
With the August 31 deadline looming for the US to totally withdraw troops Afghanistan, several nations have landed flight after flight onto the single runway at Kabul airport to evacuate people.
The Taliban has so far honoured a pledge not to attack Western forces during the evacuation, but insists the foreign troops must be out by the end of the month.
Overnight, new warnings emerged from Western capitals about a possible threat from the affiliate of the so-called Islamic State in Afghanistan, Isis-K, which is likely to have seen its ranks boosted by the Taliban's freeing of prisoners during its blitz across the country.
Some other countries, including Turkey, have also already started pulling their soldiers and diplomats out of Kabul. 
Belgium said yesterday it was ending evacuations after its military planes airlifted around 1,100 people – including Europeans and Afghans – in recent days. 
Army Rangers
Members of Ireland's elite Army Ranger Wing were sent to Kabul earlier this week to assist in the evacuation of the last remaining Irish citizens there. 
A group of soldiers entered the country along with at least two high-ranking officials from the Department of Foreign Affairs.
Earlier this morning, Coveney said this team is "safe, busy & doing fantastic work with partners". 
"We remain in close contact with them to make decisions on exit," the minister said on Twitter. 
The Army Ranger Wing is a unit within the Defence Forces. Its roles are divided into conventional warfare roles and specialist anti-terror roles.
Meanwhile, Britain has said the operation to evacuate nationals will continue.
"We've been ready for it," British Prime Minister Boris Johnson said of the attack. "We're going to continue with that operation, we're now coming towards the very end of it in any event.
"We're going to work flat out… getting people through as fast as they can still, and we're going to keep going up until the last moment," said the prime minister, shortly after chairing a meeting of the emergency COBR committee.
He said that members of the US military had "very sadly" lost their lives in the attacks, as well as "many Afghan casualties".
#Open journalism No news is bad news Support The Journal

Your contributions will help us continue to deliver the stories that are important to you

Support us now
The threat of a terrorist attack was "one of the constraints that we've been operating under" during the operation, he added.
"But, clearly, what this attack shows is the importance of continuing that work in as fast and as efficient manner as possible in the hours that remain to us, and that's what we're going to do."
Around 15,000 Britons and Afghans who assisted the country during the war have been evacuated in the operation, said Johnson.
The Ministry of Defence later said on Twitter that "there have been no reported UK military or UK government casualties following the incidents in Kabul.
"UK forces are working closely with our partners to provide security and medical assistance," it added.
- Additional reporting by Daragh Brophy, Christina Finn & Cónal Thomas