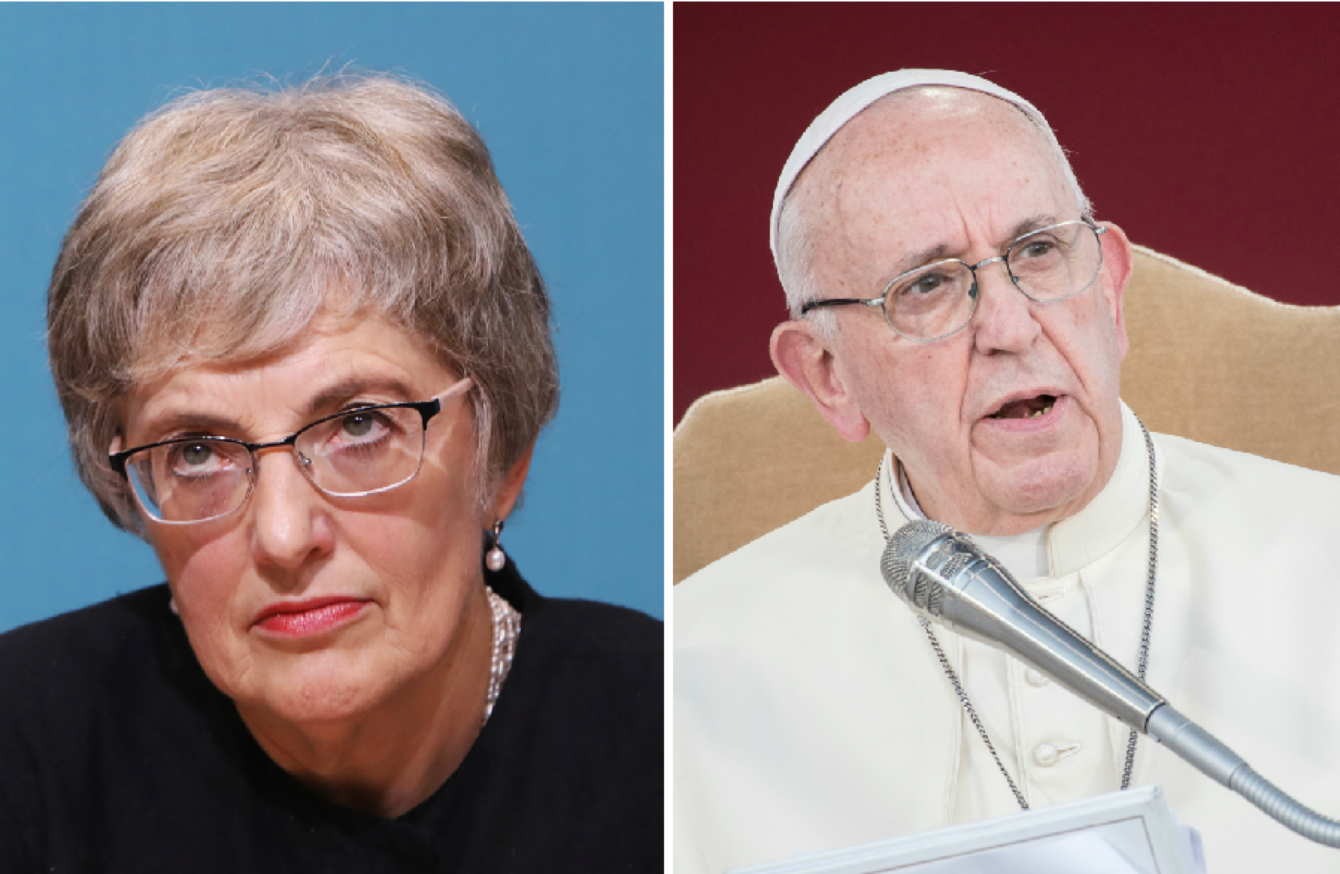 Katherine Zappone (L) and Pope Francis (R)
Image: Rollingnews.ie
Katherine Zappone (L) and Pope Francis (R)
Image: Rollingnews.ie
MINISTER FOR CHILDREN Katherine Zappone warned the Tánaiste that spending State money on the recent papal visit undermined the work done for LGTBI+ rights in Ireland, previously unseen correspondence shows.
A letter released to TheJournal.ie under the Freedom of Information Act details how the Minister raised concerns over the World Meeting of Families to Simon Coveney in February.
It followed media reports in late January that organisers of the triennial Catholic festival – which was held in Ireland in August – edited documents to remove references to LGTBI+ Catholics and their families.
"Very serious concerns have been brought to my attention by former President Mary McAleese and others regarding World Meeting of Families (WMF) and the potential use of State funding," the Independent Minister wrote.
"As a Government Minister I share these concerns and believe they must be urgently addressed."
Financial support
Citing reports in the media that World Meeting of Families documents been edited, Zappone speculated that statements on gay marriage that would cause "hurt and offence" to LGBTI+ people across the world could possibly be made at the event in Ireland.
In her capacity as Minister and as a TD, she sought assurances that State funding was not used to support views and events which did not represent Government policy.
"Our Government through the Department of Foreign Affairs has been to the forefront in promoting equality and human rights offering hope to those facing inequality, discrimination and abuse," Zappone wrote.
"Financial support for an event which encourages discrimination and inequality undermines and compromises this work, which has the support of the Irish people."
The Minister later used the visit to raise the issue of the Tuam Mother and Baby Home, where the remains of children were found in a sewage system, with Pope Francis. 
Meanwhile, another letter released to TheJournal.ie showed how Minister for State Kevin "Boxer" Moran lobbied the Taoiseach to make more tickets to be made available for the Pope's visit to Knock Shrine.
Disappointed
A letter from Fianna Fáil TD Eugene Murphy to Moran, forwarded by the Junior Minister to the Taoiseach's office, described how many of his constituents were "bitterly disappointed" after not receiving tickets to the event.
Murphy said many of those who were left disappointed were elderly people without Internet access, leaving them at a disadvantage when it came to booking tickets.
"I am calling for a further 5,000 tickets to be made available through a postal request or phone line service so that those people at least have a chance to go to this historical event," Murphy wrote. 
Minutes from an early meeting in advance of the visit, also released under Freedom of Information legislation, also showed how state bodies initially considered that 800,000 people could have attended the papal mass in the Phoenix Park on 26 August.
The figure was suggested at a meeting between various bodies on 27 March, when the Office of Public Works and the National Transport Authority liaised on transport arrangements for the mass.
"Contact has been made with all transport providers and the total capacity for 26 August is approx. 800,000," the minutes read.
The capacity was later revised downwards to 500,000 people, while just 130,000 people eventually attended the event when it took place.