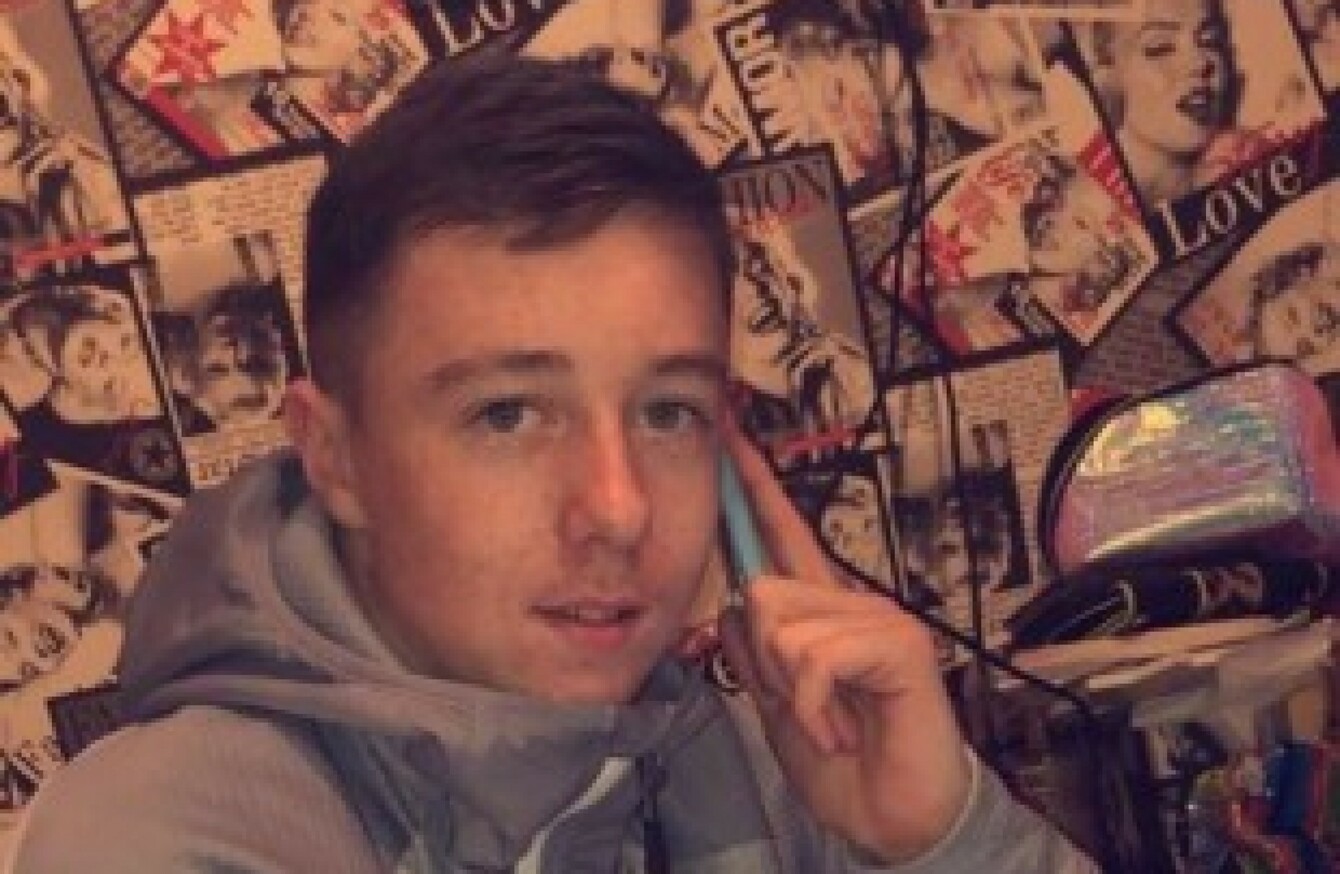 Varakar said "the nation is shocked" by the murder of 17-year-old Keane Mulready-Woods.
Image: Garda Press Office
Varakar said "the nation is shocked" by the murder of 17-year-old Keane Mulready-Woods.
Image: Garda Press Office
Updated Jan 17th 2020, 10:41 AM
TAOISEACH LEO VARADKAR has said he will consider attending a public rally against violence in Drogheda next week if he's available and if he's invited.
Varadkar was speaking to LMFM this morning following the gruesome murder of 17-year-old Keane Mulready-Woods whose body was dismembered. 
The murder is believed be connected to a local feud. 
Varakar said this morning that "the nation is shocked by the depravity of the murder" and that he himself expressed his "revulsion and total condemnation" at the killing.
"I really want people to know the crime doesn't pay, that those who are responsible for this will be brought to justice, and also to encourage anyone who does have information to give it to us because we need to secure convictions here," he said. 
The Mayor of Drogheda said yesterday that he will hold a rally in the town to allow people articulate how they feel about the ongoing feud and the killing of the teenager. 
Asked would he attend the event, Varadkar said he couldn't commit to attending but would consider it. 
"I heard about that event happening, I don't know if I'm available or not. But certainly if I'm invited to it and if I'm welcome there, I'll give that consideration. I don't even know if I'm in the country that day or not," he said. 
Pushed on the fact that he's likely to be in the country during an election campaign, Varadkar said: 
I'm still Taoiseach, so I do still have my responsibilities and obligations as Taoiseach. So I'm obviously trying to campaign around them but, you know, I certainly give it consideration. 
Speaking about the wider issue of violence in the area, Varadkar said his constituency has also seen violence and that he understands the fear being felt by the people in Drogheda. 
"I represent the constituency of Dublin West, it includes the Blanchardstown area, the Corduff area where we've had shootings as well and very serious criminal activity and gangs, and we take them on and we beat them," Varadkar said. 
I can totally understand how people Drogheda must feel at the moment, that people are afraid to go about their normal lives. Drogheda is actually great town you know, the biggest town in Ireland. Last time I was here was for the Fleadh which was a great success.
Varadkar said that he will speak to the local commissioner about policing levels in the area. 
"No politician ever does or should decide how gardaí are deployed, that's best done by the people who know how to do policing. And that's the Garda Commissioner and his team. What I can pledge to do is that we will continue to increase resources for the gardaí, the budget and the number of gardaí," he said. 
Asked would he considering introducing further legislation aimed at tackling gangland activity, Varadkar said he's open to doing so but that adequate laws are already in place to fight such crime. 
"Gardaí have extensive powers under the existing law with the Special Criminal Court and these sorts of criminals can be brought to the Special Criminal Court," he said.
And you know the crimes they've committed, you know, the crimes like murder, crimes like drug dealing, crimes like dismembering someone, these are already crimes. It's not so much new laws that we need its evidence and police so we can get convictions.
DNA tests
Varadkar had said yesterday that he found the killing of the teenager "particularly shocking" and described it as "probably the most gruesome, grotesque murder" that that he could think of.
Remains were discovered in the Moatview area of Coolock on Monday evening and have been confirmed to be that of the teenager.
Further remains were found in a car that had been set alight in the Ballybough in Dublin on Wednesday morning. DNA results are due back on those remains today.
Gardaí are continuing to carry out forensic tests on a home in Rathmullen Park in Drogheda, which they believe might have been where the teenage victim's dismembered body was brought.  
The murder is believed be connected to a local feud and gardaí have said that many of the images and videos being shared online purporting to be of the victim do not show him after his death. 
Varadkar and Minister for Justice Flanagan are expected to get an update on the investigation later this morning.
- With reporting by Christina Finn in Drogheda and Garreth MacNamee
In July 2018, a feud began between two gangs in Drogheda which has resulted in several shootings and deaths. Despite an increase in Garda resources, the violence has continued. This episode of The Explainer examines this issue:
Source: The Explainer/SoundCloud