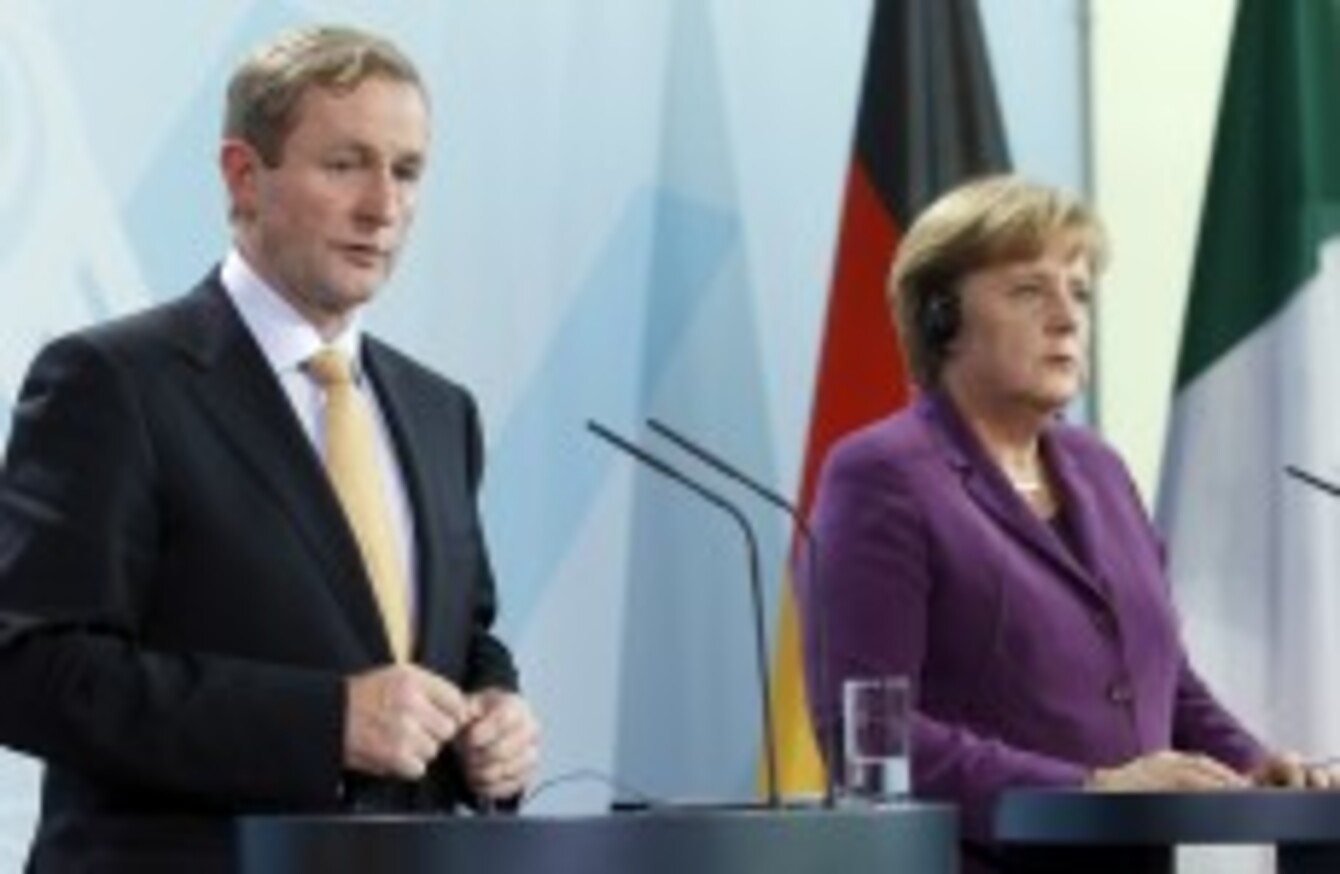 Image: Michael Sohn/AP
Image: Michael Sohn/AP
ENDA KENNY has repeated his calls for an EU deal to share banking debts between member states – while the German chancellor Angela Merkel insisted she would not relent and agree to the pooling of sovereign debts through Eurobonds.
In an interview with the Irish Times, Kenny said the two-day summit of EU leaders beginning in Brussels tomorrow was not likely to result in a final deal on Ireland's debt problems, but instead hoped that the meeting could pave the way for a European banking union.
"I think there is a fundamental principle here that needs to be recognised and that is: If the eurozone is saying there has to be a shared liability, the problem is that in this country, that didn't apply," Kenny said in an interview by Stephen Collins.
The Taoiseach said that Ireland was being frustrated by the fact that the government was observing all the terms and conditions laid down for it in the EU-IMF treaty, but was simultaneously finding it more difficult to emerge from the bailout programme because of similar international factors.
Kenny's comments and calls for banking union – which would ultimately see the eurozone as a whole take on responsibility for the liabilities of banks, regardless of their member state of origin – came as Angela Merkel sought to kill off the joining of national debts.
Speaking to MPs from her junior coalition partner, the Free Democrats, Merkel said Eurobonds – which would be issued jointly by Eurozone member states, replacing the bonds issued by member states – would not be countenanced for "as long as I live".
Deutsche Welle reports a number of the coalition MPs responded by wishing her a long life, in support of her stance.
Eurobonds have been touted as a possible solution for bailed-out countries by likely bringing down the average cost of borrowing for each country – making it possible for the likes of Portugal and Ireland to gain market access at affordable prices.
Backed by Ireland as well as by the European Commission president Jose Manuel Barroso, the plans are rejected by Germany because it believes countries should be forced into fiscal consolidation in order to regain access, rather than seeing Eurobonds as a 'get-out clause'.