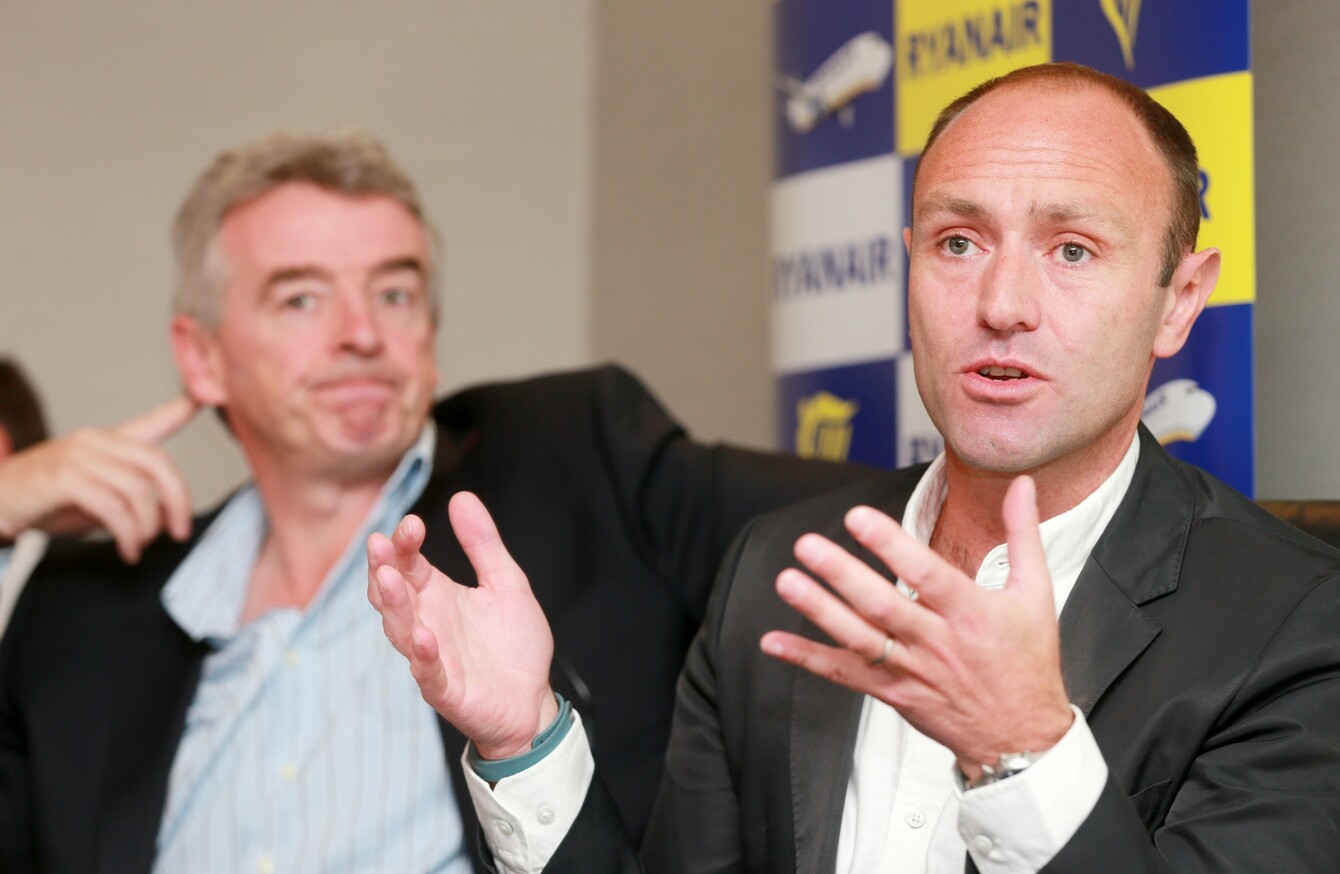 Image: Laura Hutton/Photocall Ireland
Image: Laura Hutton/Photocall Ireland
RYANAIR'S MARKETING BOSS wants to position the budget airline as a brand that's liked by consumers – but "absolutely not loved".
Speaking at a Retail Excellence Ireland conference this week, Kenny Jacobs said the low-cost carrier, which is four years into its 'always getting better' overhaul, is now "nice enough".
The marketing campaign was launched in 2013 to help clean up Ryanair's reputation as a ruthless cost-cutter that cared little for its customers.
Jacobs insisted that it has been a success, pointing to the airline's rising load factor – a measure of the number of seats filled on a flight – which reached 96% in April.
He said Ryanair's current marketing strategy is to "be like Aldi on price, cost and quality, be like Amazon on simplicity, digital and data, and very importantly, execute faster than anybody else. It's not more complicated than that".
He added that the carrier is focused on pitching itself as a "functional" brand.
"I want customers to say: 'Ryanair is brutally efficient, awesome on price …  I would now trust them and buy more stuff from them than I would've in the past.'
"('Always getting better') is taking away the reasons to not like Ryanair, but it's absolutely not about becoming loved."
Prior to joining Ryanair, Jacobs was head of marketing at UK-based price comparison website Moneysupermarket. He also held senior positions at Tesco in both Ireland and the UK.
He said that he still considers himself a retailer "more than anything else" and is "obsessed" with the sector.
He warned the room full of retail bigwigs that too many firms in the industry try to "dance at every wedding" and lose sight of their main selling points.
"You can't be everything to everyone," he said. "You can't say you're going to be number one on price, number one on service, number one on choice, number one on quality, because that simply doesn't exist.
"I don't think it exists in retail and I don't think it exists as an airline."
Discount supermarkets
Unsurprisingly, Jacobs said he is a "great believer in discount brands" and is inspired by supermarkets like Lidl and Aldi.
"I am a great believer that the zeitgeist of consumers has permanently changed," he said. "Being smart with your money is a badge of honour. It used to be a badge of shame.
"15 years ago in Ireland, if you said you'd been to Aldi, it meant times were tough. Now you get the great and good of Dublin 6 and Dublin 4 talking about the wonderful Aldi prosecco."
He complained that retail prices in Ireland in general are too high, especially compared to the UK.
He said the difference in price for goods between the UK and Ireland should be 8% plus the currency difference.
"We did that analysis in Tesco and I think that's right. If you're beyond that, you're creaming it – potentially ripping people off – or you've got something unique that you think is worth paying for."
Sign up to our newsletter to receive a regular digest of Fora's top articles delivered to your inbox.
Written by Conor McMahon and posted on Fora.ie