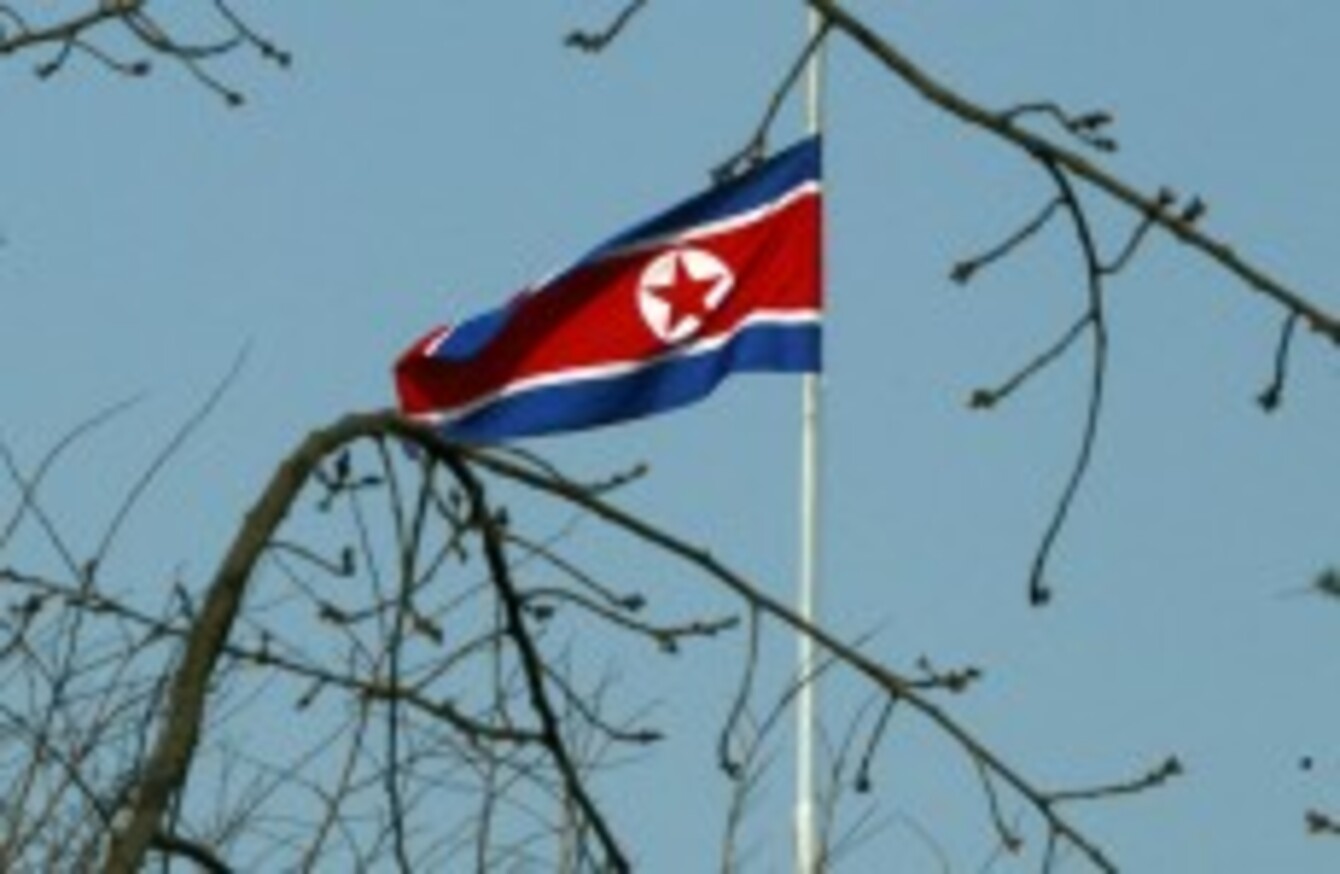 The North Korean flag flies at half-mast over its embassy in Beijing, China.
Image: Eugene Hoshiko/AP
The North Korean flag flies at half-mast over its embassy in Beijing, China.
Image: Eugene Hoshiko/AP
TRIBUTES HAVE BEGUN to come in – though slowly – for the late North Korean leader Kim Jong-il, whose death was announced yesterday.
While many world leaders have noted Kim's passing, from a heart attack on Saturday morning, few have offered public words of sympathy.
The Central Committee of the Communist Party of China – one of North Korea's few international allies – was the first to send a formal message of condolence.
We express, with bitterest grief, most profound condolences and sincerest sympathy to all the Korean people. [...]

Kim Jong Il was a close friend of the Chinese people. It was with great enthusiasm that he carried forward and developed the traditional Sino-DPRK friendship provided and cultivated by the revolutionaries of the elder generation of the two countries, forged close relations with the Chinese leaders and dynamically promoted the steady development of the relations of good neighbourliness, friendship and cooperation between China and the DPRK.

The Chinese party, government and people profoundly grieve over the demise of Kim Jong Il and the Chinese people will always miss him.
Russian president Dmitry Medvedev also sent condolences:
In Russia His Excellency Kim Jong Il is well known as the leader of a friendly state who did a lot for the strengthening and development of the traditional Russia-DPRK good neighborly relations.

I am sure that this line in the interests of our two countries and peoples will be inherited by the new leadership of the DPRK.
Cuba, though not sending formal condolences, has declared three days of official mourning for Kim, beginning today and continuing until Thursday. All military and public institutions are flying the flag at half-mast during that time.
Though the South Korean government has not offered formal condolences, the widow of its former president Kim Dae-jung – whose 'Sunshine Policy' towards the North earned him a Nobel Peace Prize – sent her condolences.
Kim Jong Il, chairman of the National Defence Commission of the DPRK, released the

June 15 joint declaration

in June 2000, providing a landmark for the south-north reconciliation and cooperation and reunification.
Other world leaders have stopped short of issuing full condolences, instead restricting their comments to making formal 'notes' on Kim's demise.
US Secretary of State Hillary Clinton said the US was "deeply concerned with the well-being of the North Korean people, and our thoughts and prayers are with them during these difficult times," but stopped short of expressing sympathy on Kim's passing.
Britain's foreign secretary William Hague offered similar remarks, saying: "The people of North Korea are in official mourning after the death of Kim Jong Il. We understand this is a difficult time for them."
The European Union's high representative on foreign affairs, Catherine Ashton, issued a brief and terse statement saying the EU was "monitoring the situation closely" but also refrained from sharing any sympathy.
Ireland's Department of Foreign Affairs has maintained silence, saying it has no plans to issue any statement on Kim's passing.
North Korea has already said it will not accept "foreign mourning delegations" at Kim's burial on December 28, a move aimed at trying to stop overseas visitors from applying subtle political pressure during the interregnum.