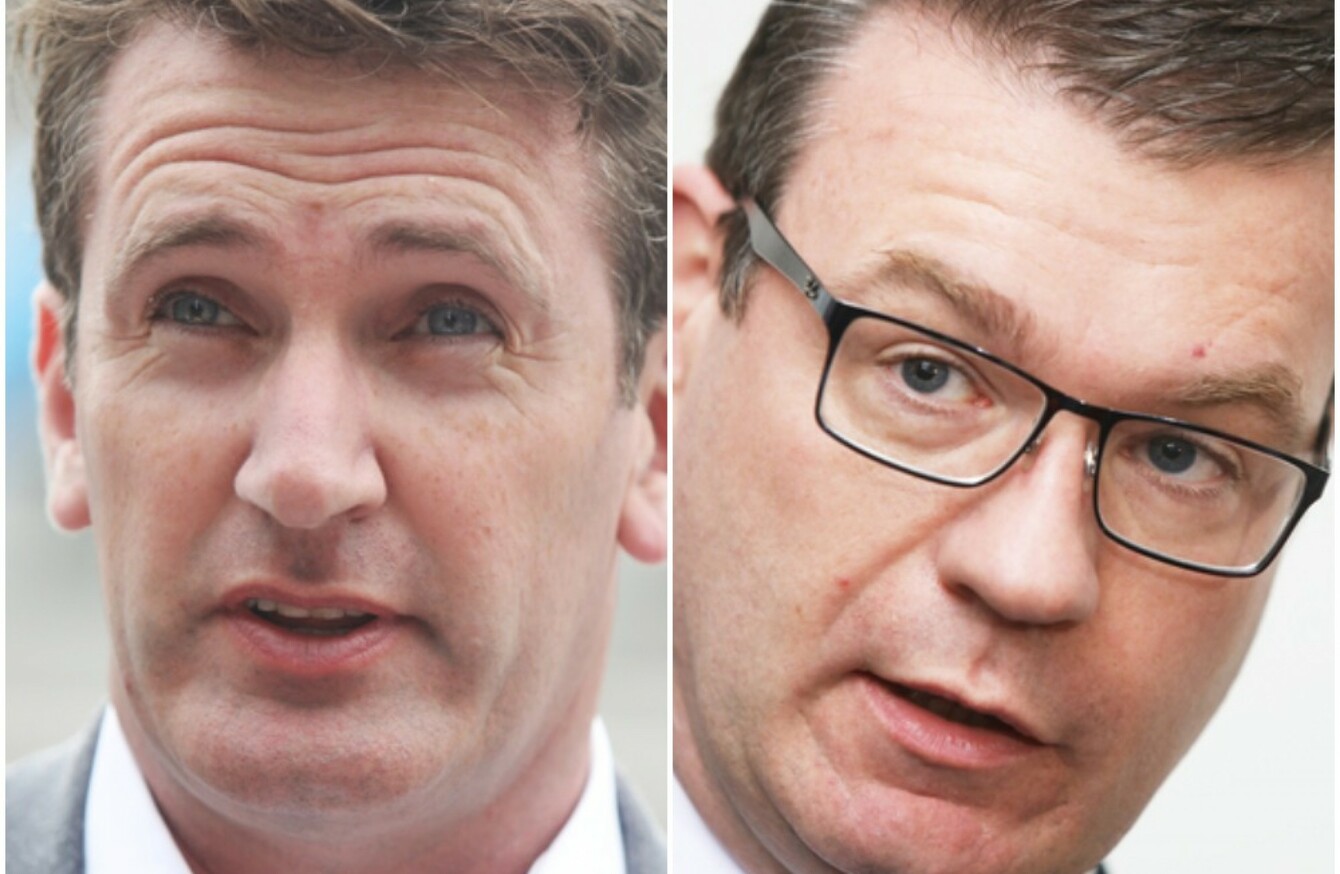 Ó Ríordáin and Kelly will battle it out to lead Labour.
Image: RollingNews.ie
Ó Ríordáin and Kelly will battle it out to lead Labour.
Image: RollingNews.ie
Updated Feb 18th 2020, 5:57 PM
LABOUR'S LEADERSHIP CONTEST is shaping up to be a contest between deputies Alan Kelly and Áodháin Ó Ríordáin after both confirmed themselves as candidates today.
Kelly launched his leadership bid in Buswells Hotel beside Leinster House at noon today while Ó Ríordáin confirmed he was running on RTÉ's Drivetime programme this evening. 
Ó Ríordáin said he will formally launched his bid on Friday on Sheriff Street where he used to be a teacher. 
The vacancy in the party leadership has come about after Brendan Howlin announced last week he was stepping down following the party's failure to make gains in the general election.  
During his campaign launch, Kelly said it was time for the Labour Party to "go back to basics". He was nominated to run for leader by fellow Labour TDs Duncan Smith and Sean Sherlock.
Ó Ríordáin told RTÉ that he has been nominated by Ged Nash TD and Senator Ivana Bacik. He said the country "needs a Labour Party" and that he "offers a chance for change" for the party. 
Kelly, a former Cabinet minister under the Fine Gael-Labour coalition from 2011, was most recently the party's health spokesperson and was prominent in the last Dáil for his support of the victims of the CervicalCheck scandal.
The Tipperary TD said today: "The party was founded to advance the interest of workers. Now it is time to go back to basics.
We must rebuild our party, take it back to the grass roots, cover every corner of the country in doing so and regenerate the trust we had with the people of Ireland that, no matter what, Labour puts the people first. There is a hard road ahead and it will take time, but the rebuilding of the party must revolve around putting workers and their families at the centre of political discourse.
Appearing somewhat choked up at the press conference in Dublin today, Kelly said he was humbled by the support he has received from his party members. 
Former Labour Party TDs Willie Penrose and Jan O'Sullivan are backing Kelly for the leadership, with both stating today that he is the right man for the job, and that his time has come to take on the leadership.
When questioned about Labour's role in the austerity years in government, Kelly said: 
"I think we probably as a party just need to move on. The day of apologising I think is over. I think in fairness, all of us have admitted mistakes, myself included," he said, adding that the party did its best and put the country first.
Ó Ríordáin also said this evening that Labour has seen a decline in support over the past number of elections and added that it has "no right to exist". 
"I believe that the country needs a Labour Party, we have been the party that has modernised Ireland. If I look at my own background and my own teaching background from where I used to teach, and looking at children from an acutely disadvantaged area, and I look at what they need, I wanted to change the world for those children," he said.
Ó Ríordáin was a junior minister during the Fine Gael-Labour government of the previous decade and held briefs including equality and drugs policy. 
Ó Ríordáin repeatedly said that his party needs to offer change to voters but he acknowledged that the party may have been "behind the curve" in defining what this represents. 
"We have to recognise that the old answers that we came up with after every election, just don't cut the mustard anymore. We need to change ourselves, to position ourselves to be on the side of people," he said. 
So if people are worrying about childcare costs that they think of the Labour Party, when they think of the power of education, being the great liberator for children, and for young people as I know it to be, they should think of the Labour Party. When they think about housing solutions, or health solutions, they should think of the Labour Party, but in the most recent election, they thought of others. 
Ged Nash's withdrawal
Earlier, Louth TD Nash announced he will not be contesting the Labour leadership contest. 
Nash said this morning it has been a "difficult decision" but he felt he needed to focus his energies on being a Dáil representative. 
The TD had lost his seat in the 2016 general election but regained his seat again 10 days ago. 
Nash's decision not to contest for the leadership increases cleared the way for Dublin Bay North TD Ó Ríordáin would seek a nomination.
Nash and Ó Ríordáin were both senators until their re-election to the Dáil earlier this month and were seen as unlikely to run against one another. 
Nash confirmed on Twitter that he would not be seeking his party's leadership and speaking to LMFM this morning, he added that wanted to "focus entirely" on his duty to his constituents. 
When asked about whether there will now be a leadership contest with Ó Ríordáin, Kelly said he would "relish" a contest. 
#Open journalism No news is bad news Support The Journal

Your contributions will help us continue to deliver the stories that are important to you

Support us now
He said Labour must rebuild itself, he said, repeating what Howlin said last week that the party does not have a mandate to go into government. 
"We've taken a position and we're going to stick with that position," he said, adding that the parliamentary party will meet again as government formation talks progress. 
"The people want homes first and foremost… not accommodation," he said today, stating that the party will be getting back to grassroots issues that matter to people around the country. 
Distancing himself from former criticisms about phrases he used in the past, such as "power is a drug", he emphasised that the party is not about him alone, it is about "we" not "I", he said. 
When questioned about his relationship with former FAI boss, John Delaney, he said he has not had any relationship with him for a "considerable period of time".
He said what has gone on with Irish football is an "awful situation", adding that grassroots football needs to be protected.
Ó Ríordáin was asked this evening whether he agreed with his colleagues Seán Sherlock and Willie Penrose that Kelly had "demonstrated maturity over the last few years".
He replied that he "wants to work with Alan Kelly" as he does with other Labour representatives.
Asked what he could offer the party that Kelly could not, Ó Ríordáin replied:
"Whenever anybody asks me why, why I do anything. I go back to the children I used to teach and the world I wanted to change for them."
The deputy added that "Labour is the difference" that can help give children from disadvantaged backgrounds a better "life chance".
"What we have to be sure of, is our message that we are on the side of people," he said. 
With reporting from Christina Finn and Sean Murray