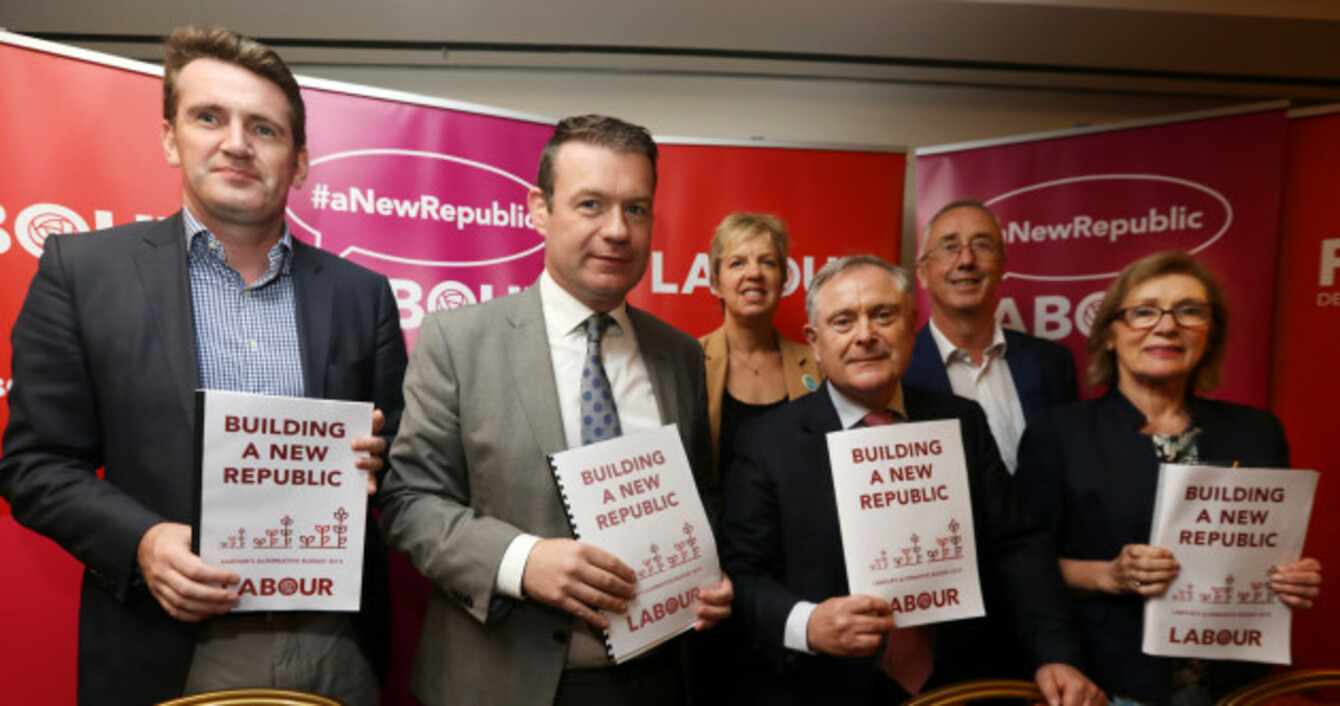 Image: Leah Farrell
Image: Leah Farrell
A MOTION AT this year's Labour conference has called for members of Seanad Éireann to be allowed run as leader of the party. 
If passed, senators such as Ivana Bacik and Aodhán Ó Ríordáin would be eligible for election. 
There has been a lot of speculation about the future of the Labour leadership, with the focus narrowing on who might lead the party into the next election ever since Alan Kelly threw down the gauntlet, saying he believes a change in leadership is needed. 
The Tipperary TD has previously said the party needs radical change and that leader Brendan Howlin should reflect on his position. 
Hitting back at his party colleague, Howlin has said there is no appetite for a change of leadership within the parliamentary party and called Kelly's comments "unhelpful". 
However, pressure has been mounting on Howlin since a large number of councillors signed their name to a letter calling for him to stand down. 
Kelly hasn't been shy about stating that he has ambitions to be leader, but when it came down to it, he could not secure a second nomination to put his name forward from any of his Dáil colleagues. 
While rule changes that kicked in last November means it is no longer the case that a TD needs to get the nomination by a member of the parliamentary Labour Party, the rules do still stipulate that only members of Dáil Éireann are eligible for election. 
One thing Kelly had going for him is that any ambitious senators with their eyes on the job were ruled out. 
However, at the party's conference this weekend there has been a debate on party affairs, with motions put down to amend the constitution on leadership. 
Motion 78, proposed by the UCC Branch of the party, seeks to amend section 8 of Article 9 which relates to the leader in the party's Constitution. It states "only members of Dáil Éireann are eligible for election".
The branch is calling on the party members to support the motion to delete such a sentence and to replace it with:
"Only persons who are members of Dáil Éireann or of Seanad Éireann are eligible for election."
If passed, any such heave Kelly has planned in the coming months to unseat Howlin, could become a lot more tough if he has other party members vying for the role. 
Going into coalition again requires 'red line' issues 
Another party motion sets its sights beyond the next election, focusing on coalition options with other parties. 
The party endured the worst result in its 104-year history in 2016 with just seven of its TDs re-elected five years after its best-ever result when it won a record 37 seats.
This was largely thought to have occurred due to the party going into coalition with Fine Gael during the recession, and not standing up more to some of the austerity measures imposed on the Irish public. 
Motion 79 calls on the party to establish red lines if the party decides to re-enter a coalition arrangement again.  
The motion calls on party members to resolve that "in the event of no party, or group, commanding a majority after the next general election, the Labour Party shall offer support for the formation of a stable administration on the basis of the negotiation of a programme for government, conditional on the inclusion of a number of minimum 'red line measures' to promote economic equality and social progress". 
An amendment to the motion put down by the Newbridge Branch in Kildare South, seeks to also make reference to a possible confidence and supply arrangement – such as one that Fianna Fáil is in currently with Fine Gael.
Addressing the Labour Conference last night, Howlin said that in advance of the next general election, we will publish a list of core red lines and demands.
"Labour will not support any Government that does not meet each and every one of our 'red lines'" he said.
"To maximise the progressive voice, at the next election, I will call on all Labour voters to give their next preferences to progressive candidates, from the Green Party and the Social Democrats, and to progressive independents.
Because we know that only a progressive platform, for economic equality and climate justice, will deliver a New Republic for all our
"people.
Howlin also spoke about the possibility of Fianna Fáil merging with the SDLP.
"If some within the SDLP do merge with Fianna Fáil, Labour and others will step in. We will ensure a pluralist option in the Labour tradition is available for voters in Northern Ireland," he said.