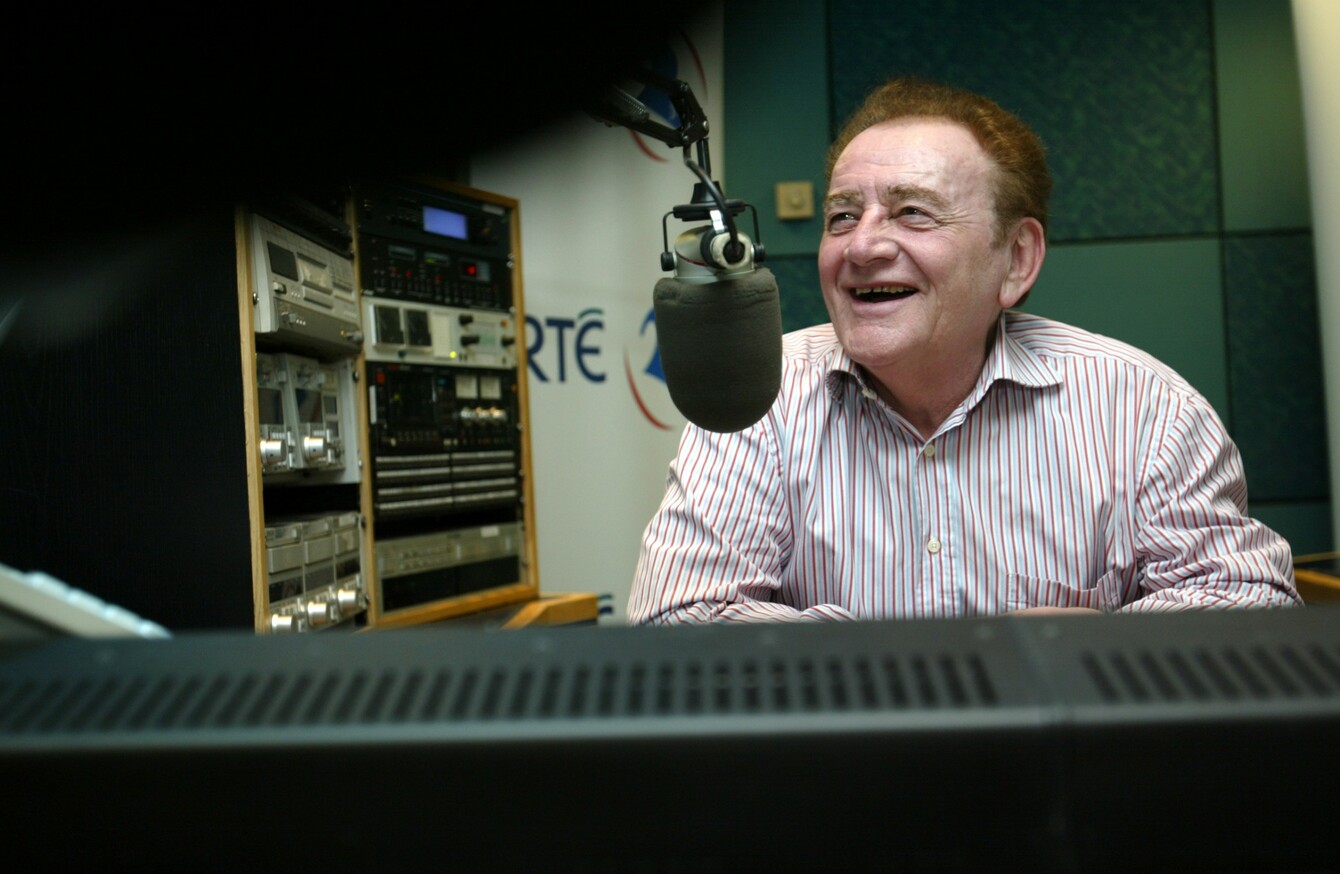 Gogan in RTÉ studios.
Image: Fran Veale/Photocall Ireland!
Gogan in RTÉ studios.
Image: Fran Veale/Photocall Ireland!
Updated Jan 7th 2020, 8:15 AM
VETERAN IRISH BROADCASTER Larry Gogan has died at the age of 85. 
The DJ was one of the most-loved figures on Irish radio and is synonymous with his 2FM programme The Golden Hour and his Just a Minute Quiz.
Announcing the sad news this morning, Dee Forbes, Director General, RTE said:
"Larry Gogan was a living legend, and a genuine national institution. He transcended generations — whether it was a hilarious moment on the Just a Minute Quiz, the breakneck countdown of the weekly top 40, or the first play of a Christmas song — Larry didn't just preserve these traditions, he created them."
Gogan had six-decade career in Irish radio working across both RTÉ Radio One and 2FM and latterly digital station RTÉ Gold. 
Gogan presented his final show on 2FM in January of last year after 40 years at the station.
He was also the voice of the National Chart Show which counted Ireland's top 40 hits every week.
He was won multiple awards, including a Meteor Award and was inducted into the IMRO radio awards hall of fame.
Gogan also has a studio named after him at 2FM.
He also presented a number of television programmes but it was his radio career that endeared him to listeners across the country. 
On the Just A Minute Quiz, Gogan was known for always being sympathetic when callers got the question wrong – he'd often say the questions "didn't suit you". 
Forbes said today that he was "cross-generational and universally popular". 
"He returns now to his beloved Florrie – we are the poorer for his loss, but the richer for having known this gentleman of the airwaves," Forbes added. Gogan's wife died in 2002.
Dan Healy, Head of RTE 2FM said:
Larry was a huge part of the foundation on which 2FM was built — he was, arguably, the greatest music DJ in Irish broadcasting history; that gorgeous voice; that genius with a link; that love for the music.
"Larry won all the major radio awards in Ireland but over and above them all he had the one that mattered most: universal popularity. Everyone loved Larry, and we'll all miss him deeply." 
Announcing Gogan's passing this morning RTÉ listed his age as 81. It has since been confirmed he was 85.