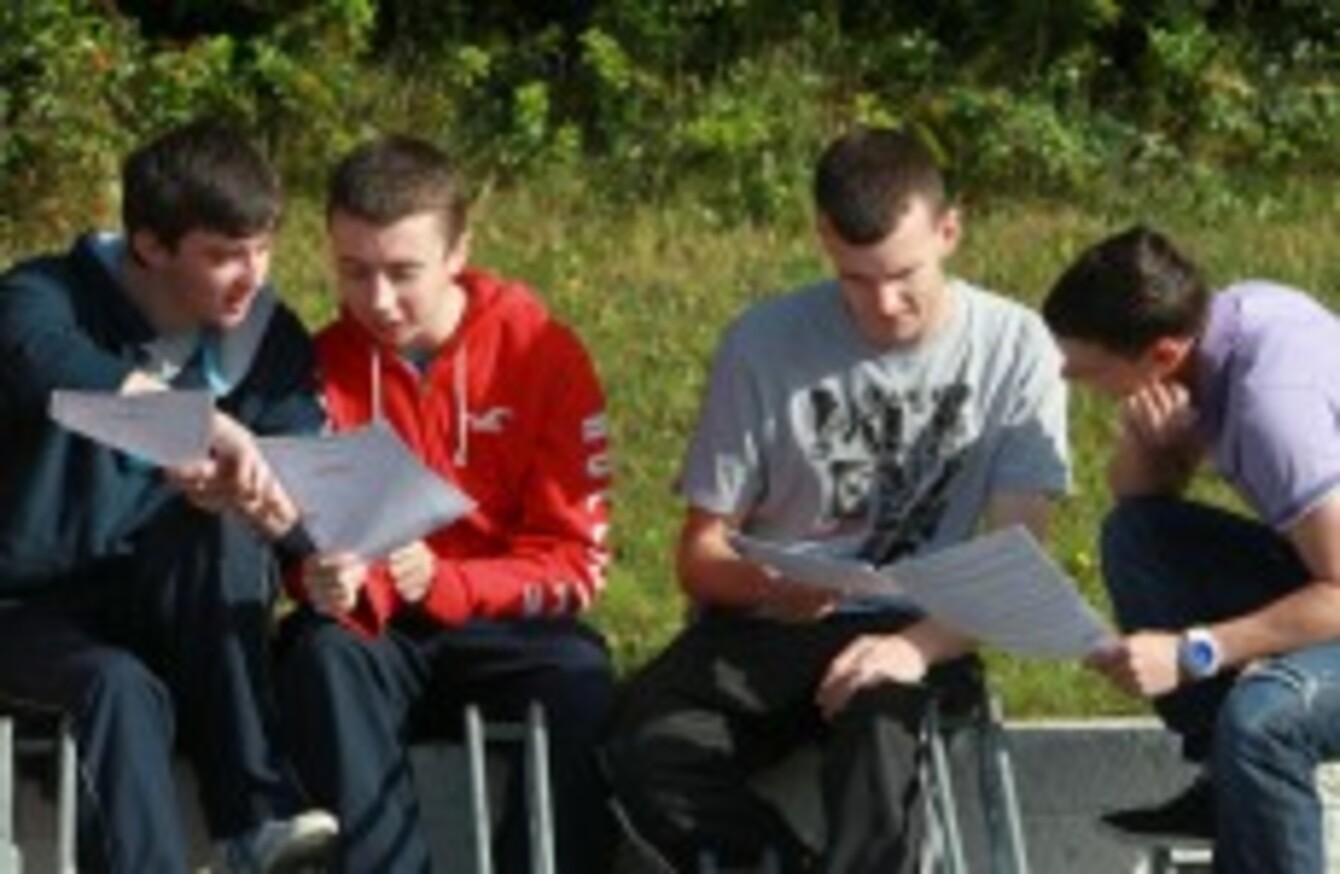 Students at St Kevin's College in Glasnevin examine their results last year. 55,815 students will receive their Leaving Cert results today.
Image: Leon Farrell/Photocall Ireland
Students at St Kevin's College in Glasnevin examine their results last year. 55,815 students will receive their Leaving Cert results today.
Image: Leon Farrell/Photocall Ireland
THE LEAVING CERTIFICATE results obtained by the class of 2012 follow 'broadly similar' patterns to those of previous years – while the number actually taking the State exams fell this year.
The State Examinations Commission revealed this morning that a total of 55,815 people sat Leaving Certificate examinations this year – down by 1,717 on the number from last year.
36,762 students took the 'traditional' Established Leaving Certificate, down by 1,193 from last year – news which is still unlikely to translate into lower demand for college places than in 2011 and therefore lower entry requirements with regard to CAO points.
This is because 2012 marks the first time that bonus points are being awarded by universities for students taking Higher Level Maths, with 25 points on offer for any student securing a D3 or higher in that subject – an offer which has attracted thousands.
While only 15.8 per cent of Maths students took the Higher Level paper last year, 22.1 per cent of them chose it this time – a move that has been welcomed this morning by education minister Ruairí Quinn.
2012 also marks the first year that all students were examined on two of the five strands in the new Project Maths syllabus, which is more practically focussed than the main Maths course.
The overall number of students receiving an A in this course has remained about the same as in previous years, though the percentage of high grades has fallen given the increased numbers of students taking the course.
The other major change in the 2012 exam cycle is the increase in marks awarded for the oral component of the Irish course. Results from the oral exam now account for 40 per cent of the total mark, up from 25 per cent.
The move has prompted a considerable increase in the numbers taking the Higher Level paper – 37.1 per cent of students opted for the Árdleibhéal paper, up by almost 5 per cent from 2011.
15,827 people took exams at the end of the Leaving Cert Vocational Programme, up by 231, while the numbers taking the Leaving Cert Applied exams fell by 132 to 3,358.
Contrary to usual perceptions, more boys than girls took the exams this year: male candidates outnumbered females by 373, with Dublin providing the greatest gender imbalance at 6,913 boys to 6,583 girls.
This was offset in other areas, however, including Cork where girls outnumbered boys by about 2.5 per cent.
Among the students taking this year's exams were 34 from Libya, most of whom travelled to Malta to take the exams simultaneously with their Irish counterparts.
53 Libyan students had registered for the exams, which until 2010 were administered at the International School of Martyrs in Tripoli where the students were enrolled.
A total of 1,370 students sat exams in 'Non-Curricular Languages' including the likes of Polish, Lithuanian and Romanian.
Students who are unable to visit their schools to receive their results in person can check them online, or via the telephone, from 12pm. Anyone wishing to view their corrected exam scripts can apply to do so before next Tuesday, ahead of viewing at the end of the month.
Anyone looking to appeal the grade given to them can find details on how to do so in the Leaving Certificate Candidate Information Booklet, which is available to view online here.
The National Parents' Council is running a helpline today to offer assistance to students and parents seeking it. It can be contacted at 1800 265 165.