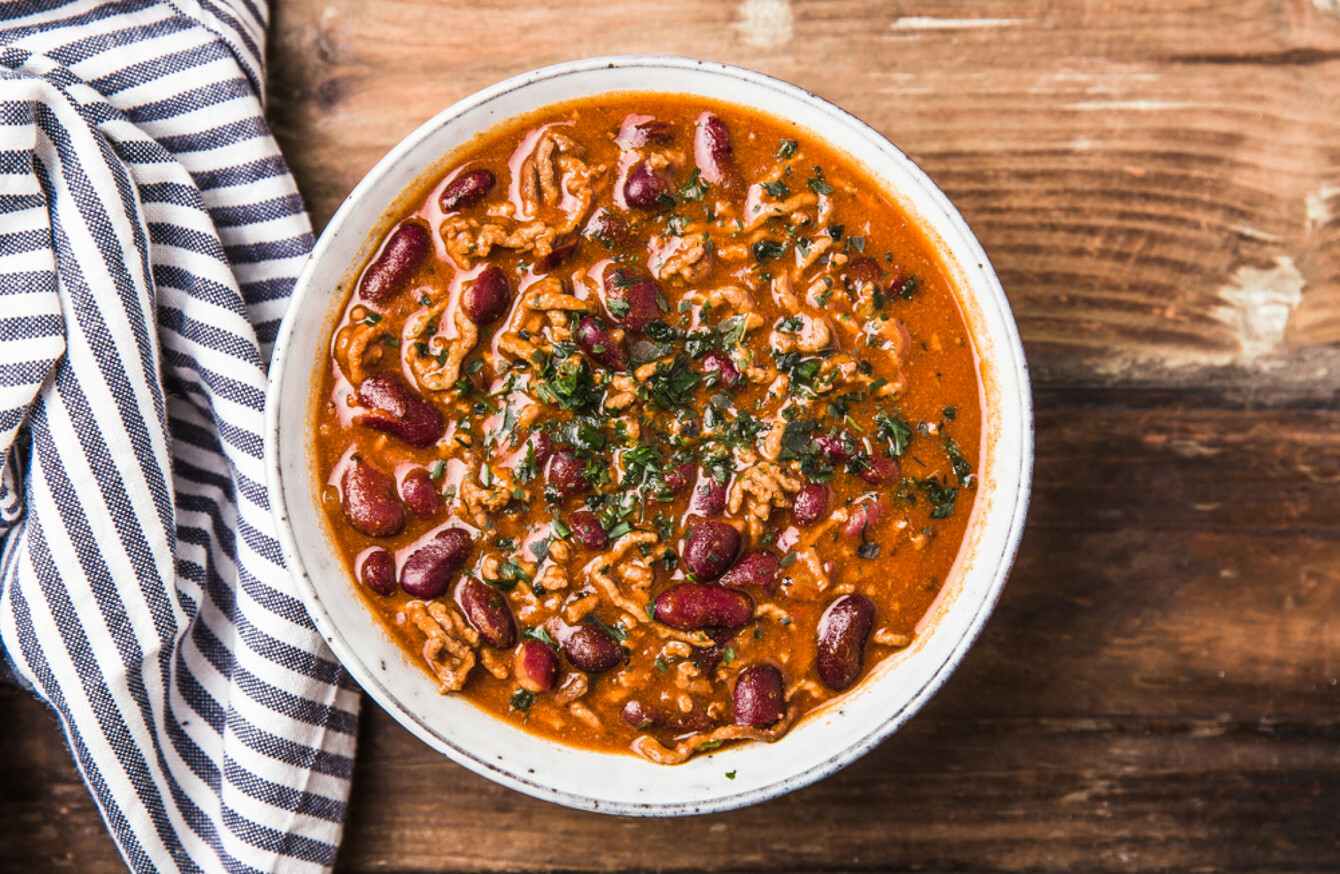 Image: Shutterstock/Fischer Food Design
Image: Shutterstock/Fischer Food Design
LEFTOVERS CAN BE a lifesaver for busy weeks when you know you won't have time to cook dinner every night, or prepare lunch every day.
Most one pots like casseroles, curries and soups can be made in batches, and either eaten over the next few days or stored in portion sizes in the freeze (be sure to label everything and to include the date it was cooked).
In my opinion, the recipes I mention below all taste even better the next day, when the ingredients have had time to release more flavours and aromas.
Read some of my favourite leftover-friendly meals…
1. Vegan Thai red curry
Add a portion of this curry to a lunchbox for the following day, with noodles or quinoa. It's straightforward to make: first, gently heat oil, crushed garlic and ginger in a pan, stir for a few minutes, add in a heaped tablespoon of Thai red curry paste and fry for a minute or two. Next, add in chopped vegetables- a mixture of peppers, mushrooms, cubed butternut squash and green beans work well. Pour over a tin of coconut milk and about a cup of vegetable stock, and simmer for 20 minutes, until the vegetables are cooked to your liking. For extra flavour, I take inspiration from Natural Born Feeder's recipe and stir in a dollop of nut butter.
2. One-pot turkey chilli
This all-in-one-pot recipe tastes even better the next day, served with some rice or sweet potato wedges and a dollop of sour cream.. Heat olive oil in a large saucepan and fry finely chopped onion, carrot, celery and garlic until softened, and then add in turkey mince. Stir everything together to break up the turkey mince, and continue to cook until the turkey is cooked. Add in ground cumin, coriander, chilli powder and a freshly chopped chilli, then stir in a tin of chopped tomatoes, tomato paste, and some water, if required. Season and simmer for 30 minutes. Once the sauce has thickened, add in a tin of kidney beans and cook for a further 5 minutes. 
3. Singapore noodles
If you like fresh, flavoursome stir fries then this will become an instant favourite. Heat some oil in a wok and fry thinly sliced chicken until browned and cooked through, then remove from the pan and set aside. Add another splash of oil to the same wok and stir fry garlic, ginger, sliced onion, peppers, mushrooms and baby corn until soft. While the vegetables are cooking prepare the noodles as per pack instructions, then drain in cold water and set aside. Add the cooked chicken back to the wok along with a spoonful of curry powder and a dash of soy sauce, and toss to combine. Finally, stir through the cooked noodles until fully combined. If you're enjoying this cold the next day, a dash of sesame oil can help break up the noodles, and adds a lovely flavour.
3. Chorizo, chickpea and sweet potato stew
For lunch the next day, enjoy this with some avocado and fresh bread on the side. Fry sliced chorizo in a saucepan until browned – no oil needed. Drain off any excess fat, then add in chopped onion, garlic and cubed sweet potato. Stir through some paprika, season and stir in a tin of chopped tomatoes and a half pint of stock. Simmer for 25 minutes, until the sweet potato is cooked through, then add in the chickpeas and cook for another 2 minutes (Bumbles of Rice adds in spinach at this point, for an extra veg hit).
4. Prawn pesto pasta
Pesto pasta is one of the quickest midweek meals you could make, and makes delicious leftovers. I love to mix some spinach or rocket through the following day and enjoy this dish cold it as a salad, which really transforms it into another meal. Fry off some prawns and garlic in a pan and add cooked pasta, pine nuts and a generous spoonful of pesto. Add lots of freshly milled black pepper and serve straight from the pan for dinner with some shaved parmesan. Store any leftovers in the fridge within two hours of cooking. If you're heating this up on day two, ensure the prawns are piping hot throughout.