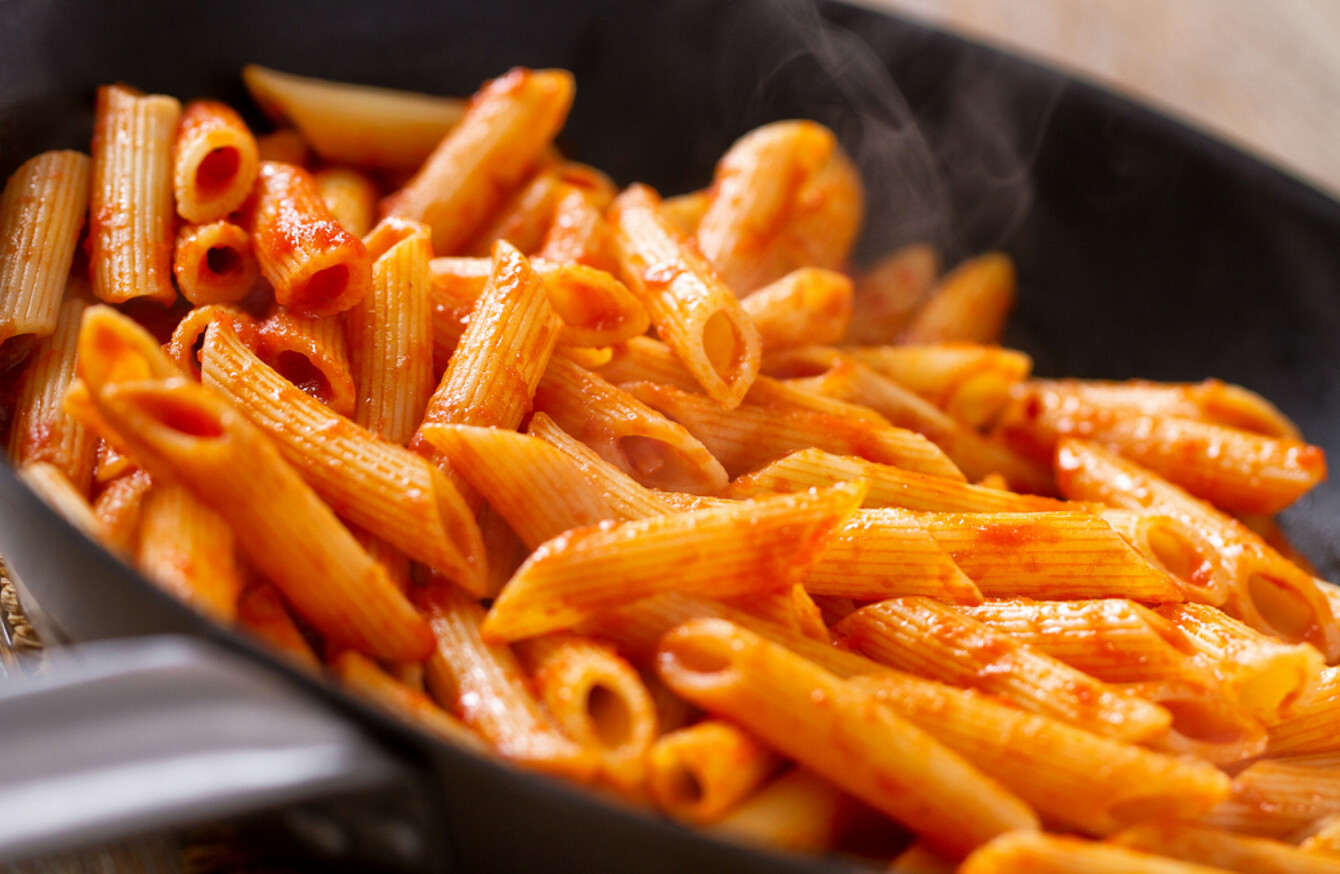 Image: Shutterstock/svariophoto
Image: Shutterstock/svariophoto
SOMETIMES, IT JUST has to be pasta, right?
Spaghetti in garlicky tomato sauce, tagliatelle with a creamy base, or a meaty ragú with pappardelle… Pasta is one of the most comforting foods around, with endless varieties of size, shape and serving suggestions.
Rooted in Italian cuisine, this food is the essence of hearty, home cooking. Some recipes out there will call for fresh pasta (which cooks in minutes, FYI), but dried pasta is a simple substitute that can be kept in the cupboard for months, making it a convenient staple to have on hand.
My pro tip when it comes to cooking pasta is to add a generous pinch of salt to the water when boiling it. Adding olive oil which is a common myth, and can prevent sauce from properly coating your pasta.
Before I get too hungry, here are five perfect pasta recipes to satisfy any carb craving…
1. Linguine with prawns, white wine, chilli and garlic
Light, spicy and incredibly quick. Heat some olive oil in a pan. Fry four cloves of finely sliced garlic and a finely chopped chilli for a minute, then add prawns (allow roughly 6 per person). Once the prawns are cooked, add in a dash of white wine and a squeeze of lemon juice and simmer for 2 minutes. Toss through some cooked linguine and serve. The Foodyman uses samphire in his which adds some great green colour, but sliced baby asparagus works well too.
2. Comforting baked mac 'n' cheese
This indulgent dish isn't widely made in Irish home kitchens, which is a sin because it's incredibly tasty. Boil macaroni pasta until al dente, then drain and set aside. Start making the sauce by mixing together 35g each of butter and flour in a saucepan, and stir constantly until you're left with a paste-like consistency. Slowly pour in a pint of milk, whisking all of the time, and season with salt and pepper. Once the sauce has thickened (five to min mins), add in a generous handful of grated cheese. Mainly cheddar, with a bit of whatever else you have in the fridge. Add the pasta to the sauce, stir to combine, then transfer to an ovenproof dish. Top with some breadcrumbs and some more grated cheese, and bake for 20 minutes. 
3. Broccoli and pesto pasta bake
Cook fusilli or penne until al dente. While this is boiling, chop up one head of broccoli into florets and boil for 4-5 minutes, then drain and set aside. When the pasta is ready, drain it, then return it to the pot and stir through a small tub of pesto, a handful of pine nuts, salt and pepper, grated Parmesan and a squeeze of lemon. If you like things extra saucy, you could add in some milk or even cream at this point, as The Gracious Pantry does in her recipe. Transfer to an ovenproof dish and top with a generous amount of mozzarella, then bake at 180 C for 20 minutes. Serve with a side salad.
4. Creamy chicken and spinach pasta
This recipe can be changed up in so many ways, and this is a basic version. While your pasta is cooking, begin making the sauce by frying chicken strips in olive oil until golden and fully cooked through. Add some garlic and chopped onion, and cook for another five minutes until soft. Pour over a cup of cream and a few handfuls of fresh spinach (Donal Skehan adds sundried tomatoes at this stage too), and simmer gently for ten minutes. Add the drained pasta along with a little bit of the cooking liquid, stir and serve with garlic bread. 
5. Penne with sausage and spicy tomato 
This is a great recipe using storecupboard ingredients, which works well with regular sausages (though Eat Like a Girl's recipe swaps them out for chorizo). First, heat some olive oil in a pan, and fry a few chopped sausages until golden. Add 2 cloves of crushed garlic and saute for another two minutes, then stir in a tin of chopped tomatoes. Allow to simmer for 10 minutes while you cook penne pasta in boiling water. Once the pasta is cooked, add this to the sauce, stir to combine, then serve with some freshly milled black pepper.