Image: Shutterstock/NADKI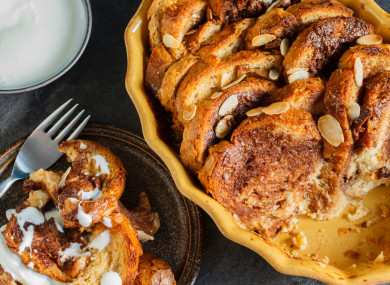 Image: Shutterstock/NADKI
THERE IS SURELY nothing better than the taste and smell of fresh bread, hot from the oven. Three-day old sliced pan though, not so much.
Fresh bread is best stored in a zip-lock bag or wrapped in tinfoil and left in a cool place away from direct sunlight. But even following those tips, the best of us will find ourselves with some leftover loaf slices or a few bread rolls hiding at the back of the bread bin from time to time.
Yes, it might be tempting to bin them, but rather than adding to Ireland's food waste load, why not consider giving those stale slices a new lease of life? If you find yourself with a bit too much to toast, we've plenty of creative and delicious ways to use up tired bread…
1. Try a homemade meatloaf
Try a US classic at home. Adding breadcrumbs to meatloaf is a great way to make it lighter, and the breadcrumbs absorb all of the lovely flavours from the meat. Start by mixing breadcrumbs, minced beef and finely chopped onion in a bowl. Add two tablespoons of tomato ketchup, crushed garlic, parsley and seasoning. Transfer to a loaf tin and cover with tinfoil. Bake for two hours and serve with a baked potato for the ultimate comfort food supper!
2. Make a panzanella
This Tuscan bread-and-tomato salad can be made with pretty much any type of bread that's slightly on the stale side. To make, place sliced tomatoes, roughly chopped bread, capers, a clove of crushed garlic, anchovies and finely sliced red onion in a large bowl. Season with salt and pepper, a few tablespoons of good olive oil and a splash of red wine vinegar. Add some fresh basil, mix until well combined and leave to sit for a few hours for the flavours to absorb. This is a delicious and different accompaniment to a roast chicken.
3. Whizz up breadcrumbs for future use
Breadcrumbs turn out best with bread that is that little bit stale. Once blitzed to a desired consistency (I like mine chunky), store portion sizes in zip-lock bags in the freezer. Breadcrumbs make a delicious topping for a vegetable crumble or pasta bake or they'll add some extra crunch to a potato gratin.
4. Try a chocolate bread-and-butter pudding
A sweet, satisfying and custard-y bread and butter pudding is one of our favourite treats. Stale bread most definitely works best here. In fact, using a fresh bread will result in a quite a soggy texture. The secret here is in the soaking. Arrange some layers of sliced bread and chocolate chips in a baking dish and soak in home made custard. Once the bread has soaked up all of the custard (about half an hour), sprinkle some brown sugar over the top and bake in a hot oven for 40 minutes. Serve hot with vanilla ice cream.
5. Make cajun spiced crispy fish fillets
Baked fish fillets are a super healthy and quick dinner that the whole family will love. Mix the breadcrumbs with Cajun spice mix, seasoning and lemon zest. Place fish fillets (salmon and cod work really well) in a baking dish and top with the breadcrumb mixture. Bake in a hot oven for 20 minutes or until fish is cooked through, and serve with sweet potato fries and salad.