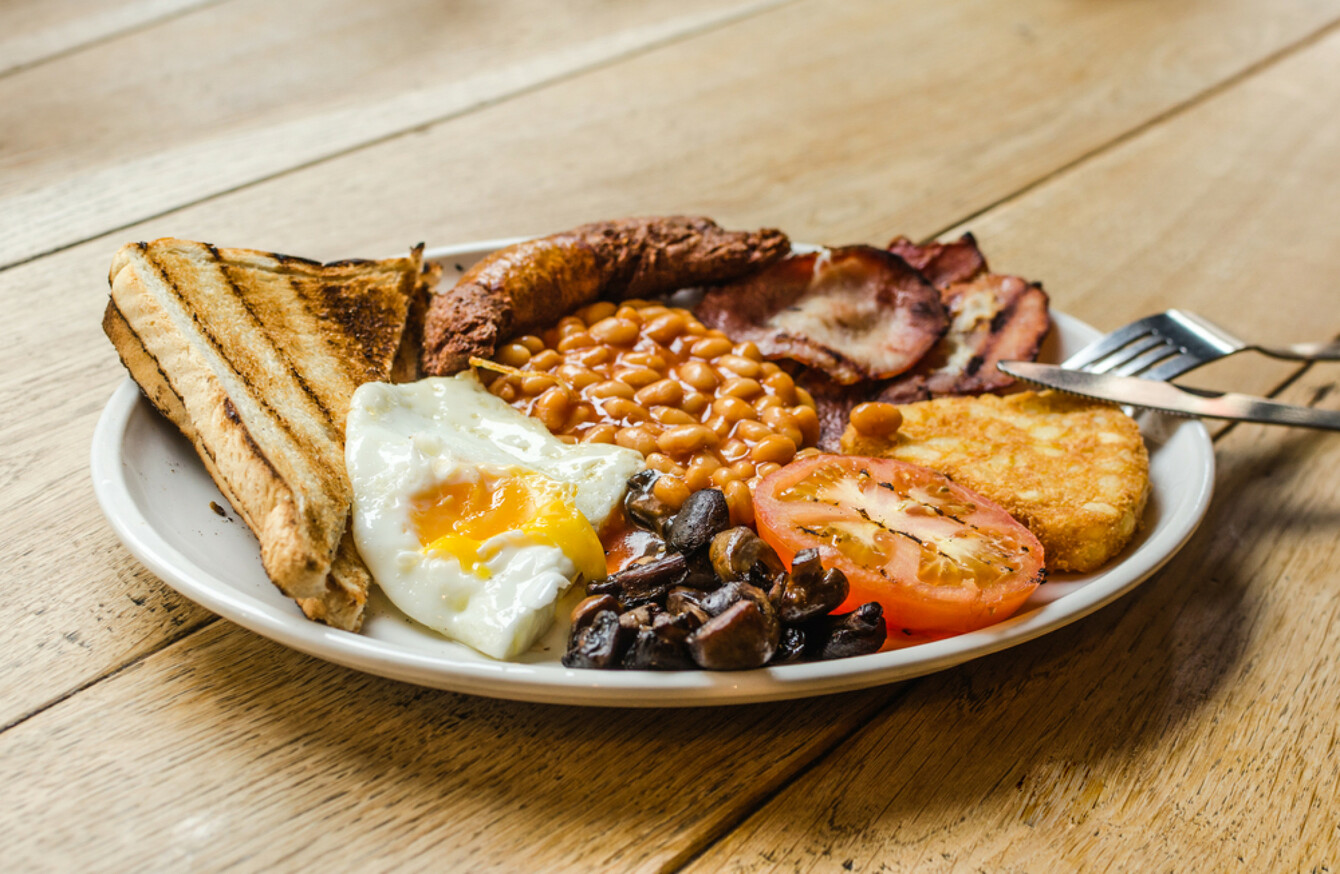 Image: Shutterstock/valeriiaarnaud
Image: Shutterstock/valeriiaarnaud
EVERY HOME COOK has their own kitchen hacks, cheats and traditions, and we want to know yours.
Each week as part of our Kitchen Secrets series, we'll be asking readers to share their cooking tips and go-to-dishes. From the secret to quick-and-easy dinners, to the best way to scramble an egg, we'll have a new question every seven days.
This week, we're asking…
What are your rules for the perfect Irish breakfast?
As usual, our home cooks had lots to say. If you'd like to join, drop us a mail on food@thejournal.ie!
Olly Keegan suggests fried potatoes and home-made bread:
It's not that often that we cook a fry, usually it's on a weekend or a day off and if we are going to be away for the day, so it does for lunch as well!
My idea fry would have to be all Irish produce for a start. I'd need thick cut, maple rashers, grilled slowly and just cooked so they aren't hard. High pork content, traditional sausages. Chestnut mushrooms, quartered and fried in far too much butter! Poached free range eggs, with just a little salt and ground black pepper.
Some precooked potatoes, sliced and fried.  No pudding as neither of us are really that fussed about it.  Beans can be nice, but served in a preheated ramekin so they don't go everywhere! To accompany that, my homemade brown bread, made to a traditional family recipe, with some nice butter. And definitely a lovely big pot of tea! 
For Angela Nolan, a great breakfast is all about timing – and the Fried Slice:
The weekend always starts in my house with the Saturday Morning Full Irish. Watching one's waistline goes out the window and Saturday's breakfast is probably the most anticipated meal of the week. So having said that there's no room for skimping – sausages, rashers, black and white pudding, eggs, mushrooms, tomatoes and the most important element the 'Fried Slice'.
You can hear arteries clog at the very mention of fried bread but this is a once a week treat so give yourself a break.
The most important thing when preparing this breakfast is timing, getting all the elements to come together is tricky. So I use grill, oven and frying pan all at the same time. Mushrooms (large flat ones) and tomatoes I put on a tray and bake. Rashers (I use smoked) under the grill. Pudding (dipped in flour to stop sticking) and sausages in the frying pan. Fried bread I usually do in a separate pan. Make sure the oil is very hot, add a knob of butter, put the bread carefully in the pan and turn when golden, this will take seconds. Place on kitchen paper and keep hot in the oven. Finally the eggs, fried of course, must be the very last thing cooked as there is nothing more unappealing than hard fried eggs. Eggs must be just right – white set, yolk runny.
A pot of hot steaming tea, crusty bread and homemade jam to finish. I'd say it's the perfect start to a wonderful weekend.
Beans are a must for Ross Boxshall (although they may be an import):
Being a Londoner living in a Ireland I am still struggling to refer to a cooked breakfast as being a 'Full Irish'! One thing that really distinguishes breakfast here from the full English is the inclusion of white pudding! I had never had white pudding before moving to Ireland and now it's an essential part of my cooked breakfast. Sourcing a really good gourmet pudding is really well worth it!
As for the rest…. Sausages would be plump pork & apple or beef from our local butcher. Back or streaky bacon, either is good, as long as its smoked & grilled! Eggs, sunny side up; sautéed mushrooms, black and white pudding and fried tomatoes. Beans are a must have, maybe that's an English thing! Ketchup and brown sauces on the side (or on top) and all wiped up with a pile of buttered toasted sliced white bread and a pot of tea to wash it all down with. Priceless! 
Fiona Staunton goes the traditional route:
In my home for a cooked breakfast we have black pudding, eggs and sourdough toast.  However if I was asked to cook a Traditional Irish breakfast for someone I would cook Dry cured rashers, pork sausages, black and white pudding, grilled tomato and eggs, served with brown soda bread.
Ballymaloe relish and mustard are the must-haves for Donna Connolly – plus 'breakfast dessert', of course. 
The weekend fry-up is a rare and beautiful thing in our house. I like to keep it simple and try to focus on the meat being of good quality. We grill up good 80% pork breakfast sausages and nice thick smoked rashers. It's not a fry without sticking a few slices of Clonakilty black and white pudding in the pan and frying until almost crispy on both sides.
I also fry wedges of tomatoes until gooey and sautée slices of mushroom with a dash of Worcestershire sauce. Eggs are fried last and are done over easy with a sprinkling of salt and white pepper. This is mopped up with toasted sourdough or, if I'm back home and the timing's right, slices of my lovely Irish Mammy's soda bread. Ballymaloe Relish is an essential condiment and some mustard for the sausages. For the love of God, if you insist on having beans stick them in a ramekin to stop that lake of bean juice killing the vibe. Just make sure to leave room for breakfast dessert – it's a thing!