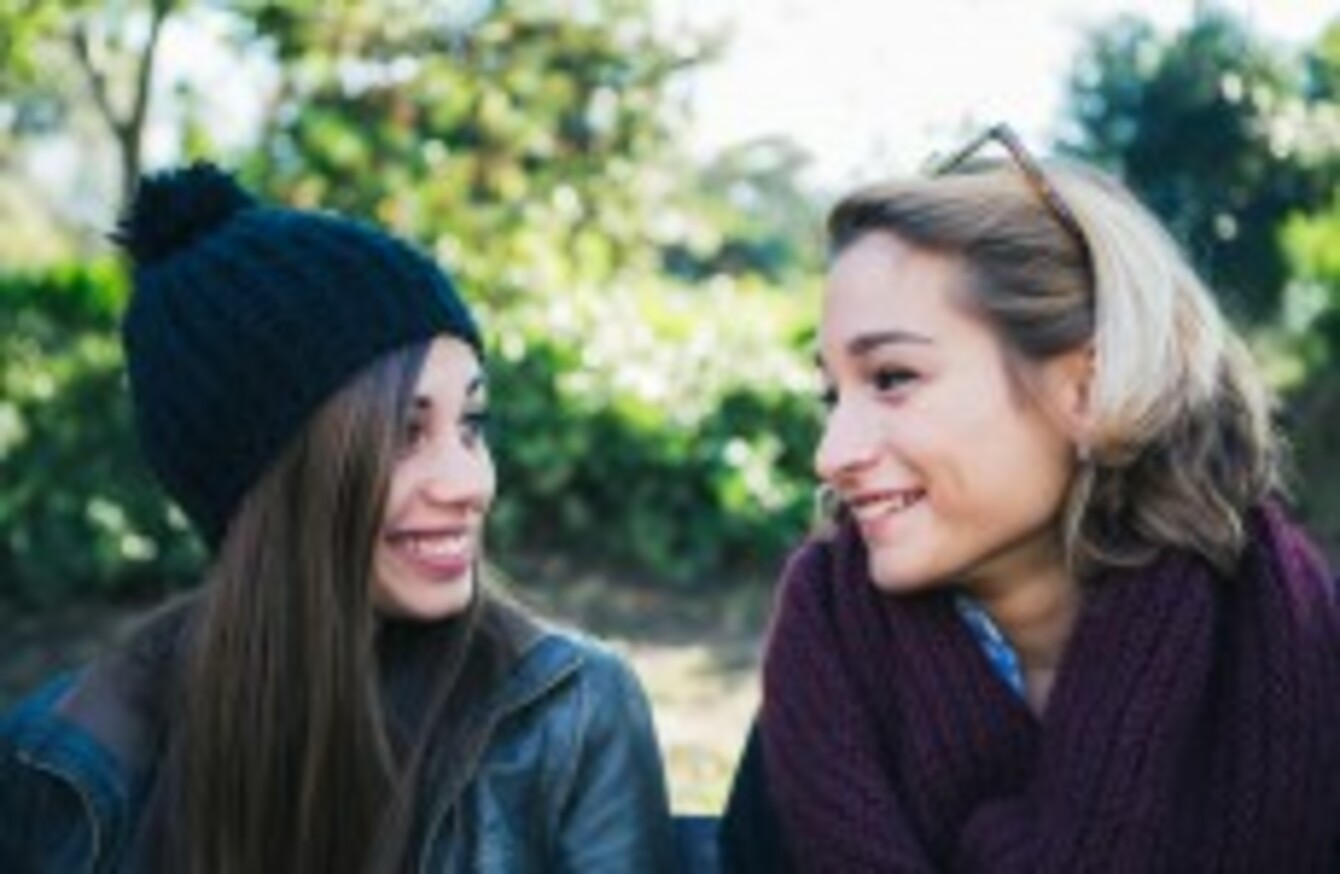 Image: Shutterstock/fototip
Image: Shutterstock/fototip
WHEN SOMEONE YOU know tells you they're going through a difficult time, the instinct is to help them – but knowing exactly what to do can be tough.
Some people seem to naturally know what words to use, but for most of us, letting people know that we're there for them can be hard.
"What would you say, or do, if someone told you they had suicidal thoughts and couldn't face living any more?" asks Daniel Waugh, writing for SpunOut.ie.
Waugh points out that for many of us, our listening skills and talking skills are not as good as they could be when it comes to talking about mental health, but that this isn't an excuse to avoid having difficult conversations.
"It's time to stop just asking people to talk about their mental health, and it's time for us to learn to listen," he writes.
Learning how to listen sounds like a strange oxymoron. It shouldn't be something that needs to be taught – and yet, we all know people who don't seem to understand how to do it.
Here are six helpful tips on how to listen when someone is talking to you about their mental health.
Don't just go for questions which can be answered with a yes or no. So, for example, instead of saying 'Has this been going on a long time?', ask 'how long has this been going on?'.
Don't feel like you're expected to solve the problem
You don't need to offer solutions, you just need to let the person put into words what's going on in their head.
Summing up what the person has said shows that you've been listening and understand their feelings. So, for example, say "So what you're saying is…" or "As you said…".
If the person glosses over what seems like an important detail, ask them to explain it so that you're both clear on what  they mean. Try saying "When you say… what do you mean?" or "Tell me more about…".
Think about non-verbal communications
A significant amount of how we communicate to others is through non-verbal actions, rather than words. Try to make eye contact and register the person's body language as you're talking.
Remember, you don't always have to put a positive spin on what the person is saying. If whoever you're talking to has been having a dreadful time, some empathy and understanding is vital. Simply acknowledging this is important. Don't be afraid to say 'you've had an awful time'. You need to show that you have understood the situation by reacting to it – "That sounds like it is very difficult," for example.
SpunOut.ie points out that it's completely normal to feel intimidated at the thought of supporting someone who is going through a tough time – so don't feel like you're on your own and reach out for help yourself if you feel you need it.
Jen and Aoife
In this short video, friends Jen and Aoife from Balbriggan in Dublin talk about Jen's anxiety issues and panic attacks, and how difficult it was for her to tell to her friends about it.
"I kept trying to bring it up but I never knew how to," she says.
She ended up telling her friends about it on a day when they were all out together, after she had talked to her counsellor about whether she should talk to them about it or not.
Source: SpunOut.ie/YouTube
"When she first told me, I was almost happy that she came to me but at the same time I was sad… that she was going through such a hard time," says Aoife.
When it comes to listening, Aoife says that she "let [Jen] just say what she felt comfortable saying, and then other times she would say more and more".
"I would just let Jen literally say whatever she wanted to say," she explains.
I wouldn't butt in, I wouldn't ask her questions or anything like that until I knew she was comfortable talking about something.
What if someone doesn't want your help? 
All of this is predicated on the person being willing to talk to you about their issues – but what if they don't want to talk? If someone won't take the help that you're offering it can be frustrating. But don't beat yourself up about it.
Be patient – it's normal for it to take a while for someone to open up and feel comfortable talking to you. Let them know that you're there for them whenever they need you.
What if it's a crisis?
In a crisis (when someone might harm themselves, harm someone else, or is vulnerable to suicide) the HSE advises that it is important to get help as quickly as you can. You can accompany the person you are concerned about to their GP or to any hospital A&E department and ask for help. If you cannot make your way to hospital, ring 999 or 112. Stay with them while you wait for emergency services to arrive, or go with them to the hospital for help.
Don't forget to look after yourself
It can be exhausting providing support to a friend or family member. Make sure that you mind yourself: don't take on more than you feel comfortable with, try to talk to someone yourself, and consider a support group or HSE supports (which you can see here) if you feel you need a bit of extra help.
And if it helps, helping someone out is not all a one-way street. Giving support to a loved one has health  benefits for the giver AND the recipient, according to recent research from the University of California Los Angeles, which found that it can help to reduce stress for both people.
The #LittleThings campaign from yourmentalhealth.ie is a national effort by the HSE National Office for Suicide Prevention and scores of partner organisations and support groups to bring information, awareness, advice and support around mental health for you and your loved ones.