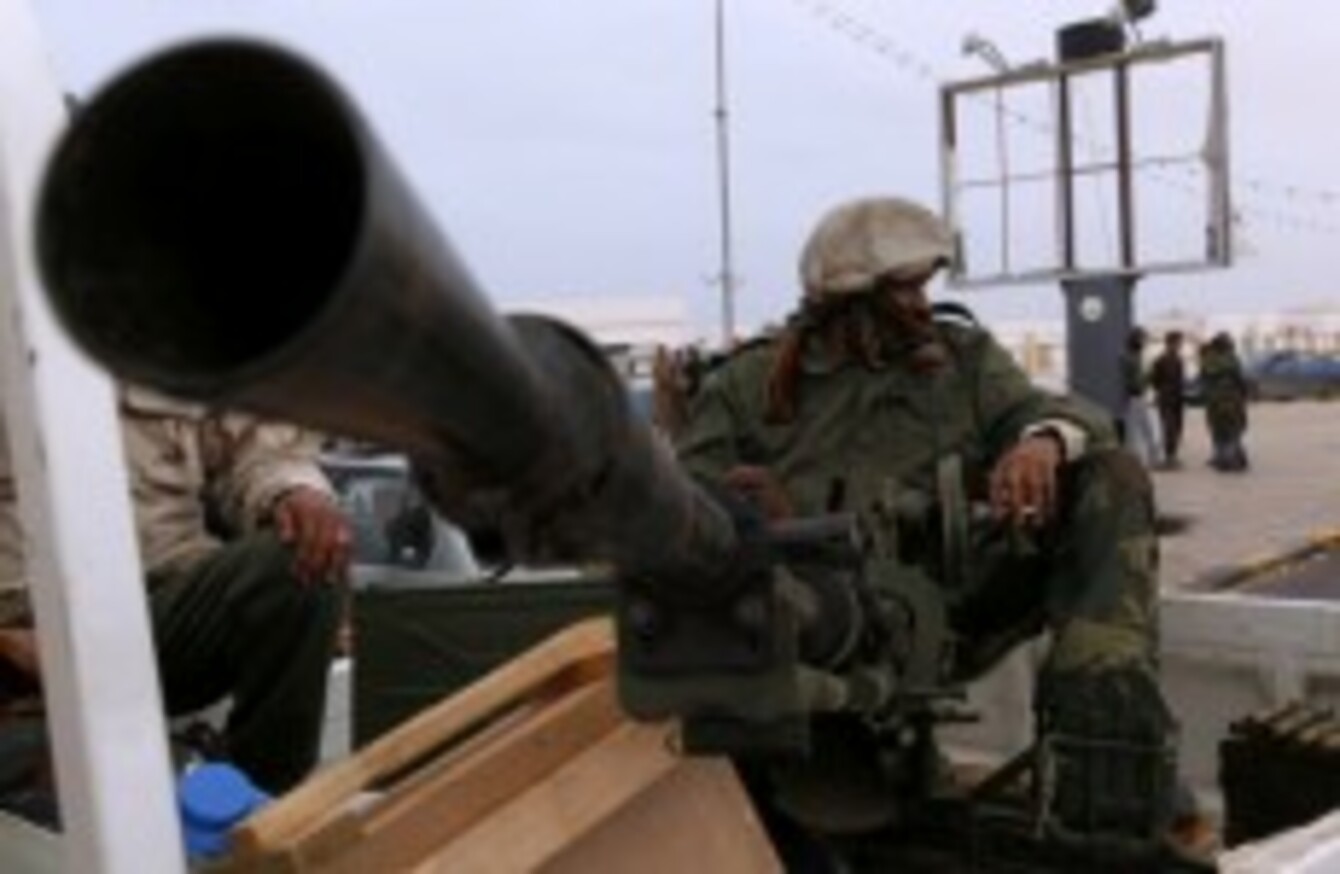 File photo: An anti-Gaddafi fighter sits with an anti-aircraft gun in Ras Lanouf on 5 March.
Image: AP Photo/Hussein Malla
File photo: An anti-Gaddafi fighter sits with an anti-aircraft gun in Ras Lanouf on 5 March.
Image: AP Photo/Hussein Malla
AMNESTY INTERNATIONAL is calling on the National Transitional Council (NTC) of Libya to prevent any further reprisal attacks on Gaddafi loyalists.
Releasing its report on the conflict today, Amnesty says that both sides have committed atrocities and that Libya's NTC must be held to the same standard as Muammar Gaddafi when it comes to being accountable for abuses.
The organisation says that it has uncovered evidence of human rights abuses perpetrated by both Gaddafi loyalists and rebel forces. In the case of the former, AI found evidence of the mass killing of prisoners, enforced disappearances, torture and the arbitrary detention of civilians:
They launched indiscriminate attacks and attacks targeting civilians in their efforts to regain control of Misratah and territory in the east. They launched artillery, mortar and rocket attacks against residential areas. They used inherently indiscriminate weapons such as anti-personnel mines and cluster bombs, including in residential areas. They killed and injured civilians not involved in the fighting.

They extra-judicially executed people who had been captured and restrained. They concealed tanks and heavy military equipment in residential buildings, in a deliberate attempt to shield them from possible air strikes by the North Atlantic Treaty Organization (NATO) forces.
The human rights group also documents incidents of serious abuses committed by rebel fights, such as the lynching of pro-Gaddafi forces and suspected mercenaries after rebels gained control of parts of the east of the country.
Although these kinds of attacks has decreased, Sub-Saharan African nationals continue to be at risk of reprisals due to what AI says are "largely unfounded suspicions" that they are foreign mercenaries brought in to fight for Gaddafi. They have also been targeted for attack or robbery by Libyan civilians as a result of the "racism and xenophobia stirred up by both sides" in the conflict, AI says.
Thousands of Sub-Saharan African migrant workers are among the people rounded up by armed rebels and civilians in the belief they were pro-Gaddafi mercenaries. The African Union and AI have condemned the detentions and the NTC has called on fighters not to abuse their prisoners.
Prevent reprisals
Rebels also tortured and otherwise ill-treated the soldiers they captured, according to the report.
The executive director of Amnesty International Ireland Colm O'Gorman said the NTC "must do more to avoid a vicious cycle of revenge attacks":
The new authorities must make a complete break with the abuses of the past four decades and set new standards of accountability by putting human rights at thecentre of their agenda.
AI says it is imperative to carry out "impartial and thorough" investigations into the atrocities and that prosecution of those responsible is essential for securing justice for the victims and to help Libya move on from the conflict.
In late June, the International Criminal Court at The Hague issues arrest warrants for Gaddafi, his son Saif al-Islam and some of Gaddafi's advisers for alleged crimes against humanity.
Amnesty's report mostly covers events in the Libya conflict to the end of July 2011. The organisation says it is continuing its investigation into abuses, particularly the sexual abuse of women.