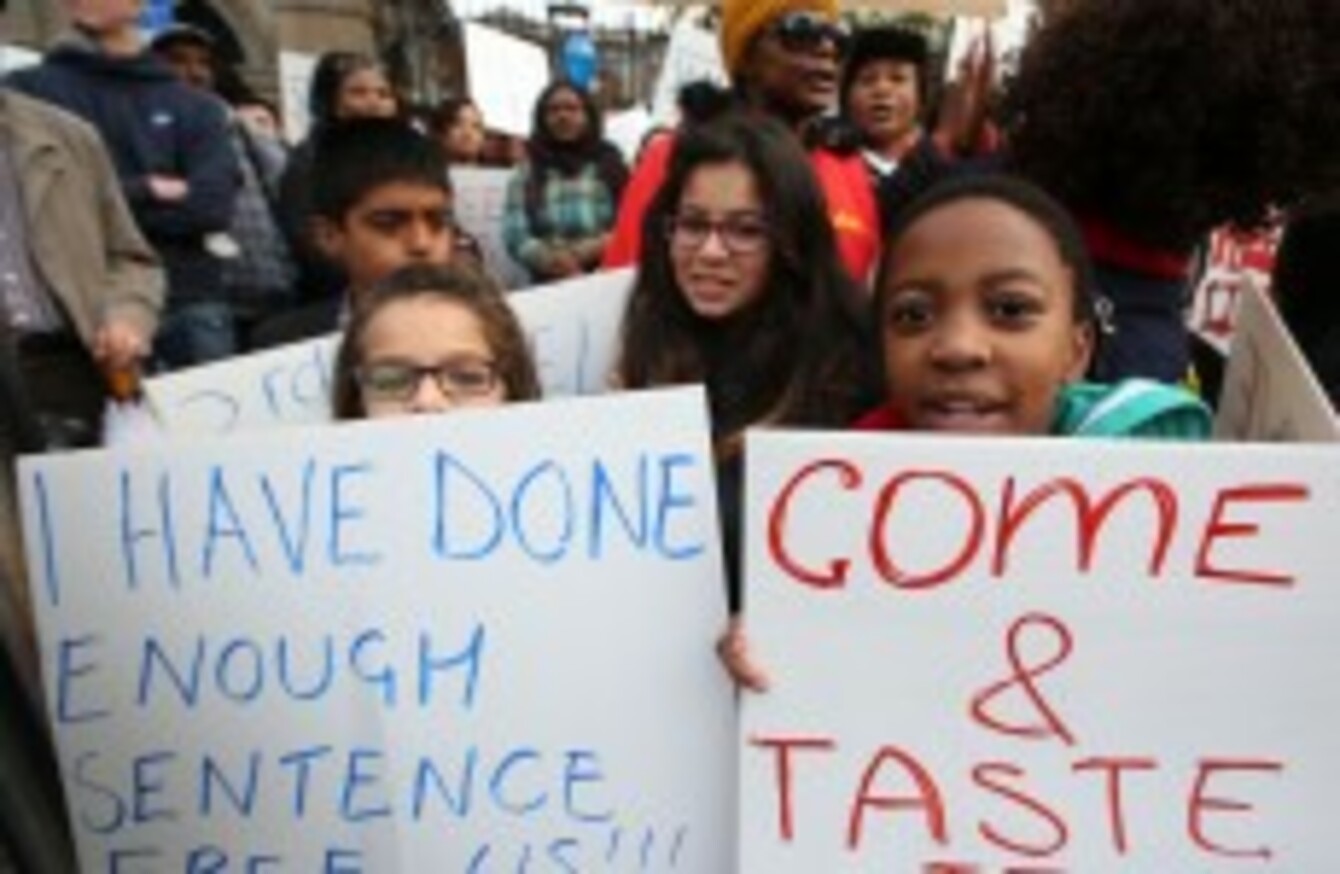 Young protesters aged between 8 and 11 who live in a direct provision centre in Athlone at a recent protest in dublin
Image: Sam Boal/Photocall Ireland
Young protesters aged between 8 and 11 who live in a direct provision centre in Athlone at a recent protest in dublin
Image: Sam Boal/Photocall Ireland
JUST OVER THREE months ago, residents at Birchwood House in Waterford began a protest at 6 o'clock one morning, locking out staff and preventing deliveries from arriving at the direct provision centre.
"We planned it weeks in advance," one resident named Natasha told TheJournal.ie. 

"Some people have been here waiting almost eleven years for a decision on their applications. I myself have been waiting nearly nine years. The protest was meant to spread the word that there are people in Waterford who have been abandoned."
More than 5,000 asylum seekers are currently living in conditions that a lot of people – including President Michael D Higgins – have agreed are damaging to their health and welfare.  These centres were originally intended to provide shelter for just six months, until applicants were either granted refugee status or deported.
When speaking out about the conditions in the centres, many residents were fearful, worrying that it would damage their request for asylum status. Those who would speak did so only on the condition that their names were changed for this article.
Throughout the interviews, the residents of the centres repeatedly spoke about how there seems to be a genuine lack of knowledge about what their life is like.
"You begin to resent them"
Natasha's greatest concern is for her children's well being. More than 1,600 children are growing up in the direct provision system with limited access to play or recreation. Several international human rights groups have heavily criticised the system and expressed concern that living in this environment could prove highly damaging for children.
When I was growing up in Nigeria, I had a very bad time. I promised myself things would be different for my children and I don't want to see them having a hard time. When we leave this place, I want them to leave the negativity behind them. But it is so hard.
Another woman, Marie,  shared with me a recent story from the protests. She says that when they "were bringing the children home from the protest in Dublin, one of the children began asking about freedom.
'We want freedom' was one of the chants at the protest and they wanted to know what it meant. We explained it to them and the poor children misunderstood and got it into their heads that direct provision was going to be over after that day. We had a four year old child saying that she didn't want to go back to that room".
"Visiting friends can be humiliating," Natasha says. "You can begin to resent them because you can't give your children what they have. We were moved to Waterford from Dublin when my child was nine days old. She's celebrating her ninth birthday this week and I can't even throw her a proper birthday party".
Education
At present, asylum-seeking children are entitled to attend primary and secondary but not third level education. Teenagers that complete the Leaving Cert don't qualify for the free fees. Apart from the obvious issues with this, school can be very difficult for a variety of other reasons. There have been several incidents that have left Natasha's children returning home in floods of tears.
"One day in primary school, my son was asked to write about his house. Everyone was talking about the different rooms in their houses, their own rooms and what colour it was.
When it came around to my son's turn to talk – he said I don't have a house. The other children asked him where he lived if he didn't have a house. He told them that he lived in a hostel and the teacher asked him to describe it. The kids began laughing when he told them that his family all live in one room and have to queue up for food".
Another incident occurred during the protests in Waterford when a teacher told his class, which included an asylum seeker, that they were bringing the economy down. The child was very embarrassed and refused to go to school the next day. But perhaps the biggest issue is that the children have no room to play and it is very hard to have friends over.
Management
In April 2000, the State decided to pay private contractors to provide accommodation for asylum seekers. The majority of these contractors have backgrounds in property, hospitality or catering. They receive about €50 million in taxpayers' funding each year and most are registered as private unlimited companies, which means their financial affairs are not open for public scrutiny. None of these companies come from a health or welfare background and the residents tell me that they create a very hostile environment to live in.
Natasha told me that staff have been warned not to interact with the residents.
"We can't speak out and if we do, there are consequences," Marie tells me.
"One day I was out doing a course at a women's centre and I left my children with a friend, another resident. The manager called me and said if you're not back here in ten minutes I am going to call social services".
Mental Health
The HSE recently documented the negative health effects of not being able to work among asylum seekers, identifying "boredom, depression, sense of isolation and loss of self-esteem" as common symptoms.
Charles, who stays at the all-male Viking House centre, believes "their lives are being wasted". He sleeps in a room with three other grown men, who speak different languages and have very different backgrounds. They sleep on concrete bunks in a room the size of a cabin on a boat.
"Viking is situated behind another building," he explains to me. "When I look out my window, all I can see is another wall. I live in a prison".
Charles has been living in direct provision in Ireland for the last ten years, with the last four spent in Waterford. I asked him how Waterford compares to the other centres. "It is the same story wherever we go".
For our own sanity, we can't be complaining all the time
So, how do you stay positive in a system that does not allow you to work, where you are not entitled to social welfare and you are excluded from social housing and free third-level education? For the residents, they simply say that "for our own sanity, we can't be complaining all the time".
After all this information, Natasha tells me a final story that still finds a way to shock me. During one protest over their wage,(they receive €19.10 a week and €9.60 for children), members of the Gardaí held her down on the ground and arrested her, even though she was 38 weeks pregnant at the time.  "They told me that we are guests in this country and can't expect to get what we want".
Donal Lucey is a journalist and writer.