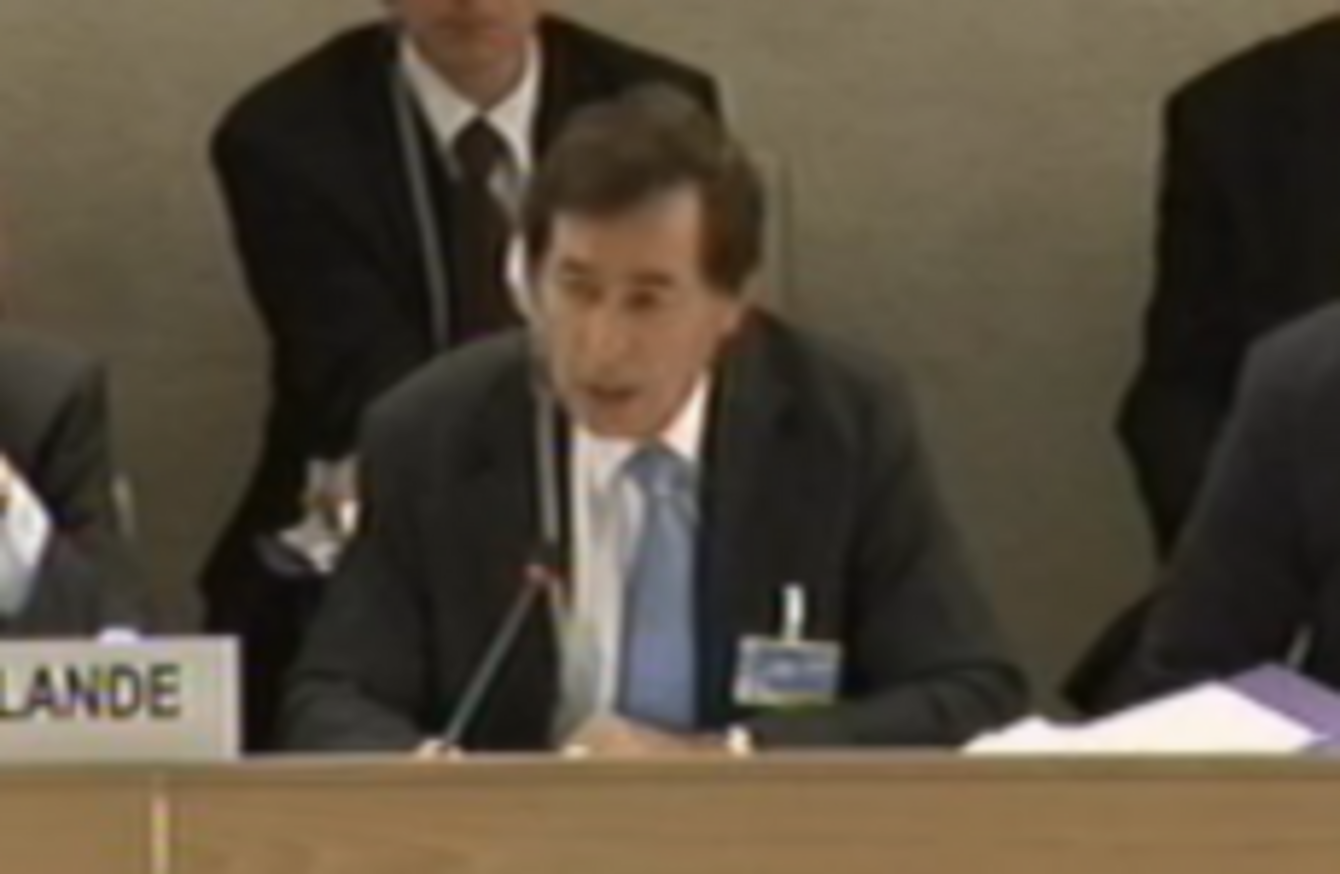 IRELAND'S PROGRESS IN introducing in-cell sanitation in prisons, legislation permitting abortion under certain circumstances, and reforming its immigration law have all been examined at a review of Ireland's human rights law today in Geneva.
The United Nations' Universal Periodic Review (UPR) of human rights review saw other UN member states make recommendations to justice minister Alan Shatter about what Ireland could do to reinforce its human rights standards.
Shatter told the review, in Geneva, that a referendum amending the Constitution to guarantee the rights of the child would be brought in the New Year, while Ireland was also considering recommendations to recognise Travellers as an ethnic minority.
"Over the next few months Ireland will give the fullest consideration to the comments and recommendations from member States with a view to making a full response at the Human Rights Council early next year, when the final UPR report on Ireland will be adopted," Shatter said.
"I also want to assure you that Ireland is fully committed to the UPR process. We view it as one of the outstanding achievements of the Human Rights Council."
Delegates from the UK and Finland had asked Shatter whether national bodies would be created to monitor the conditions in prisons, which are required before Ireland can ratify the Optional Protocol to the United Nations Convention Against Torture.
Those countries, along with delegates from the Netherlands, also asked how Ireland would improve the protection of children's rights and whether Ireland could formally recognise non-traditional family setups.
Many Scandinavian countries raised the issue of Ireland's abortion laws, calling on Ireland to bring in legislation clarifying the circumstances in which abortion may be lawful, as required by the X Case and the case at the European Court of Human Rights last year.
Other countries urged Ireland to change its current immigration laws allowing asylum seekers awaiting residency to be given the right to work, should they be able to find an employer.
On the topic of sham marriages – which had been raised by a number of Eastern European countries – Shatter acknowledged there was a problem of "impressionable young women" being attracted to Ireland and being paid to participate in such marriages.
"We need help, insofar as some of these women are travelling to Ireland from Latvia and other countries," Shatter said, asking their native countries to make a greater effort in dissuading women from participating in such marriages.
The minister had earlier emphasised Ireland's commitment to human rights as being "based on the bedrock principle that governments, no matter where they are in the world, must always act with the honest intention of respecting the rights of the individual and human dignity."