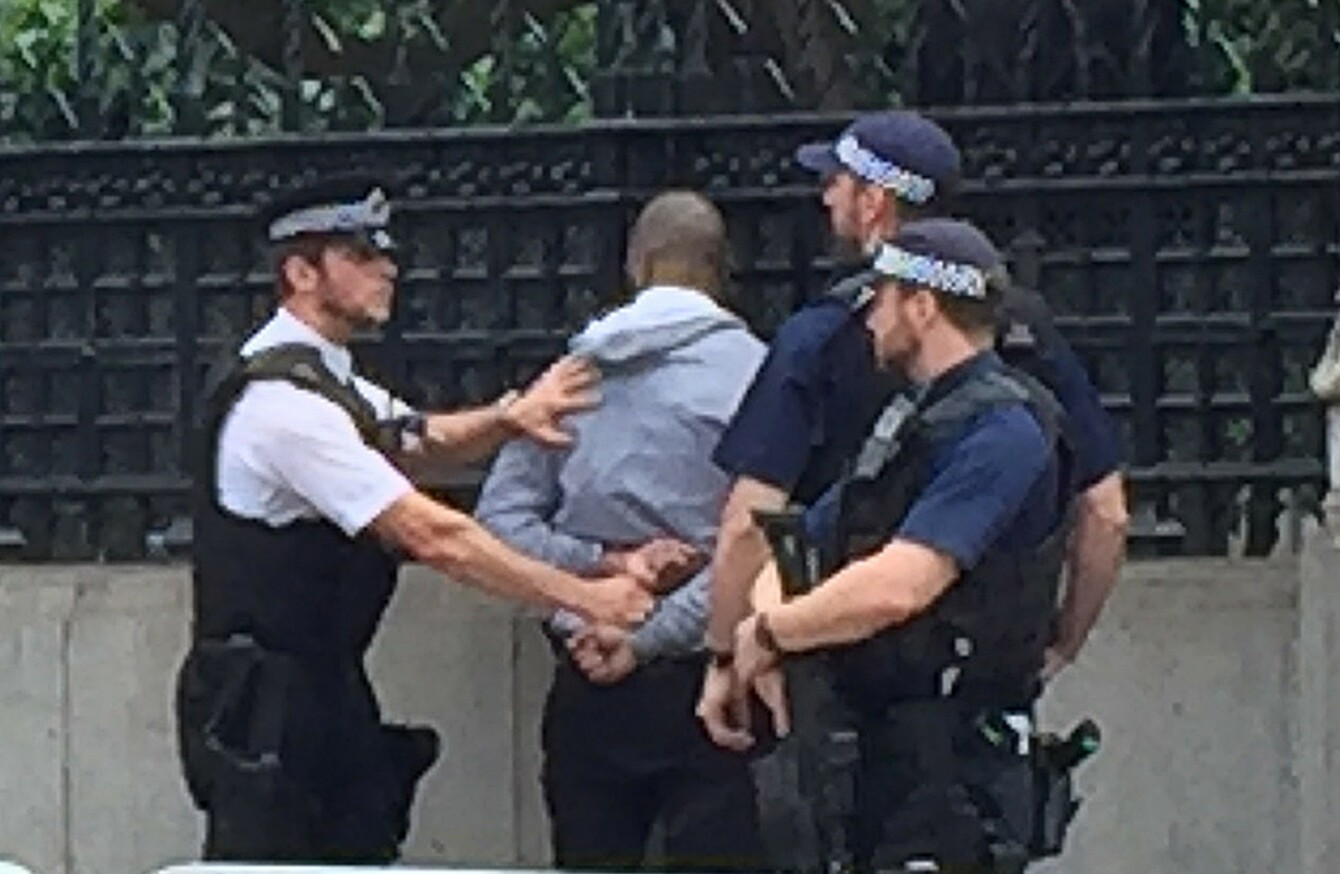 Police detain a man outside the Palace of Westminster last week
Image: Harriet Line PA Wire/PA Images
Police detain a man outside the Palace of Westminster last week
Image: Harriet Line PA Wire/PA Images
ADDITIONAL POLICE OFFICERS in London will be trained to use Tasers, the Metropolitan Police Commissioner has said.
An extra 1,867 officers will be equipped with Tasers to "better protect the public and officers from the threat of violent incidents".
This will bring the total number of officers trained and carrying Tasers to over 6,400.
This decision has been taken by Commissioner Cressida Dick following an increase in violent crime, including knife crime, as well as a steady increase in the number of assaults sustained by police officers in recent years.
Knife crime offences have risen by 24% in the last year, compared with 2015-2016. Assaults against officers have also increased from 2,211 in 2014 to 2,486 in 2015 and 2,676 in 2016.
Commissioner Dick said: "Keeping the public safe from harm is at the heart of our job … My officers will be better equipped to protect the public and themselves. We know that the mere presence of a Taser is often enough to defuse a dangerous situation and often get a suspect to drop their weapon if they're armed.
Taser reduces the need for physical contact and also the risk of unintended or unnecessary injuries to all parties. With the roll-out of body worn camera to every uniformed officer, the public can also rest assured that the use of Taser is correctly recorded and monitored and that the use of it is subject to comprehensive scrutiny.
Over the past three years, the vast majority (87%) of occasions where a Taser was drawn have been resolved without the officer having to discharge it, meaning a violent or potentially violent situation is deescalated and brought to a swift conclusion.
Body cameras 
In a statement the Met Police said all officers have to go through a selection and training process to ensure they are "equipped with the right aptitude and skills" to use Tasers on the front line.
All use is strictly recorded and monitored both within the Met and independently by the Home Office and the Mayor's Office for Policing and Crime.
In addition, every uniformed officer carrying a Taser will be equipped with a body camera by the end of 2017, giving further transparency to how it is used by officers. Figures on its usage on every London borough are also published on the Met's website every three months.
The new initiative will begin over the coming weeks and the training programme is expected to take around two years.
Westminster 
Last Friday, police tasered a man who reached for a knife outside the Houses of Parliament at Westminster.
Eniola Mustafa Aminu, 27, from Greenwich appeared at Westminster Magistrates' Court yesterday. He is charged with possession of an offensive weapon and assault on a constable in the execution of his duty.
He was remanded in custody to appear at the same court today following a mental health assessment.
Comments are closed as a man has been charged.