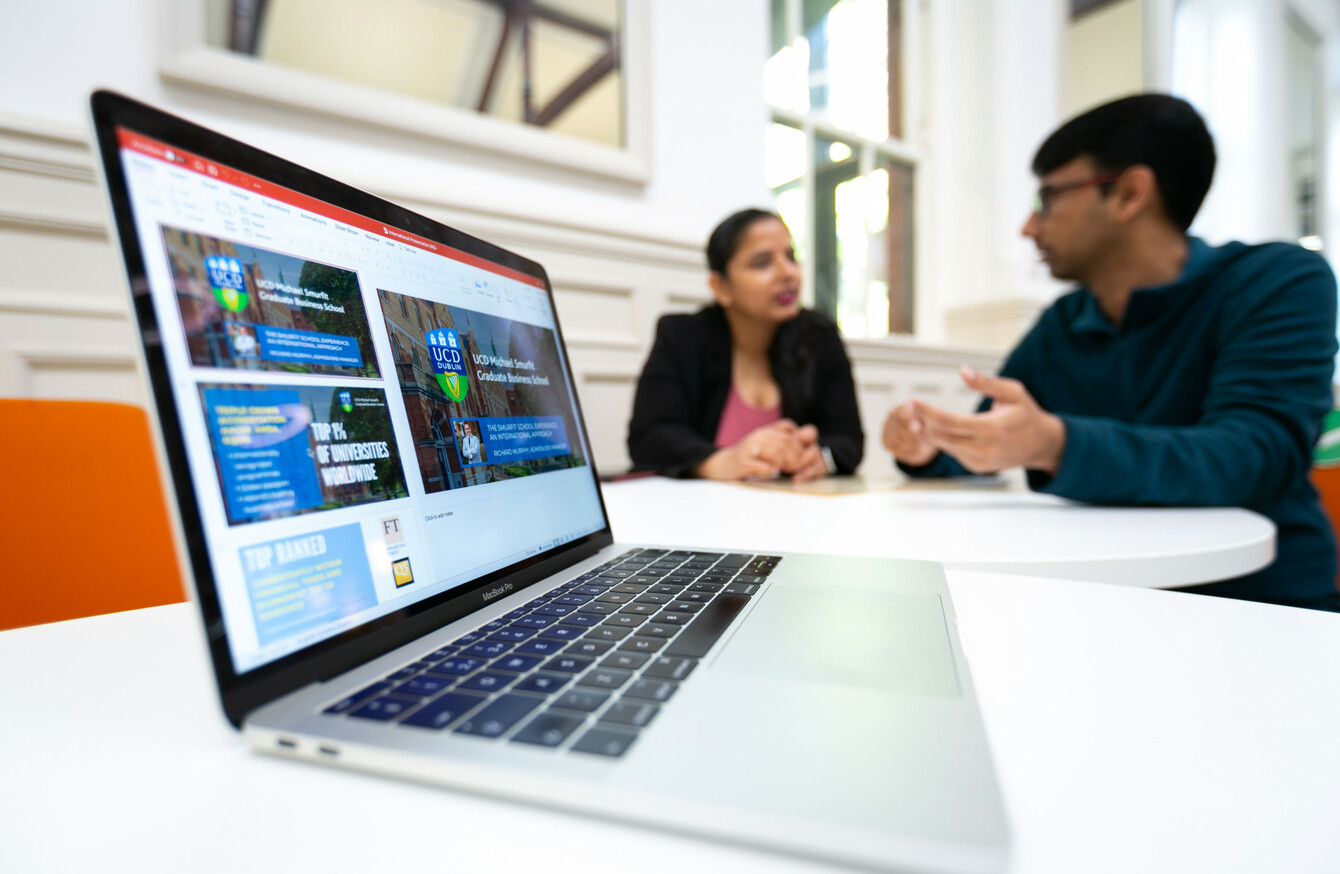 Image: UCD Smurfit School
Image: UCD Smurfit School
IF YOU'RE LOOKING to take your career to the next level, you've probably already considered an MBA.
For many, the internationally recognised business qualification is the obvious choice to accelerate your career, grow your network, and unlock your own leadership potential. The Journal is currently partnering with UCD Smurfit School to offer one reader a full MBA scholarship, worth up to €35k. 
Entry details for the scholarship will be shared in the Morning Memo, The Journal's daily business newsletter. Sign up at the end of this article to find out more (and stay informed too). 
The numbers associated with the UCD Smurfit School are impressive. Some 92% of the class of 2020 found roles within three months of graduating from the full-time course; while graduates saw an average 77% increase in their earnings in the same period. 
So what makes this programme different? "There are two big reasons why we stand apart from other MBAs," says Professor Cal Muckley, academic director of the UCD Smurfit School MBA programmes. "One is the context; the location, and the fact that we have triple accreditation" from the three centres of business and academic excellence – EQUIS in Europe, AACSB in the US and AMBA in the UK. 
"The other is performance: the performance of our graduates in terms of salary increases and the speed at which they get employment after graduating; but also the performance of our MBA globally in rankings from the Economist and the Financial Times." (The Executive MBA currently sits at 57th in the Economist's global ranking, and 72nd in the FT's.)
This performance, Cal says, has been maintained for many years. And the heritage of the institution – with more than a century in operation since its incorporation as a business school in 1908 – has helped to create one of the most powerful alumni networks in the field. 
One other big advantage we have is that we've been doing this for decades, with consistent top rankings for many years, and a really strong alumni network of 4,000 MBA graduates. A new MBA programme won't have that. There are 98,000 business alumni in our global network.
Leadership 
That alumni network is diverse, both in terms of nationality and industry sector – and that's no accident, says Cal. "We deliberately try to create a very diverse cohort. We look for ambitious, entrepreneurial individuals."
Many of those who enrol are in the process of making a significant career change, too – which is welcomed as a positive. "Two thirds of our full time MBA students are career switchers, one third of the Executive MBAs are switchers. They move sector, very successfully and we see a growth in their salaries too."
Source: UCD Michael Smurfit Graduate Business School/YouTube
Those whose applications are successful can look forward to developing their leadership potential through an intensive one-to-one coaching strand, the Leadership Development Programme. "That's with an industry mentor, and it enables students to see what's possible and what they can do." 
Experiential learning
A key focus of the UCD Smurfit School MBA is on applied learning; students learn by experience in real-world situations, or with real-world data. This culminates in the Capstone project, which sees MBA students join a working business to apply what they've learned.
"At end of the MBA, they must do a closing project tackling a live business problem," says Cal. "Working as a small team they receive a real problem, and work with real business people to solve it during the summer trimester." 
Confident collaborators
Thanks to that real-world experience and leadership growth, graduates of the programme often see benefits in a personal sense as well as a professional one, says Cal.
"Students become more insightful; more aware of their own capacities and their limitations. And they're more confident too – they've collaborated with businesses and people from around the world. It can be a shock to their outlook, but at the end its a positive shock."
And graduation isn't the end of the story. "We can see salaries on average growing,  see them securing employment quickly, we can see evidence of them switching industry. And there's a real community of alumni that remains engaged for years after graduating, so that's something students can access too."
Sign up for Morning Memo, The Journal's daily business newsletter, for details on how to apply for the MBA scholarship from The Journal and UCD Smurfit School. Simply enter your details in the box at the end of this article and you'll receive the next edition of the Morning Memo right to your inbox. Best of luck!