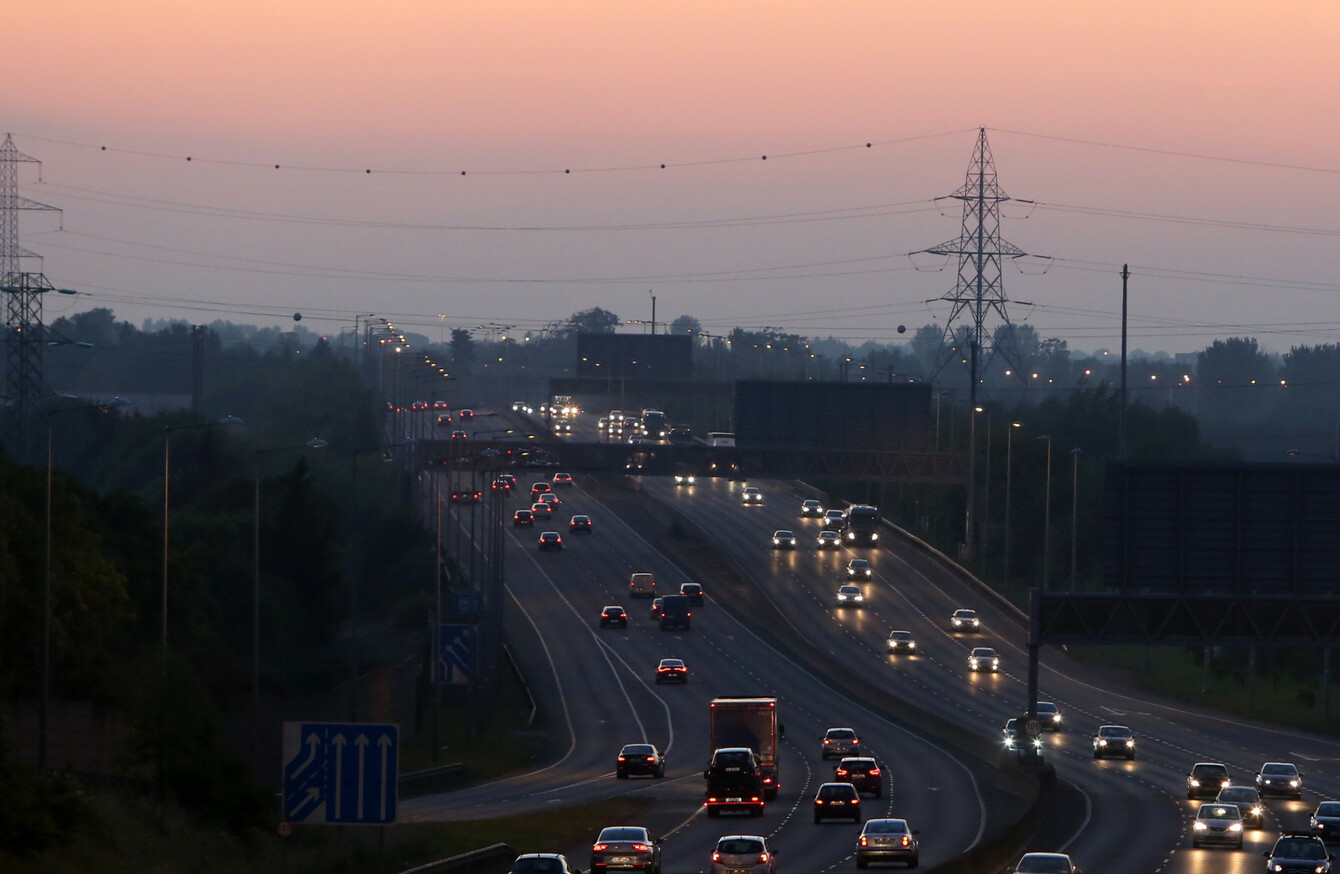 Image: Sam Boal
Image: Sam Boal
THE M50 IS operating at traffic levels which were not due to happen until the mid-2020s, according to Transport Infrastructure Ireland (TII) chief executive Michael Nolan.
Speaking at the Project Ireland 2040 transport plan launch today, Nolan said there has  been a "huge increase" in traffic in the last three or four years.
Since the recession, traffic levels along the motorway has been growing year on year by between seven to eight percent.
Nolan said this growth is an indication of two things – that the economy has improved and that there is a lack of public transport alternatives.
He ruled out any idea of additional lanes being added to the M50, stating that the solution is not to expand the motorway.
The M50 is a "finite piece of road space and we can't keep building our way out of the problem. We need a public transport solution," said Nolan.
Building an outer ring-road to the M50 would help with access, but it would not reduce traffic on the motorway, he said.
Public transport 
Speaking at the same event at the Dublin Port Authority this morning, Taoiseach Leo Varadkar said public transport must be improved if people are going to get out of their cars.
He defended projects contained in his Project Ireland 2040 plan, such as MetroLink and BusConnects.
"I know there has been some understandable controversy of late about the route of MetroLink and BusConnects. You really know that stuff is happening when people start objecting to them, that is inevitable," he said.
He added that all objections to these projects "will be listened to, they will be taken seriously and they will be taken on board".
Describing the BusConnect project as a "Luas on wheels" scheme, he said it will make a big impact on congestion in Dublin.
The plan was unveiled earlier this month. It's envisaged that a continuous bus lane will operate in each direction as well as maintaining two traffic lanes along 16 routes. Cycle lanes will also be segregated from other traffic.
Such works will include large-scale road-widening projects which will require the acquisition of sections of around 1,300 front gardens around the city.
Commuters in traffic 
While congestion has an impact on economic growth, the Taoiseach said it is also having an impact on people, with commuters sitting in traffic for hours on end.
#Open journalism No news is bad news Support The Journal

Your contributions will help us continue to deliver the stories that are important to you

Support us now
"It is pretty miserable," he said, pointing out that in his own constituency of Dublin West, people are sitting in traffic for an hour every morning and evening.
The Taoiseach said the BusConnects plan will reduce people's commute time per week by a half.
Chief Executive Officer of the National Transport Authority, Anne Graham said the need to upgrade Ireland's public transport system is "urgent".
She said the public are "beginning to realise that we are serious about what we want to deliver and we need to deliver it quickly", adding that congestion is the biggest problem it faces.
While today's event was about promoting the government's €8.6 billion spend on public transport, the stakeholders also spoke about the challenges ahead.
Nolan said there are a significant number of road and public transport schemes in the Ireland 2040 plans which still have to go through the planning process.
"The biggest challenge for TII is to get those projects through the planning process," he said.
When a large-scale project is announced, Nolan said it is a certainty that it will have to go through the courts.
He said major road projects can take eight to 13 years to go through the planning process and construction. "It shouldn't take that long," he added.