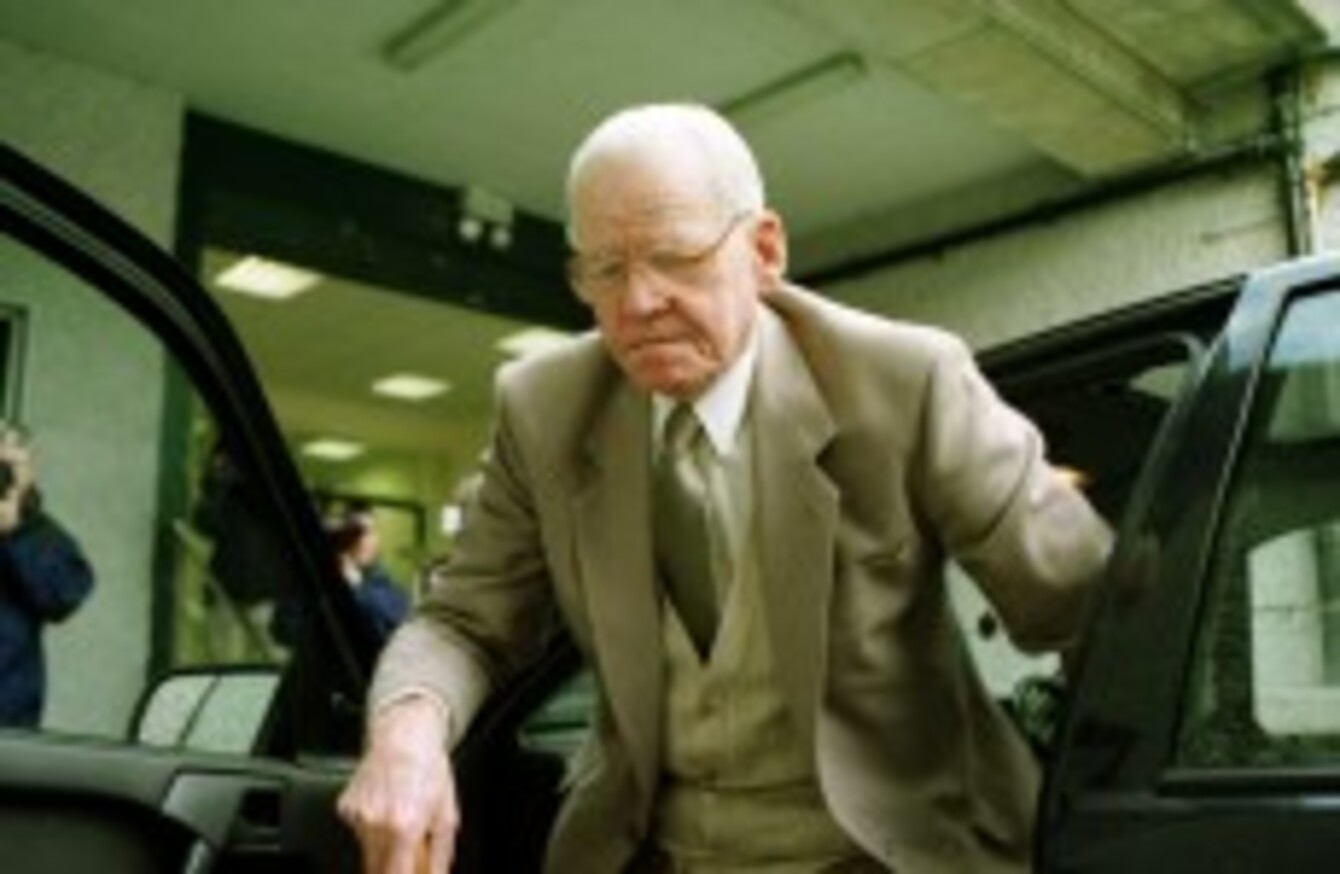 James Gogarty attending the Flood Tribunal in 1999. Gogarty was 80 when the Tribunal began.
Image: Graham Hughes/Photocall Ireland
James Gogarty attending the Flood Tribunal in 1999. Gogarty was 80 when the Tribunal began.
Image: Graham Hughes/Photocall Ireland
THE ESTATE of one of the Mahon Tribunal's leading witnesses was left with almost €1 million in legal costs after the State declined to pay the entirety of his submitted claims for legal fees.
James Gogarty, who was described by one counsel as the Tribunal's 'star witness' in its early years, submitted claims for legal fees of €4,539,546 – but almost €1 million of this was not covered by the State.
After sending his claims to be appraised by legal cost accountants, the Department of the Environment decided only to cover €3,567,779 of Gogarty's costs – leaving Gogarty to cover the difference of €971,766.
A Department spokesman said this morning it would have been left up to individual witnesses to the Tribunal to settle the difference.
It is not known whether Gogarty's legal representatives had waived the difference, either before or after Gogarty's death in September 2005 aged 88.
Gogarty, who was 80 at the time the Tribunal was established, was a former executive at Joseph Murphy Structural Engineers (JSME) who had responded to newspaper advertising seeking evidence from people who had witnesses bribes to politicians.
His evidence implicated then-minister Ray Burke, with Gogarty claiming Burke had received a bribe in order to secure his support for the rezoning of lands in five areas in north Dublin.
Interim reports produced by the Tribunal throughout its 14-year tenure criticised a slew of other figures for giving a false account of their interactions with Gogarty, or falsely attributing a role to him in the payment of money to Burke and other politicians.
€3.5 million unpaid
The disclosure of Gogarty's fees is contained in documents prepared by the Department of the Environment for the Public Accounts Committee, which outlines the fee claims submitted so far by various personal witnesses and corporate bodies.
Of €13,482,766 submitted to the Department by various witnesses, companies and political parties, the State declined to pay out on some €3,513,498 after sending the claims for independent review.
Gogarty's unpaid claims form much of this, while Gerard Downes – a former executive finance director at JSME – saw 45 per cent of his claims rejected, receiving €633,005 of the €1,151,290 he asked to be covered.
Fitzwilton Ltd, Goulding Ltd and Rennick's Sign Manufacturing – three companies which successfully took Supreme Court action against the Tribunal in order to stop it holding public hearings into certain developments – received only €258,289 of the €452,927 sought.
John Mulhern, one of the founders Century Radio and a son-in-law of Charles Haughey, saw the highest write-down of his fees, receiving only 13 per cent of his claimed €212,936.
Grange Developments, a company which had previously received compensation from Dublin County Council manager George Redmond over its refusal to grant planning permission for one development, received only 38 per cent of its requested €30,250.
In total, only 73.9 per cent of the costs requested by witnesses and corporate bodies have been covered so far.
The claims adjudicated on to date, however, only cover a small number of the hundreds of witnesses who attended the Tribunal's hearings.